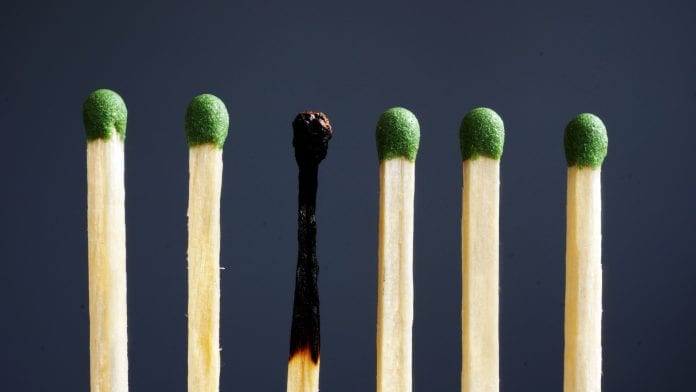 The UK's Health and Safety Executive speaks to HEQ about COVID-19 and mental health at work.
With the COVID-19 pandemic still nowhere close to a conclusion and much of Europe entering into a 'second wave' of rising infection, the resulting international mental health crisis is growing ever more severe. Increasing numbers of people report experiencing a constant state of underlying emotional distress, with worries over employment and money, uncertainty over the future, and the isolation arising from multiple lockdowns exacerbating fears of contracting the virus or infecting loved ones. In essence, people around the world are experiencing a form of trauma response in unprecedented numbers; and the mental health sector is not equipped to provide the support they need – in part because professionals in the field of healthcare are among the worst affected.
Sophie Corlett, Director of External Relations at UK mental health charity Mind, says: "It's worrying to see an increase in the number of people experiencing depression. We cannot underestimate the impact that the pandemic has had on the nation's mental health – whether that's bereavement, the devastating loss of life, the impact of lockdown, or the recession we are now in. We know people already struggling with their mental health or with related issues like problems with employment, housing, benefits and debt have been hardest hit by coronavirus, but today's figures also show how the pandemic has affected people who were previously well and are now experiencing depressive symptoms for the first time. As more and more people ask for support for their mental health, well-resourced timely treatment must be available for anyone who needs it.
"Now many emergency measures introduced by government, such as furlough, emergency housing, and better Statutory Sick Pay – have stopped or are winding down, we're concerned even more people will fall through the gaps. Mind announced five key tests for UK Government including continuing to invest in community services; protecting those most at risk and addressing inequalities faced by people from Black, Asian and other Minority Ethnic communities, who have been disproportionately impacted by the pandemic; reforming the Mental Health Act; providing a financial safety net through the benefits system; and supporting children and young people. It's crucial that mental health and wellbeing are put at the centre of the UK government's ongoing recovery plans, so that we can rebuild as a kinder and fairer society for everyone."
Workers have faced additional pressure exerted by factors tangential to the virus, such as companies downsizing and laying off employees; heightened workloads for those remaining in work, who have found themselves taking on absent colleagues' duties; and the variegated challenges associated with working from home, from inadequate working spaces to childcare issues.
HEQ speaks with the UK's Health and Safety Executive (HSE) about mental health in the workplace and the particular challenges posed to workers' mental wellbeing by the COVID-19 pandemic.
What are the key benefits of maintaining mental health in the workplace for employers and staff?
There are a variety of key benefits which organisations will experience from maintaining employees' mental health in the workplace, such as increased productivity, engagement, commitment, job satisfaction and improvement in employee wellbeing. To achieve this, organisational interventions are required to facilitate substantial change and improvement that will result in long term benefits.
Can you tell me some common ways in which employee wellbeing is side-lined in working practices? What are some examples of good practice in supporting the welfare of employees?
HSE promotes the engagement of employees in the development of practical approaches to address the concerns, anxieties and fears brought about by the impact of COVID-19. This should be reflected in a genuine commitment to open and transparent communication and consultation. HSE has produced guidance in the form of a 'Talking Toolkit' to support managers in having conversations with staff to identify any concerns which may be a cause of distress in relation to the impact of the pandemic; and in developing jointly agreed actions that will provide reassurance and help to improve trust and confidence in the organisation's approach to creating a COVID-secure environment. HSE has also produced comprehensive guidance for employers and employees in making workplaces COVID-secure, which can be found at www.hse.gov.uk/coronavirus/working-safely.
Has the COVID-19 pandemic had a significant effect on the mental health and wellbeing of workers? How could this be addressed?
COVID-19 has had, and continues to have, a significant impact on the mental health of the working population, as evidenced in an increase in depression, anxiety and suicide rates during the last seven months, particularly amongst healthcare professionals and key workers, as highlighted in a number of recent studies and reports. These trends are reflected in many different countries currently impacted by COVID-19. Ultimately, organisations have a legal duty to undertake a risk assessment that will look to identify work-related stress, mental health and wellbeing issues which may be the cause of distress, and to act upon its findings in seeking to prevent and manage their impact. Our key message to employers is to make stress, mental health and wellbeing both a priority within the organisation's risk assessment approach and a key performance indicator.
Health and Safety Executive
www.hse.gov.uk
This article is from issue 15 of Health Europa. Click here to get your free subscription today