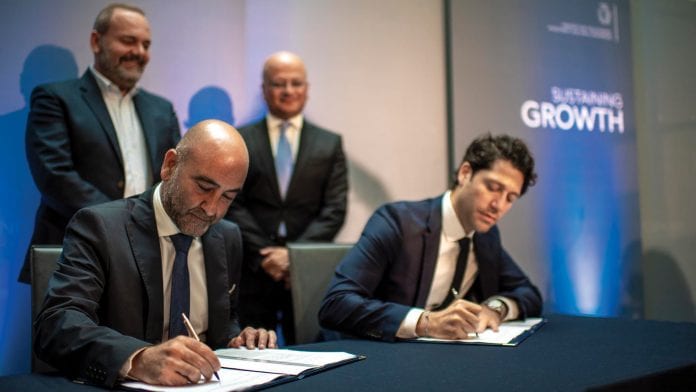 With its colourful history of regimes, languages and cultures, Malta has forever been a place known for maintaining its own identity and focus within the evolving European sphere.
Since the island gained its independence in 1964, it has done more and more to distinguish itself as a significant global presence with the ability to influence global markets. With the decision to lead the charge on working with, encouraging and facilitating the cannabis industry in 2016, Malta has truly taken a step forward, by creating a global hub of a potentially massive industry.
MGC Pharma first became aware of these interest and efforts in 2017, and quickly began to recognise what the residents of this island have known for a very long time: this is a very special place, and there are plenty of reasons to base yourself here.
MGC Pharma (ASX: MXC) (OTC: MGCLF) is a bio-pharma company with a 'seed to pharmacy' strategy at the forefront of global phytocannabinoid based research. With operations in Australia and the European Union (EU), MGC Pharma has developed pipelines for phytocannabinoid derived medicines and unique formulations (phytomedicines), both proprietary and for third parties, all under Good Manufacturing Practice (GMP) certified regulations at GMP certified facilities.
MGC Pharma's mission is to provide 'cost effective, standardised medicines'. This mission is cemented by MGC having established a full EU-GMP certified facility in Slovenia, allowing the company to create true standardised active pharmaceutical ingredient (API), and to have formulated that into effective, consistent, EU-GMP compliant phytocannabinoid derived medicines following the EU pharmacopeia. The MGC Pharma's two flagship products, CannEpil™ and CogniCann™, are in development for central nervous system (CNS) disorders and are the first in MGC's pipeline, with further products following close behind.
MGC's Founder, Nativ Segev, was CEO of one of Israel's eight official medical cannabis companies for four years, and saw first-hand the limitations of the local market, while recognising the global impact the industry was going to have. He brought in MGC's Co-Founder, Roby Zomer, whose experience in energy and biofuel projects, large scale agricultural projects, and global commerce contributed to founding a company focused on leveraging the Israeli knowledge and experience within a globally emerging industry.
MGC Pharma's focus has allowed the company to uniquely position itself as a developer and producer of pharmaceutical products from a phytocannabinoid based pipeline, supported by an R&D team with over 30 years' experience, and backed by a management team with extensive industry experience. Management's experience in the global phytocannabinoid industry has continuously allowed MGC to be positioned at the forefront of industry standards, products and vertical integration.
MGC and Malta: perfect together
After a long period of due diligence, filling out paperwork and visiting the island, MGC Pharma was the first company to be issued a letter of intent (LOI) by the government of Malta to establish operations on the island and expand its manufacturing capabilities.
The facility under construction in Malta (which is expected to be operational in mid-2021) will be significantly larger than MGC's existing facility in Slovenia and will be the primary hub for the MGC's manufacturing operations.
Once complete, the Maltese facility is expected to be the largest GMP phytocannabinoid focused manufacturing facility in the world, with capacity to produce fully compliant medicines at a rate of thousands of units an hour. MGC has used the company's experience in Slovenia as a template for creating this kind of high standard facility, so that all SOPs and protocols are already in place for transferring operations seamlessly into the Maltese facility. This 15,000m2 EU-GMP certified manufacturing facility will make the company a global leader in the supply of phytocannabinoid derived medicines.
As the first company given a letter of intent (LOI) and approval to build a full facility in Malta, MGC Pharma is ensuring Malta's operations are at the centre of its EU manufacturing and distribution activities, including implementing pharma level CRO and analytics on the island, in collaboration with the government and Malta Enterprise.
Aside from an ideal climate, Malta has only 5% corporation tax, making it a suitable market-release site for MGC Pharma products to Europe and MENA countries. Malta also holds one of the main seaports in the Mediterranean and land access to Italy, making it an ideal central operation and logistics site to the mainland of Europe. The GMP production site in Malta will quickly become the main production site for MGC's phytomedicines as well as a cultivation hub, a side benefit of Malta's wonderful climate.
MGC Pharma is involved in the development of a Phytocannabinoid research centre in partnership with the Prime Minister's office and Malta Enterprise. The Maltese Government and MGC Pharma have signed an agreement to open a joint research centre for cannabis and cannabinoids, which will work in collaboration with MGC's RMIT's Australian activities.
Additionally, having assessed the lack of clinical research service providers in Malta, under the auspices of the research centre, MGC Pharma will be providing CRO services to the Maltese pharmaceutical sector. To demonstrate MGC Pharma's commitment to Malta and the company's operations there, one of MGC Pharma's leading scientific advisors, Dr Jonathan Grunfeld, will apply his clinical experience treating patients in Israel to steering the CRO project, and will also act as a leading doctor in Malta for the cannabis sector, both as an instructor and prescriber of cannabis for medicinal use products.
Current MGC operations
MGC has based its operations in Slovenia, where it currently has its own manufacturing facility, which is GMP Class D non-sterile, together with packaging facilities, that also provides white label formulation services. MGC Pharma has an EU licence to produce pharmaceutical grade phytocannabinoid medicinal formulations, any API/research product, to be delivered to pharmacies and patients utilising its global network of distributors and wholesalers.
MGC Pharma's Slovenian EU-GMP certified facility is one of a few in the world certified for the purposes of manufacturing and formulating phytocannabinoid derived medicines, tetrahydrocannabinol (THC) and cannabidiol (CBD) API, while also giving the company direct access to the entire EU and, via its distribution relationships, a global reach for providing the company's first-in-class products to patients.
Slovenia
Slovenian operations are at the core of MGC Pharma's clinical and research activities. It is the location of the company's GMP Class D non-sterile manufacturing facility, which is licensed to produce IMPs for human use and clinical trials and does both of those actively. The company also uses this site to develop new and improved methods for the production of phytocannabinoid derived medicines.
The Slovenian Institute of Hop Research and Brewing (IHPS)
MGC and IHPS have been granted a first of its kind approval from the Slovenian Ministry of Health to conduct a comprehensive, large scale research project on the cultivation of cannabis for medical purposes, and the standardisation of post-cultivation production processes, from genetics through to API production. This research enables MGC Pharma to create industry first standardisations for cultivation, extraction and production of phytocannabinoid API's and to ensure the company stays at the forefront of research and development.
University Medical Centre
(UMC) Ljubljana
The Institution for Children's Neurology Paediatric Clinic, together with Prof. David Neubauer, member of the MGC Pharma Group's Scientific Advisory Board, is executing a Phase IIb double blind placebo-controlled crossover study with CannEpil on patients with drug-refractory epilepsy. The trial will assess whether CannEpil can provide a meaningful reduction in seizure frequency.
National Institute of Biology (NIB)
MGC recently published data following successful preclinical research assessing the efficacy of phytocannabinoid derived medicines on glioblastoma. Experiments were performed in vitro on human brain cancer cells, immediately post mortem and showed that phytocannabinoids, particularly THC, reduce the viability of cancer cells.
Biotechnical Faculty, University of Ljubljana
MGC Pharma, with the Biotechnical faculty lead by Prof. Borut Bohanec and Dr. Jana Murovec, is in the process of registering four new cannabis strains with the EU registry for a new variety of medical uses. This is alongside studying the cannabis plant genome and the development of cannabinoids within the plant in response to environmental effects , in order to optimise cultivation e.g. improving cannabinoid yield per square metre of cultivation. MGC Pharma is implementing the results of these studies into its operational pipeline contributing to its goal of creating cost effective phytomedicines.
Australia
In Australia, MGC Pharma is actively collaborating with academia, creating global networks ensuring a strong foothold in Australia and Asia.
Royal Melbourne Institute of Technology (RMIT)
MGC Pharma holds an exclusive research agreement with the RMIT, one of Australia's leading universities. Through the agreement, MGC Pharma and RMIT established a research facility with cultivation and processing abilities to run botanical and in vitro (cell lines) studies. Further to the $2m (~€1.2m) state of the art co funded facility dedicated to research on cannabis, RMIT is also providing the company with full access to research facilities and resources, with MGC Pharma having first rights of refusal to any cannabis product developed at this site.
Additionally, the collaboration has established the International Library of Cannabinoids (ILC), an open source, large data aggregator built around global cannabis research, which is being collected and analysed through machine learning tools to provide up to date prescribing information to doctors around the world.
Hebrew University of Jerusalem (HUJI)
RMIT, HUJI and MGC Pharma, have established a research hub to facilitate research in the medicinal cannabis sector. This hub marks the first example of two leading universities sharing IP with an industry partner, which acts as an independent research institute under the agreement.
The hub will encourage and facilitate the progress of the medicinal cannabis industry globally and will at the same time provide MGC Pharma Group with first rights to review and commercialise any innovative developments generated from the hub.
Technology
Technology contributes to every step of the MGC Pharma Group product pipeline and is a key differentiator for the company to this end; the MGC Pharma Group collaborates with academic and research bodies that award the company extended ability to perform high quality research.
At the core of the MGC Pharma Group's agenda is the formulation of phytocannabinoids into pharmaceutical prescription (Rx) products, while maintaining low costs and high benefits for patients. To achieve this, the company engages in multiple technological collaborations, allowing the MGC Pharma Group to engage in active research and development.
Innovation and development
MGC Pharma is currently executing a large research and development agenda, globally. This R&D ranges from botanical to clinical to technological developments, under the constant motivation of existing at the intersection of our cannabis-based therapeutics and today's pharmaceutical industry.
In order to get there, MGC PHARMA is constantly innovating every step of its product development, from improving genetics to ensuring better yield per square metre, nano technologies to enhance bioavailability, and pre-clinical and clinical studies to test cannabinoids and their mechanisms to treat specific illnesses.
MGC Pharma is positioning itself as a global leader in the research, development and distribution of pharmaceutical grade cannabis-based products. With a clear vision and agenda focused on clinical research, we are providing the knowledge and confidence to medical professionals to include medicinal cannabis in their arsenal of treatments.
The future Is bright
The mission of MGC Pharma, wherever the company operates, is to encourage the growth and development of a responsible, recognised and regulated medical cannabis industry, with all of the effort and responsibility this entails. In most of the places where MGC has operated to date, this has demanded dealing with regulators and legislators who have approached the cannabis issue as a political or health issue, rather than an industrial one.
There are only a few countries in the world that have taken the view that the emergence of medical cannabis is a global fact that can be leveraged and taken advantage of, to the benefit of the country. Malta is one of those countries. By facilitating, encouraging and closely monitoring how the medical cannabis industry on the island grows, the country has taken significant steps to becoming a major player in a rapidly growing vertical with massive potential for revenues. Malta is continuing its agenda of identifying arenas of high worth that will bring investment and taxation revenue to the country, and MGC is very happy about being a partner in that vision, and in cementing that reality.
MGC's goal is to improve the wellbeing of patients, globally. This must be done in a comprehensive, research backed manner, ensuring patients receive the positive results they deserve. To that end, MGC is investing much of the company's energy and resources to an agenda of clinical trials and research and development that are designed to ensure the company's position as a thought leader and trailblazer in the emerging medical cannabis field as well as in the world of pharmaceuticals. From the company's new centre of operations in Malta, the company can access a global patient base which will expand MGC's footprint even further.
A quick Q & A with Nativ Segev, Founder of MGC Pharma
How did MGC Pharma come across Malta as an option for your facility?
As a result of good work by Malta Enterprise, who managed to find and reach out to the most significant medical cannabis companies in the industry. Malta Enterprise reached out and then took the time to explain to them the benefits of looking at Malta as an option and built great relationships which quickly brought all the leading companies in the world to Malta. We were one of the first to enter in serious conversations and were actually the first to receive an official LOI.
What are the benefits of building your facility in Malta?
Having built out a smaller, but very similar facility in Slovenia, where our company is currently headquartered, I can first of all say that working with a government and regulators who are encouraging new enterprise, and whom actively want your business there makes a huge difference.
The environment for companies such as ours in Malta is welcoming, Malta Enterprise are there to help and facilitate by introducing us to businesses on the island, creating an environment to move forward with our research and development, and by ensuring the government and legislators are well aware of our activities and of the benefits to the island.
Add to that very friendly corporate tax rates, which is a classic Malta perk, and finally […] the weather. Firstly, for cultivation, but also for people. All the people we have met in Malta are first and foremost happy people and happy employees make good business.
What do you foresee for Malta in the medical cannabis space?
Myself and MGC foresee great things for Malta, which is why we are here. The easy access to Europe, and the constantly growing demand on that and other continents places Malta at the centre of a global supply chain and the foresight and forethought of the government has ensured that the country can take advantage of that pole position well.
The growth of this industry over the coming years is difficult to project, but it will be significant, and the simple fact is this: demand is growing for these products all over the world, and there is a lack of facilities, and personnel, to fill this need. Malta is ensuring it can offer both, and with other considerable benefits to a company with vision and a need to expand such as ours.
Can you outline what is required before you can start churning out products?
We have building and licensing to deal with, but both of these processes have already proved to be more efficient and executable here than in our past experiences, following which our facility will be certified for GMP manufacturing of schedule 2 products, just like our current facility in Slovenia, where we manufacture today. The difference in scale, however, is going to be significant. The facility we are building in Malta will be able to produce 8000 units of a product such as CannEpil in an hour. This is a significant step up for us, and times well with the constantly growing patient base we are seeing in Australia, the UK, and other countries.
How are you staffing your Malta facility?
As I mentioned before, we are an industry with a lack of experienced manpower […] which is because no one has real experience in this field, which has only existed for ten years […] therefore we will be doing a combination of bringing over skilled team members from MGC to train our local hires and to ensure we are maintaining the same high level of performance across geographies.
One of our Scientific Advisors, Dr Jonny Grunfeld, is actually going to be hosting and moderating an event specifically geared towards educating the Maltese Medical community. We see this as a first line of engagement on the island, a way to start reaching and treating patients in our own backyard and also as our window to ensure that all the standards in this industry in Malta are the highest: medical, industrial, legal, financial […] all moving us towards the goal of a best in class, standard bearing medical cannabis Industry in Malta.
Ron Lipsky
VP Business Development and International Relations
MGC Pharma
+ 61 8 9389 2000
Tweet @MGC_Pharma
ron@mgcpharma.com.au
https://mgcpharma.com.au/
This article will appear in Health Europa Quarterly Issue 11, which is available to read now. 
Recommended Related Articles