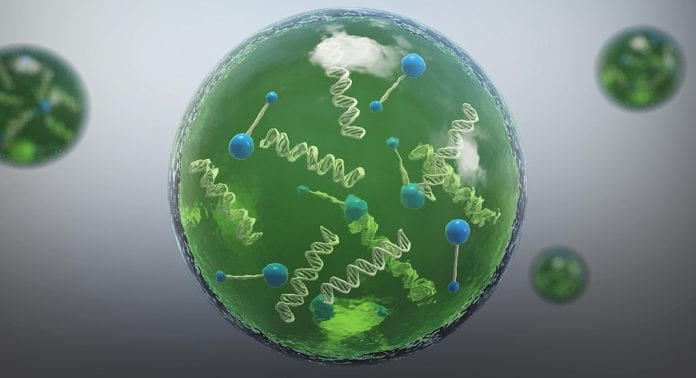 OmniSpirant Ltd is developing an extracellular vesicle microRNA antiviral rescue treatment for COVID-19 to dampen exaggerated immune responses and combat inflammation.
OmniSpirant is an Irish biotechnology company developing a unique, inhalable regenerative gene therapy technology for treating serious lung diseases. OmniSpirant has developed a proprietary surface engineered stem cell exosome (extracellular vesicle) technology, 'OmniSomes': an innovation which both overcomes major barriers to enable RNA-based therapies to be delivered directly to affected lung tissues; and has inherent, proven therapeutic potential to reverse damage caused by inflammatory lung disease and modulate the immune system.
This novel solution is a versatile platform technology for inhaled regenerative gene therapies. OmniSpirant's vision is to develop a pipeline of products around the platform, targeting COVID-19, cystic fibrosis (CF), chronic obstructive pulmonary disease (COPD), acute respiratory distress syndrome (ARDS), lung cancer and others. Virtually unlimited possibilities are open to OmniSpirant as the fundamental issues associated with the delivery into the lungs of gene and RNAi therapies are solved.
The COVID-19 pandemic has caused major disruption to normal life, severe economic damage and mortality around the world since its emergence in Dec 2019. Mortality rates are higher in patients with underlying health conditions and in those of advanced age. Most people with COVID-19 experience mild to moderate respiratory symptoms and recover with supportive care, but a tiny minority (believed to be much lower than 2%) of patients suffer from more severe effects of the infection; and certain patients – including younger people and those who were previously healthy – can experience a precipitous clinical decline. Current data supports that hyperimmune host reactions triggered by the virus and the development of acute respiratory distress syndrome are at least partially responsible for these poor outcomes. ARDS is the overwhelming cause of mortality, and is responsible for over 90% of fatalities among those with COVID-19.
The COVID-19 pandemic can become manageable and normality can be restored to daily life with the availability of an effective treatment. Only 2% of all the currently active COVID-19 cases in the world are classified as severe, so the manufacturing, distribution and administration of an effective treatment will be much easier than the logistics involved in a widespread vaccination campaign.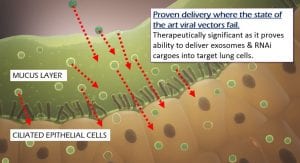 A new approach to treatment
OmniSpirant is collaborating with Al-Farabi Kazakh National University to develop OmniSomes carrying a nucleic acid based antiviral (cc-miR technology), which is a type of RNA interference based on sequenced engineered microRNAs, designed to bind to and degrade the viral RNA with high affinity and specificity without interfering with human gene expression. This is expected to be safe in patients, as it will not cause off-target effects by knockdown of normal messenger RNA.
This novel approach can potentially halt viral replication, in addition to addressing the cytokine storm (the fatal overreaction of the immune system to coronavirus infection). This unique two-pronged attack on the virus has the potential to effectively treat the small minority of COVID-19 patients whose lives are in danger. Importantly, this treatment is designed for rapid, easily scalable manufacturing to deliver life-saving benefits to COVID-19 patients globally. The benefits of stem cells and stem cell exosomes in treating the exaggerated immune responses in severe COVID-19 and associated respiratory distress have already been seen in several recent clinical studies.
Stem cell exosomes eliminate most of the risks associated with stem cell therapies and have shown the same therapeutic efficacy. Exosomes are also easier to store and transport; and due to their smaller size can be aerosolised to directly target the most affected lung tissues.
OmniSpirant Limited has been backed by the EU's Horizon 2020 (SME-Instrument Phase 1, Grant number 855463), which has helped the company to develop in-depth business and innovation plans for developing and scaling its OmniSomes technology.
In addition to Al-Farabi University, the company is collaborating with expert partners in the National University of Ireland (NUI) Galway and Aerogen Limited. These partners bring world class aerosol delivery, preclinical development and expertise in Good Manufacturing Practice for Advanced Therapy Medicinal Products (GMP ATMP) to the programme. The Centre for Cell Manufacturing Ireland at NUI Galway is licensed to produce advanced cell based therapies for human use. The clinical translation of the product will be led by Professor John Laffey, consultant in intensive care medicine at Galway University Hospitals.
Our development plans can bring this groundbreaking treatment into clinical studies in approximately 24 months; and the ability to rapidly scale production will also be addressed during the development program. There is a danger that the pandemic will last several years and that COVID-19 may become a stubborn endemic threat to lives. The development of a safe and fully effective vaccine is not guaranteed; and an effective rescue treatment is desperately needed.
Vital preparation for the next unforeseen event – 'disease X'
Developing the cc-miR and OmniSomes technologies could also help to prepare the world for the next pandemic: as soon as a new viral threat is sequenced, the COVID-19 product can be adapted to target the new viral RNA, in order to rapidly produce an effective countermeasure. Similarly, the ability to deliver RNAi sequences has the potential to treat severe influenza and respiratory syncytial virus where a similar cytokine storm to that seen in COVID-19 is often fatal.
In order for this exciting development programme to have maximum impact and help all affected patients as quickly as possible, OmniSpirant is interested in connecting with co-development, commercialisation and manufacturing partners. Get in touch with Gerry McCauley, CEO of OmniSpirant Limited, at gmccauley@omnispirant.com.
Gerry McCauley
CEO
OmniSpirant Ltd
gmccauley@omnispirant.com
This article is from issue 14 of Health Europa. Click here to get your free subscription today.