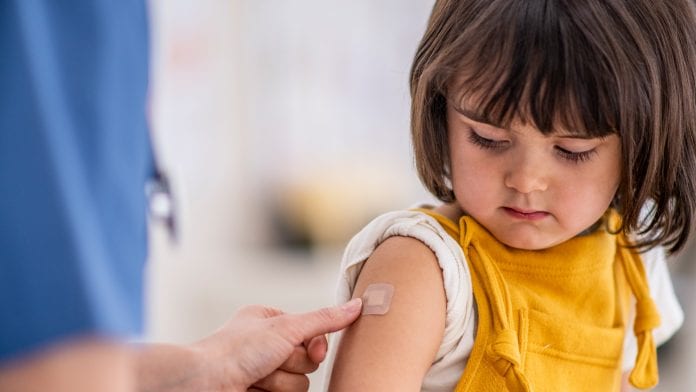 New restrictions that have been put in place mean the MMR vaccine cannot be parallel exported from the UK, to protect stock for private patients and those not eligible for routine NHS jabs.
The measles, mumps and rubella vaccine (MMR vaccine) has been added to a list of medicines which cannot be parallel exported out of the UK due to global demand causing supply shortages.
Parallel exporting is when companies buy medicines meant for UK patients and sell them on for a higher price in another country, which can cause the supply issues.
The restrictions put in place will protect stock of the MMR vaccine for private patients and those who are not eligible for the vaccine under the national immunisation programme. The supply issue is not affecting the NHS immunisation programme.
Global demand
An increase in global demand risks having an impact on patients who are prescribed it outside the NHS immunisation programme. This amounts to less than 1% of the total number of MMR vaccines in the country.
The Department of Health and Social Care (DHSC) is working closely with industry and Public Health England to manage the issue, ensuring that vaccines meant for UK patients remain in the country.
Parallel export restrictions are one part of the government's approach to minimise the impact of shortages on patients. The department has successfully managed and resolved shortages for many years.
MMR supply
There is no supply issue affecting the national immunisation programme. The programme saw more than 90% of children receive a free jab by the time they were 5 in 2018 to 2019. All children and adults residing in the UK are eligible for the vaccine through the NHS.
However, the vaccine is also available outside the national immunisation programme, for example for private patients who are not eligible to receive it through the NHS, including overseas workers and those who receive private healthcare.
Vaccines for these groups are purchased at a local level through wholesalers by private pharmacies and others. Doses of locally procured MMR vaccines are at risk of being parallel exported.
The restrictions will stop this from happening and safeguard MMR supplies to the private market and for those who are not eligible for jabs under the national programme.
The NHS buys all vaccines for the national MMR vaccination programme directly from manufacturers through a national contract. There are more than enough vaccines to make sure every child and eligible adults continues to get the vaccine for free. Over a million doses are provided by the NHS each year.
Wholesalers do not have access to nationally procured stock which is held by Public Health England centrally for the national immunisation programme, they can only parallel export locally procured vaccines which supply the private market and uses outside the national immunisation programme.
Health Minister Nicola Blackwood said: "These restrictions will ensure those who don't qualify for the national NHS programme or with private healthcare can also receive protection from the MMR vaccine.
"We have an outstanding national vaccination programme and the vast majority of people are eligible for free immunisation on the NHS. There are no issues with the national NHS programme."