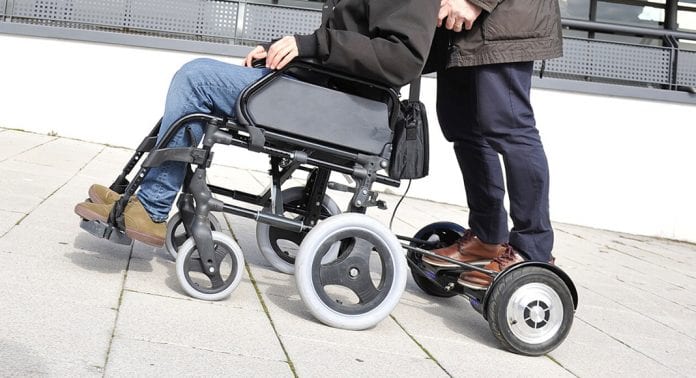 Thanks to an unexpected experience at the current IFEMA Hospital, Mooevo's engineers have started designing new models to offer new mobility solutions.
Turning reduced mobility into extended mobility, Mooevo helps to transport both patient and health workers at the Fair Institution of Madrid (IFEMA) with an electrical solution that not only transports things, but people too.
Two years ago, Mooevo's founders dreamed of mobility solutions that could solve the mobility limitations of Joselete, the disabled son of his friend Jose. They had experience in the bike and electric mobility world as they founded ROTOR and eBike75. Then, they applied their engineering, electronics, and mechanical knowledge to design Mooeve, a device that changed the mobility experience of the whole family.
They answered the call from the Community of Madrid just one month ago, to apply the Mooevo mobility solution in the current COVID-19 Hospital at IFEMA. At the beginning, their function was to transport patients throughout the large facilities at IFEMA, where the Mooevo system is helping to transfer patients and at the same time transporting healthcare personnel to assist them.
Helping with COVID-19 solutions
In addition to saving miles and hours of effort in their daily fight against the coronavirus, some Mooevo devices are being used to perform other tasks such as moving goods, tests to the laboratory, shipping packages, health products, medicines, analytical tests, and allowing people to move within the facilities in less time and without them getting tired.
Mooevo gives mechanical propulsion by means of a motor platform and a bar system to a conventional wheelchair, with simplicity and safety.
The innovative solution propels the wheelchair for both upward (up to 10%) and downward, or over long distances, and makes it much easier for the passenger to handle and transport himself at the same time without any effort.
Ignacio Estellés, CEO of Mooevo, said: "When we overcome this health crisis, we'll all go outside to enjoy the air, but this crisis has made us become more socially sensitive, and we will be more aware of the sick and the elderly, the dependent's and reduced mobility people needs to move, as well as their family and caregivers needs. We believe that Mooevo will improve their quality of life and broaden their horizons."
Mooevo is able to move two people whose weight reaches 440 lb, with zero emissions and being able to travel distances of up to 12 miles, or four hours with a single charge (three mph, according to current regulations). It does not require to the person to be mobile and is suitable for use on pavements. In addition, the wheelchair can be transported door to door, as it can be folded. And the person moving the wheelchair has no age restriction.
Javier Reguero, Engineer of Mooevo, added: "It is a double solution that reduce the limits of many people with mobility problems, such as the effort to move the chair, the long distances, go up a slope. Pushing a chair with a Mooevo device is something funnier and stimulating, offering leisure and social life."
During this shutdown due to COVID-19 crisis, the company wants to start its expansion plan both in the domestic market and in new international markets, with new Mooevo models. To do so, it is looking for partners and new investors.