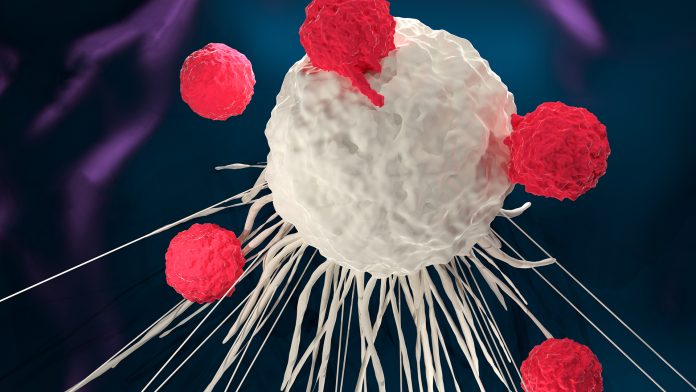 Over 400 people with an aggressive form of lymphoma are set to benefit from the first CAR-T therapy recommended for routine use in the NHS.
CAR-T therapy (chimeric antigen receptor T-cell) takes a patient's immune cells and modifies them so that they attach to and kill cancer cells. It is administered as a one-off intravenous infusion. 
Following approval from the National Institute for Health and Care Excellence (NICE), this personalised therapy will provide individuals with diffuse large B-cell lymphoma (DLBCL), a common non-Hodgkinson lymphoma, a new way to treat their condition. This illness affects people of all ages; however, it is most prevalent in individuals aged 65 and over. Symptoms include painless swelling in the neck, armpit or groin, unexplained weight loss and high temperatures. 
Offering new hope to DLBCL patients
 Axicabtagene ciloleucel (Yescarta, Kite) is a CAR-T therapy for adults with relapsed or refractory diffuse large B-cell lymphoma (DLBCL) and primary mediastinal large B-cell lymphoma (PMBCL) who have had two or more lines of systemic therapy. 
On 26 January 2023, NICE issued final draft guidance recommending that CAR-T therapy be routinely offered on the NHS for suitable patients. It was previously available through the Cancer Drugs Fund and will be commissioned routinely to patients in England after a commercial deal was struck. 
NICE's independent appraisal committee considered new evidence, including data from a clinical trial and from people having axicabtagene ciloleucel through the Cancer Drugs Fund (CDF) before making the recommendation. The evidence suggests that people using this treatment live longer than people having chemotherapy and have long before their condition gets worst. 
The CAR-T therapy elongates survival significantly
Following a clinical trial that included 318 people who received CAR-T therapy through the CDF between December 2018 and October 2021 in England. Overall survival rates in the CDF, with data collected over 36 months, show that the median overall survival of people having axicabtagene ciloleucel was 28.5 months, and 45% of people were alive after three years. This is a highly positive development as there is no current standard treatment for relapsed or refractory diffuse large B-cell lymphoma or primary mediastinal large B-cell lymphoma after two or more systemic therapies. 
Whereas the company estimates that the median overall survival on best supportive care, which is salvage chemotherapy, is around 6.4 months. 
It is estimated that over 450 people in England will benefit from this new CAR-T therapy. 
Helen Knight, director of medicines evaluation at NICE, said: "I am delighted that we have been able to recommend this pioneering treatment for people. The evidence from its use in the CDF and clinical trials shows it can offer an effective treatment helping people live longer and with a better quality of life. 
"This news illustrates how NICE is determined to get the best care to patients fast while ensuring value for money for the taxpayer." 
NHS England's Director of Specialised Commissioning and interim Commercial Medicines Director, John Stewart said: "Five years ago the NHS led the way in Europe by striking commercial deals for revolutionary CAR-T cancer treatment and today we have used our commercial capabilities to reach a deal that secures long-term patient access to this personalised therapy. 
"This advanced therapy has been commissioned through the Cancer Drugs Fund since 2018, allowing evidence to be collected that confirms its benefits for patients facing this aggressive form of lymphoma and now enables the NHS to provide routine access at a fair price for taxpayers." 
Recommended Related Articles