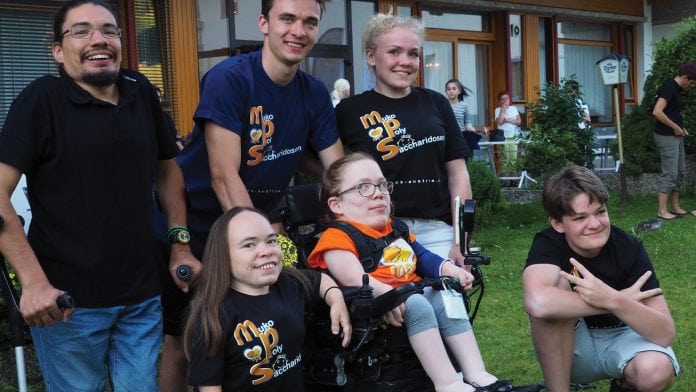 Continuing its coverage of the MPS Austria Therapy Week, Health Europa speaks to childcare organiser Anna Prähofer about how the event has evolved since its launch in 1999.
As the event's childcare organiser, Anna Prähofer has been central in making MPS Austria Therapy Week the success it is today. Here, as part of a special relationship with MPS Austria, she tells Heath Europa about growing up with a sister with mucopolysaccharidoses (MPS), reflects on how Therapy Week has grown since its beginnings as a small family holiday in 1999, and explains the importance of providing children affected by MPS and their families with a respite from the day-to-day struggles of living with the diseases.
Briefly, what do you feel having a sibling with MPS has taught you that is perhaps more difficult to understand from outside?
Growing up with a sister with MPS has not only taught me to be considerate and act considerately, but also to recognise the essential things in life. People often think that it is hard to live with a child with special needs, and indeed it is hard, especially for siblings. Life for children – and adults – with disabled brothers or sisters will never be like a life with a bunch of healthy children.
It goes without saying that we take care of our MPS siblings. It goes without saying that we put them first, even though our concerns and needs are important to us. We grow into the situation. We live with it and accept it. We do not complain. But we also suffer from the destiny of MPS. The whole family does. A life with MPS will never be a normal life, even if we have great parents who fight for it. However, no one can feel or understand what we feel: the constant concern for our brother or sister. The constant consideration. The constant fear that MPS might snatch our siblings from us – at any time. The uncertainty before and during each surgery. Nobody can relieve us of all the emotions we live through. We have to learn how to handle it. We have to learn to understand that it is not our fault that we are healthy while they are not. We must learn to accept that we cannot take on the sorrows of our siblings. We can just be there for them.
We love our brothers and sisters, and we suffer from their impairment. We blame ourselves, wondering what it would be like if the genetic defect had hit us. We struggle with ourselves because we feel guilty for not having to suffer.
Without my sister with MPS I would maybe live a totally different life. I might not be so close to my family, I might have decided to live my own life without any concerns. But then I would not be me. I might not be able to consider the small things in life.
As the Therapy Week childcare organiser, what are your central concerns when putting the event together? What are the biggest things you want to achieve?
During MPS Therapy week, therapy of course takes priority, making patients fit after surgery or for the upcoming year. The therapies are intense and sustained. Nevertheless, the greatest thing to achieve is making children smile and giving their parents some time off. It is very impressive how our families live with MPS and I am very proud of what my mum has created for them.
It would not be true to say that I am only involved in the organisation to help others. Every year I learn a lot from our patients and I get so much energy by working with them. I really enjoy spending time with our MPS family, and even though the time the organisation demands is very exhausting – especially for my mum – I would not want to miss that special time of the year.
How important is it to include things like chartering a sailing boat for the children at other society events?
Participating in the peace fleet Mirno More is a very important project for me and very dear to my heart. For nine years I have been a volunteer member of the organising team. Every year during the peace fleet, I dreamed of having my own MPS project. My big dream was to enable MPS children and healthy siblings to spend a week on the ship. They should be able to throw their daily worries overboard for a short time. Three years ago, I made this dream a reality, and this autumn I'm going to take eight children to Croatia for the third time. It is hard to describe the emotions during the peacefleet Mirno More.
There are laughing children full of happiness; young people with MPS spending their very first time at sea and experiencing their first week without their parents' constant support – realising that putting on their socks themselves is very hard, but achievable; learning to try things first and only ask for help if it is really needed. They learn the first, and most important, steps of independence.
Over the years, families learn to live with MPS, and they learn how to do this very well. But often, parents can feel that it is easier for all involved to do things for MPS children, rather than letting them do things themselves. However, I learned from my sister, who has MPS, that because there are so many things she actually cannot do herself that she loves to be allowed to do the things that she can.
The week on the ship not only fosters the kids to be supportive, appreciative and to work as a team; but also encourages MPS patients to remember that there are things they can do themselves, and we encourage them to do so.
How have the Therapy Week events grown? Are they better than they were? How do you build on the successes of previous instalments?
Therapy Week has indeed changed. It started as a small family holiday with only 50 people. That was in 1999. Physiotherapy was introduced for the first time in 2002. Since then, our MPS Therapy Week has been steadily changing, becoming larger and more diverse, and every year it seems like it cannot get any better. But my mom always surpasses herself. 14 therapists and a team of caregivers are volunteering during their vacation to make a week like that possible.
The families give feedback every year. They evaluate the week itself, the therapists, the caregivers, the location of the event, the excursions, and the hotel. We are guided by that.
Anna Prähofer
Childcare Organiser
MPS Austria
www.mps-austria.org
This article will appear in issue 6 of Health Europa Quarterly, which will be published in August.