myPOCacademy is a medical education platform for healthcare professionals (HCPs).
myPOCacademy is an independent and scientifically validated content to help HCPs stay up to date with the latest developments regarding point-of-care testing (POCT) in diabetes, cardiovascular disease, antimicrobial resistance and antibiotic prescription, COVID-19 and infectious diseases.
myPOCacademy allows HCPs to develop and enhance their knowledge of POCT through materials that are professionally certified by the Continuing Professional Development (CPD) service. Learning materials include expert-led, on-demand and live webinars, podcasts, articles, article summaries, guideline summaries and factsheets.
What is POCT?
POCT is defined as diagnostic testing that is performed at or near to the site of the patient1. POCT can take place in diverse settings, such as the GP surgery, in the community or in the emergency setting. POCT can be performed by trained laboratory professionals, paramedics, radiologists, doctors, nurses and other HCPs2. POCT devices come in a variety of forms, including handheld devices and more sophisticated benchtop analysers, which can deliver results fast2.
Benefits of POCT
Provides results at the site of care delivery, reducing time to decision-making3 and reducing the number of patients lost to follow up4
Faster than laboratory testing, with results available within minutes5
Can be conducted by any trained healthcare professional2, improving practice workflow and efficiency3
Convenient for patients and has been shown to increase patient understanding, motivation and satisfaction3
The value of a centralised POCT medical education platform
The healthcare industry is continuously evolving. With the introduction and advancement of technologies and medicines comes revised best practices and guidelines. Continued education is key for HCPs to provide high-quality patient care. myPOCacademy stays up  to date with all the latest POCT developments, simplifying the process for HCPs to improve their knowledge within their respective fields.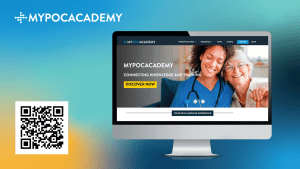 References
Kozel, et al. Point-of-care testing for infectious diseases: past, present, and future. J. Clin. Microbiol. 55.8 (2017): 2313-2320.
Nichols, et al. AACC guidance document on management of point-of-care testing. J. of Applied Lab Med 5.4 (2020): 762-787.
Patzer, et al. Implementation of HbA1c point of care testing in 3 German medical practices: impact on workflow and physician, staff, and patient satisfaction. J. diabetes Sci. Technol 12.3 (2018): 687-694.
El-Osta, et al. Does use of point-of-care testing improve cost-effectiveness of the NHS Health Check programme in the primary care setting? A cost-minimisation analysis. BMJ open 7.8 (2017): e015494.
Current status and future prospects of point-of-care testing around the globe. Expert Rev. Mol. Diagn 15.7 (2015): 853-855.
© 2022 Abbott. All rights reserved. All trademarks referenced are trademarks of either the Abbott group of companies or their respective owners. COL-17262 10/2022