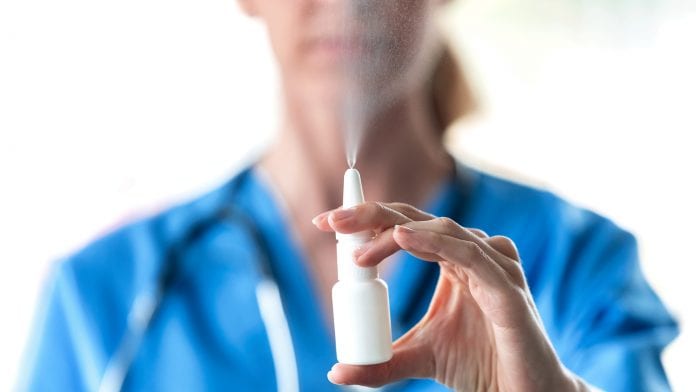 A randomised, double blind trial will be testing the efficacy of a nasal spray to protect frontline healthcare workers against COVID-19.
The spray is the first Austrian SARS-CoV-2 prophylactic treatment to be tested in 334 individuals at two clinical sites in Vienna, Austria. Marinomed Biotech AG, a globally operating biopharmaceutical company, will be carrying out the trial, which will recruit healthcare professionals who are managing COVID-19 patients, with the primary objective to demonstrate that the prophylactic treatment reduces the symptoms of SARS-CoV-2 and other respiratory viral infections when compared to a placebo-treated control group.
Clinical trial
The trial is expected to start after the approval of the ethics committee and will enrol 334 individuals. Over the course of 12 weeks, participants will use a Carragelose (Coldamaris) nasal spray (1.2 mg/ml; 140 µl per 'puff'),  three times a day in the form of one dose of the spray into the nostrils plus three doses into the mouth each time.
Participants will be screened every week for SARS-CoV-2 and other common respiratory viral infections.
Dr Eva Prieschl-Grassauer, Chief Science Officer at Marinomed, said: "Carragelose has earlier proven clinical activity towards coronavirus infections. Our scientists have shown that Carragelose is effective against SARS-CoV-2 in cell culture assays. Carragelose neutralises the virus and can thus protect the cells from being infected.
"Successful clinical results will show that Carragelose can help us to fight the pandemic by adding an option to a still too small toolbox against this devastating COVID-19 infection."
"Worldwide, we have seen many nurses and doctors suffering and even dying for their dedication to treat COVID-19 patients. Applying carrageenan to reduce or even eliminate infection among these frontline anti-pandemic workers could be a major contribution to their fitness, which is pivotal for all COVID-19 hospitalised patients," said Dr Christoph Wenisch, head of the infectious disease unit in Vienna, Austria and Chief Investigator of this Marinomed trial.
"After positive experiences with carrageenan-based treatments against a broad range of respiratory infections, we are testing Carragelose as a prophylactic measure in the COVID-19 setting. Protecting the physical health of our caregivers is a central strategy for the performance of our health systems."