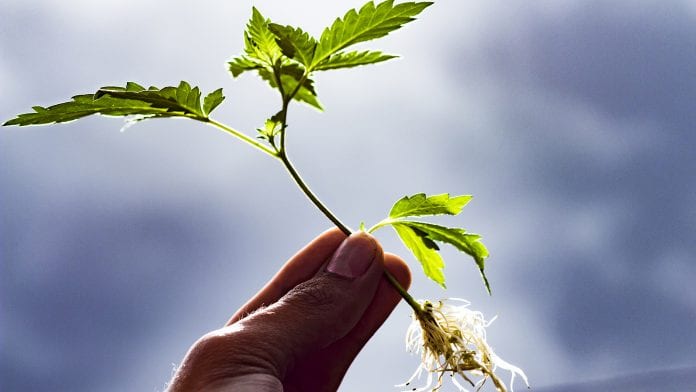 Canalief knows first hand what it is to want to break free from industrialised pharmaceuticals, and is here to offer a safe, effective alternative. In this article, Canalief discusses natural mental health management.
Canalief grew out of the desire to support natural mental health management and help people actualise the health benefits of medical cannabis. We dig deep into cutting edge medical cannabis technology to grow with our partners and provide safe, effective medical solutions. We offer a broad array of cannabis products, developed to address illnesses and injuries.
On top of that, our craft product is homegrown and comes with a personal touch: we're creating real connections one on one, because we need less faceless interactions and more kindness.
Roots with natural mental health management
After struggling with mental illness and reliance on pharmaceuticals, Canalief's founders started a journey toward natural healing. Through using CBD for anxiety management, both founders were able to ease independence on pharmaceuticals and create more freedom in their lives. The idea for a company to support natural mental health management took root.
Growing forward
Canalief is a homegrown family company with a focus on giving back to the community. Our sustainable initiatives in production and packaging means we intend to preserve the welfare of our community and our country. We believe that businesses and communities thrive when working together and supporting each other.
Our focus will not be on just offering premium, competitive products. It will also be on our community and our roots. We will support breakfast and lunch programs for community schools and develop bursary programs for post-secondary students focusing on sustainable agriculture.
Premium product
Craft growers have the space to tweak the growing environment to improve existing strains or launch breeding programs to develop exotic genetics.
Canalief intends to operate on a smaller scale. This will allow us to produce superior product with sustainable practices that use less water, less energy, and fewer fertilisers. Our growers are qualified with a proven track record, and we will keep our operation small so we are able to produce a consistently premium product.
We have our growers monitor every detail of the process; and at each step they will work with optimised conditions to produce consistent, fully developed flowers of the highest quality. Our small operation size also allows harvesting of each plant for peak trichome development: rather than being tied to a schedule like a large scale factory farm, our smaller crop size will allow proper harvesting processes.
Building a brand
We intend to provide fact-based product information while leveraging influencer relationships and cultivating a loyal customer base through an engaging social presence through our website, social media and legal marketplace listings. We anticipate our engagement with online media will generate a steady stream of fact-based product information and user-generated content.
We'll utilise internal product and sales team to develop relationships with retailers and medical practitioners to provide product awareness and education. We'll also use direct sales to other licence holders, including cultivators, processors, and manufacturers, in order to enter into long term supply agreements for further processing and product diversity.
Canalief will sell our products to various wholesale provincial bodies across the country. The industry will see several players from the food and beverage, pharmaceutical, and health product industries use cannabis as an ingredient to manufacture finished products.
We will also attract medical cannabis patients through the direct-to-consumer federal medical system, which remained intact as it transitioned from the Access to Cannabis for Medicinal Purposes Regulations (ACMPR) to the Cannabis Act.
The Canadian cannabis industry
The cannabis market in Canada is experiencing rapid growth: it was worth CA$6.5bn in 2019 and is anticipated to grow to CA$11bn by 2025, including the market for cannabis finished products. A significant increase in industry-wide capacity is required to meet this demand, which will support thousands of cultivators varying in size from large players with multiple facilities to niche craft and micro growers.
On 17 October 2018, the Cannabis Act became the empowering Act which governs all matters with respect to cannabis regulation in Canada, establishing legislative systems governing both recreational (adult use) and medical cannabis. The Cannabis Act is now the empowering legislation governing the production and sale of cannabis in Canada, along with the Cannabis Regulations; the Act and Regulations together create the framework for production of both medical and recreational cannabis.
As of October 2019, under the Cannabis Act, cannabis oil, fresh cannabis, dried cannabis, cannabis plant seeds, edibles, topicals, concentrates and cannabis plants are permitted for legal sale.
Canalief's application passed the intake and screening stages in early 2019. The development permit for the larger facility was submitted and approved by the town of Bassano, Alberta in early 2019. The development permit for the retrofit facility has been approved by the town as of late 2019.
Demand and target market
From October 2018 to February 28, 2019, dried cannabis sales in Canada totalled 34,947kg. Medical sales were 8,931kg or 25.5% of total sales, while recreational sales were 26,016kg or 74.5% (no prior year comparison is available).
At an estimated average price of $7 and $4/gram respectively, this represents sales of over $150 million or approximately $360 million annually. Sales of cannabis oils have been growing rapidly, surpassing sales of dried product with sales of 36,062 litres during the same time frame. Medical sales were 24,092l or 67%; and recreational sales were 11,970l or 33%.
63% of current cannabis users in Canada plan to purchase at legal retailers;
In 2017 4.9M Canadians used cannabis; consumption reached more than 20g of marijuana per person and $5.6bn in total was expended on products;
In 2020, legal cannabis sales are projected to hit between $4.3bn and $6.5bn; and
By 2021 Canadians aged 19 and over will consume an estimated 650 metric tonnes of cannabis.
Facilities and growth plan
Canalief's retrofit facility currently focuses on the production of pre-rolls and packaging. In the future, the facility's range will expand to encompass additional products, including:
Extractions;
Edibles; and
Topicals.
Canalief also has a large facility site currently under construction:
Canalief purchased land from town. Our application for a development permit was submitted and approved by town in mid 2019 — this included the purchase of an additional 3.9 acres of available adjacent land;
The state of the art facility will be environmentally friendly, with processes designed to minimise waste
Yield projection after Phase 2: 11,365kg/annum;
Phase 1 will be 44,000 square feet; and
Phase 2 will increase to 67,000 square feet using a two-tiered vertical grow.
Canalief is expected to generate $34m in annual earnings before interest, tax, depreciation and amortisation (EBITDA) by 2024, with attractive sustainable free cash flow over its operating life. Significant interest from product customers displays evidence of the growing demand for Canalief's high quality cannabis products, including some rare quality strains, in a state of the art facility. Canalief is more than a cannabis company: we aim to build community and give back to the communities we reside in. We have a highly experienced management team plus the support of an advisory team and cannabis consulting team. This group has identified the project risks and designed a strategy to manage risk, leveraging the opportunity to service the growing market demand.
Devon Davidson
President/Co-founder
Canalief
+1 587 999 4229
devon.davidson@canalief.ca
Tweet @CanaliefAB
This article appeared in the second issue of Medical Cannabis Network which is out now. Click here to get your free subscription today.