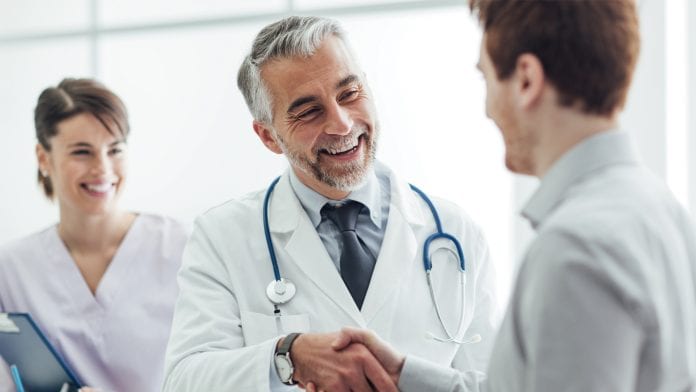 Introducing Meopin, the first digital platform to provide a complete range of healthcare options with ideal services for patients and professionals.
Our society is living the 'digital revolution', where almost any service or product is just a click away. Healthcare (HC) is not an exception: 75% of healthcare consumers think that digital technology is important to manage their health; 68% of consumers start their health research using an internet search engine; 77% use online reviews to find a physician; 48% of patients already use mobile health apps; and 79% are more likely to choose a healthcare provider that allows them to interact online or on mobile devices.
However, although there are more than 300,000 HC-related websites and apps that – to some extent – support the interaction of patients and healthcare providers, they used to be plain directories with only basic information, presenting remarkable limitations in terms of functionality, geographical scope, language barriers and support of talent mobility.2
When in need of healthcare, patients traditionally had three options:
Resort to the default services provided by their health systems, a partially uncertain situation where the economic or practical interests of the healthcare provider will take precedence over the patients' health needs;
Word of mouth referrals from friends or family, which provide more certainty but neglect the immense options available in the market, which could potentially be a better fit for the needs of the patient at the time; and
Manual searches in offline or online (plain) directories, a cumbersome and time consuming alternative whereby patients need to blindly select a provider (total uncertainty).
While 512+ million people to a major or a minor extent, require healthcare services, among them 61 million medical travellers and 17 million expats, this scenario has negative impacts:
Patients wait up to one year to receive treatment and around 25% of them receive inadequate or improvable care. Furthermore, they spend 121 minutes in each visit, equivalent to €21bn lost working time annually;3
healthcare providers are losing because of inadequate interaction tools €120bn per year due to no-show appointments.4
Thus, there is a clear need for new and more complete solutions which allow patients and healthcare providers to interact in a more agile, efficient and productive way. This will promote not only huge economic benefits for healthcare providers but especially invaluable benefits for the whole population.
Meopin: the best solution for the interaction of patients and healthcare providers
Meopin is a mobile and web-based platform which allows, for the first time ever, transparent and accessible interactions between patients and healthcare providers. It works as follows:
For patients: Meopin offers a pan-European database of healthcare providers with complete information on their location, specialities and availability. Importantly, these healthcare providers are rated according to other patients' reviews, so users can make solid decisions on which professional should be selected. The platform already allows patients to set appointments for telemedicine with doctors, and in the future will allow to handle electronic health records (EHRs) and receive prescriptions for medical devices/drugs, so patients save time and effort while guaranteeing the best care. Furthermore, Patient University powered by Meopin offers a broad selection of information on health issues, intended to develop and strengthen patient skills (e.g. to be more informed and conscious about their treatments, thus feeling more secure and healthier following the medical guidelines). Meopin is already available in 4 languages.
For healthcare providers: Meopin presents a powerful channel to easily, efficiently and broadly increase their user base, medical reputation, and profits (in the case of private healthcare providers) or economic sustainability (in the case of public ones). In the digital marketplace, complete medical profiles will be available for patients worldwide in order for them to coveniently assess listed providers' expertise, reputation and convenience. Moreover, healthcare providers can offer telemedicine services (e.g. remote monitoring, diagnosis or prescriptions) maximising efficiency. Finally, Meopin will in the future support the growth of the professional healthcare market by offering a healthcare employment portal where healthcare entities and professionals can find the best match for their needs.
With so many features and functions, Meopin is the only digital product that provides a complete range of healthcare services to patients and providers in a single tool.
Meopin goes beyond: a unique platform with exceptional match making ability
Meopin is providing a single solution – all the resources sought after by patients and healthcare providers alike to interact transparently and efficiently. The benefits that Meopin offers its users are:
Holistic patient support: Meopin integrates all tools throughout the process, such as finding the best healthcare providers across Europe in its comprehensive databases, reviews & ratings to select the best ones and assess them after the appointment or treatment, a marketplace to directly buy and sell healthcare products and services, telemedicine tools to manage appointments, EHRs and prescriptions and Patient University, where patients can find valuable information for their education on healthcare (empowered patients);
Geographical scope: Meopin, thanks to its pan-European scope and multilingual support, will cover the needs of any patient at any country; and
Price: It will be free for patients and available at an affordable price (starting at €79 per month) for healthcare providers, with a short payback period.
The platform not only comprises of doctors or hospitals, as some competitors do; it is open to all categories of providers, such as doctors, nurses, midwives, optometrists, rehabilitation technicians, psychologists and therapists. Collective and institutional providers have a place too: hospitals, pharmacies, rehabilitation centres, home care services, blood testing facilities, nursing and specialised homes, old people's homes and emergency and first aid services. Vendors of medical devices, medicine and paramedical products are also listed, as are their devices, drugs and products.
By far the most complete solution on the market
These characteristics set Meopin apart as the most innovative and patient-centric tool for perfect matchmaking between patients and healthcare providers. The project began in 2017 and is aiming to scale up rapidly, with a subsequent expansion strategy in Europe initially followed by other continents.
Meopin was created in response to a specific request from patients. Patrick Goergen created the Luxembourg-based startup in October 2016 following various consultations with patient groups who expressed the importance of knowing how to find the best doctor, hospital or other healthcare professional in their country or abroad.
Goergen discovered that all of us are complicating our lives and spending days investigating when choosing a doctor or other health professional. We ask friends and family, we investigate our neighbourhood, we read notices in the newspaper about new practices and we search online. When falling sick on holiday, we enquire with hotel reception. When shopping for medical devices, prescription medicine or paramedical products, we check what public health systems in other countries are offering and again, we choose a doctor or medical provider based on a personal assessment which is difficult to make. Of course, it would be preferable to use this precious time to spend beautiful moments with our family and friends, and improve the access to relevant information, while at the same time learning from experiences other patients have reported with any particular provider.
At the same time, patients today have new expectations of their healthcare providers, regarding engagement, transparency, quality, and the overall healthcare experience. Patients expect their healthcare providers to know them, respect them and impress them.
The healthcare market is shifting towards patient centred care with renewed emphasis on patient experience as a core element of care quality. Providers should consider investing in the mechanisms, tools, and technology necessary to better engage patients and enhance their experience – from making appointment scheduling easier, increasing shared decision making, to offering convenient payment processes and effective follow up care.
How often do we as patients need direct communication with our doctor or healthcare provider?
An urgent appointment online;
Feedback about the medicine the doctor prescribed;
A question about a side effect of a medication;
A real time conversation informing the healthcare professional about the improvement (or not) of our situation; or
Small enquiries about our blood testing results – the list could go on.
For providers too, being able to reach a patient after a surgical procedure or consultation is valuable, even if it is not in the framework of a normal practice appointment.
Learn more about the founder
Patrick Goergen was a lawyer and is now an entrepreneur with more than 30 years of experience in international law and EU initiatives. For almost two decades he has managed and worked at his own law firm in Luxembourg, specialising in European law. In 2014 he founded Cross Borders, an EU & Project Consultancy firm.
His first digital product was Transport Refund, a mobile app telling airplane, train and bus passengers their rights in case of delays, cancellation and other transport related problems. He is the author of the brochure edited by the Luxembourg Consumer Organisation first in 2010 and updated in 2019, on the topic of social security coverage for doctor consultations or hospital stays abroad.
The gap
There is an obvious gap between practice appointments, medical procedures and testing. Better (faster, and always reliable) doctor patient communication can fill that gap. It would promote a better patient experience, higher satisfaction with follow ups by providers and overall, better care. Without a doubt, a 'win-win' situation.
Borne out of these considerations came Meopins' vision: change the relationship between medical providers and their patients, ask the relevant questions, and facilitate providers and patients' lives.
References
Accenture (2018). Accenture 2018 Consumer Survey on Digital Health
Research 2 Guidance (2018). mHealth Apps Economics 2017/2018 – Connectivity in Digital Health
Ray KN et al. (2015). Opportunity costs of ambulatory medical care in the United States
Referral Md (2017). 30 healthcare statistics that keep hospital executives up at night
HOPE's Working Party on Management of Waiting Lists (2004). Measuring and comparing waiting lists. A study in four European countries
Eurostat (2019). Migration and migrant population statistics
Patrick Goergen
Founder & CEO
Meopin
+49 221 2601 6296
patrick.goergen@meopin.com
Tweet @MeopinApp
http://meopin.com/en
This article has also appeared in Health Europa Quarterly Issue 11, which is available to read now.