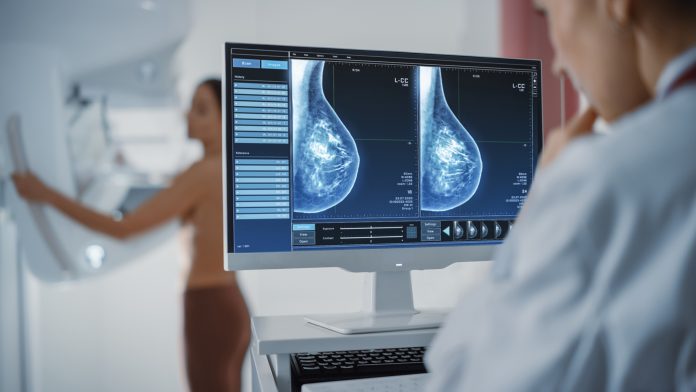 New figures reveal that almost four in ten women did not take up the breast cancer screening offered in 2022.
Thousands of women have now been invited to a breast cancer screening appointment, as new figures reveal that nearly four in ten women did not take up the offer in 2022.
According to the NHS website, anyone female registered with a GP is invited for an NHS breast cancer screening every three years between the ages of 50 and 71. The screening process employs X-rays that look for cancers which are too small to see or feel.
More women attend breast cancer screening than ever in 2022
In 2021-22, 1.97 million women aged 50 to 70 (62.3%) attended breast cancer screening appointments within six months of invitation out of the 3.17 million invited to book a check-up – a small increase on the previous year (61.8%).
 The NHS sent out 3.17 million invitations in 2021-22 to eligible women for breast cancer screening. The total number of women aged 50 to 70 screened in the year was 2.06 million, the highest volume ever screened in a single year; this figure includes those not responding directly to an invite.
The new data, available in the NHS Breast Screening Programme, England 2021-22 report, also revealed that uptake was highest in the South East at 67.7% and lowest in London at 50.4%.
Identifying cancers at an earlier stage is lifesaving
Breast cancer screening is crucial to give patients a better chance of survival. New national figures on Cancer Survival in England revealed that 91% of women diagnosed at an early stage of breast cancer, where the tumour is small (stage one), have a survival rate of at least five years. Whereas, the five-year survival rate for a late diagnosis, where the cancer has spread to other parts of the body (stage four), is 39%.
NHS director of vaccinations and screening Steve Russell said: "Screening is an effective way to detect cancers at an earlier stage, and it is in part thanks to our national breast screening programme that survival rates for breast cancer are so high.
"Today's figures show more than 20,000 women were diagnosed and able to get treatment because they attended breast screening check-ups last year, yet nearly four in ten women aren't taking up their screening invite and booking an appointment.
"We are sending out more breast screening invitations than ever before in an effort to save even more lives, and we want more women to take up their screening offer when invited, so please if you have been invited – book an appointment at your local screening service or mobile unit as soon as possible."
Pledging £10 million to accelerate cancer diagnosis process
The UK Government pledged an additional £10m to speed up cancer diagnosis for thousands of women. This investment will provide 29 new NHS breast cancer screening units and upgrade services in almost 70 areas. The new units and service upgrades will allow more women to be screened earlier, improving outcomes for patients.
Recommended Related Articles