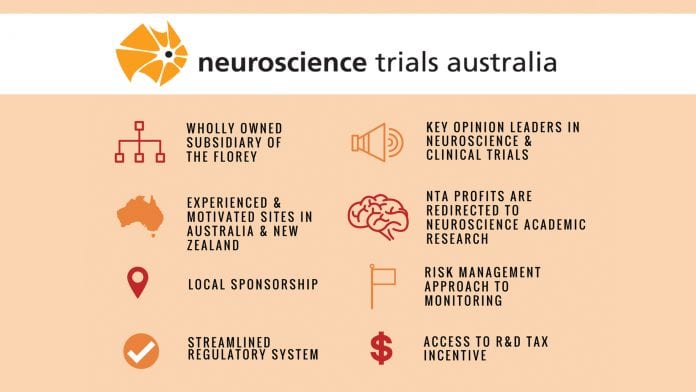 Why Australia is undoubtably the place to be for conducting clinical trials in the neuroscience space.
Neuroscience Trials Australia is an Australian-based, niche, not-for-profit contract research organisation (CRO), specialising in neuroscience clinical research. Founded in 2001, the CRO was established as a wholly-owned subsidiary of The Florey Institute of Neuroscience and Mental Health at the renowned University of Melbourne, the largest research centre of its kind in the southern hemisphere.
A local organisation with a global focus
Neuroscience Trials Australia work on global and local projects with clients from around the world, including the USA, UK, Canada, Germany, France and Taiwan. Our team of specialists are currently involved in over 50 trials in nearly 200 sites across Australia and New Zealand. We work across a variety of therapeutic areas including:
Epilepsy;
Stroke;
Motor neuron disease (MND);
Multiple sclerosis (MS);
Alzheimer's disease;
Mental health;
Parkinson's disease;
Spinal cord injuries;
Huntington's disease;
Neurosurgery;
Pain;
Neuromuscular disease; and
Migraine.
"Our share of international clinical trials in neuroscience is expected to increase by almost 25% over the next three years," says Dr Tina Soulis, CEO of Neuroscience Trials Australia. "With an ageing population and increasing numbers of people suffering from neurodegenerative diseases and neurological disorders, we anticipate we will grow to meet this demand to test more therapeutic interventions and fast track those that show promise."
As a CRO, we are at the frontier of neuroscience clinical trials. The combination of Australia's rich life sciences and medical research sector, combined with the encouraging environment for clinical trials created by the Australian government and industry bodies, and the wealth of talent we have recruited over the years, places us in this uniquely strong position.
Australia – the place to be for clinical trials
Australia has a proud and ongoing history of discovery, innovation and commercialisation in the life sciences. It is ranked in the world's top five in the biotechnology innovation space, according to Scientific American Worldview, with a total spend of $33 billion on research and development (R&D).
The combination of being the home of world-leading research institutes and hospitals, and pioneering clinicians, scientists and allied health professionals have formed the foundation of Australia's emergence as a major player in the clinical trials space. In combination with an efficient regulatory framework, globally competitive tax incentives, a comprehensive healthcare system, well-established clinical trial infrastructure, and a diverse population, Australia has become the destination of choice for high-quality clinical trials.
International and local companies across diverse therapeutic areas, from neuroscience to oncology, have conducted clinical trials in Australia. This exemplifies the strong capabilities of Australia to oversee a mix of industry and non-industry sponsored trials at all clinical trial stages in the pharmaceutical, biotechnology and medical devices sectors.
Leading the way
A 2017 report by MTPConnect found that up to 1,360 clinical trials were instigated in Australia during 2015. Over three years, from 2012 to 2015, the number of trials registered in Australia increased by approximately 2% per annum. In 2015, the gross expenditure of the clinical trials industry reached $1.1 billion and this included supporting 6,900 highly-skilled jobs. This growth is projected to continue. If the clinical trial sector in Australia continues to expand at its current rate and improves patient recruitment by 25% to 50%, the value of the sector could increase to $2.1-2.5 billion and sector employment from 13,000 to 16,000 in the next seven years.
While Phase III trials have comprised the majority of Australia's clinical trial activity in the past, since 2008, there has been a steady growth in Phase I activity. "Australia has a stronger position in trials situated in rapidly changing disease areas or trials that have a complex design. These need high-quality data and treatment environments, and greater involvement of key opinion leaders. Our renowned international reputation makes Australia the country of choice in the Asia-Pacific region and, in fact, the world for early phase studies," states Dr Soulis.
There are five global quality Phase I units located throughout Australia, with over 86 clinical trial networks in Australia, which makes finding suitable sites and negotiating study budgets a quick process. With most sites based within major teaching hospitals, there are well established access pathways to potential participants.
A wealth of scientific talent
Australia boasts some of the greatest talents in scientific research and medical practice with many Australian researchers and doctors having spent time in the USA or Europe.
"Our reputation in medical research is exemplified by our first-rate publications in prestigious journals, ranging from basic science to work that revolutionises clinical practice in a variety of different fields," commented Dr Soulis. With worldwide key opinion leaders residing and working in Australia, organisations and projects can draw from a breadth and depth of knowledge and expertise.
Australia's high-quality healthcare system, which is accessible to all members of the population, helps support clinical trials. Further, Australia's diverse population ensures better high-quality data on the efficacy of a drug and the range of side effects across a range of ethnic and cultural backgrounds.
The Australian public has a high awareness of clinical research and has a generally positive perception of the value of conducting clinical trials, their role in contributing to a greater cause and the potential impact of clinical research on health outcomes. Australian Government initiatives, such as australianclinicaltrials.gov.au and www.anzctr.org.au, allow public access to information about clinical trials in Australia.
Australia has, over time, created an environment that encourages innovation and productivity in the clinical trial space, while maintaining the highest quality and ethical standards.
Globally competitive R&D tax incentives
The Australian government currently offers incentives to encourage R&D activities in Australia in recognition of the importance of driving Australian companies to become more innovative, productive and prosperous. The R&D tax incentive helps companies by being:
Better targeted at genuine R&D;
More generous in its financial support, particularly for small and medium-sized enterprises (SMEs);
More predictable by decoupling incentive from the company tax rate; and
Less complex and restrictive through the removal of requirements to hold resulting intellectual property in Australia.
This, in turn, has made Australia among the top ten most competitive locations for R&D investment, according to a report by accounting firm KPMG.
The R&D tax incentives have two key components: 43.5% refundable R&D tax offset and a 38.5% non-refundable R&D tax offset. The 43.5% refundable R&D tax offset is available to eligible companies with an aggregated turnover of less than $20 million per annum. An upfront cash refund is provided for companies in tax loss. The 38.5% non-refundable tax offset is available to all other eligible companies and companies can carry forward unused credit amounts for use in future years. Eligible activities include pre-clinical research, manufacturing and clinical research, and not all work needs to be undertaken in Australia.
This tax credit can effectively halve the cost of undertaking projects. In a study conducted by Frost and Sullivan, it was found that in early phase clinical trials, Australia was 28% cheaper than the USA before tax incentives and 60% cheaper after tax incentives.1 Australia is a more cost-effective destination and alternative compared to many other Western world locations.
An efficient regulatory system
Through several different mechanisms, Australia's efficient regulatory and approval system is simple, streamlined and cost effective. The Medicines Australia centralised contract template, which all sites are expected to use, has reduced timelines associated with the legal review of Clinical Trial Agreement documents. There is no requirement for an Investigational New Drug (IND) application to undertake a project in Australia.
There is also a centralised electronic system for ethics approval with multi-site acceptance, which has resulted in short start-up timelines. To date, 69% of applications have been approved within 30 days, with the benchmark being 60 days. The Clinical Trial Notification (CTN) scheme has been recognised as the global gold standard in minimising the regulatory burden on clinical trial sponsors. The majority of commercial clinical trials are regulated under the CTN scheme, which means all documents relating to a proposed clinical trial are submitted directly to institutional ethics committees by researchers on behalf of sponsors. These committees confer final approval and the Therapeutic Goods Association (TGA) is notified of a proposed clinical trial. On the other hand, with the Clinical Trial Exemption (CTX) programme, documents are reviewed by the TGA as a first step, following which, a clinical trial may be conducted without further assessment.
This system removes unnecessary bureaucracy and duplication, which saves companies and organisations conducting clinical trials in Australia a considerable amount of time and money. "While most of the trials we facilitate fall under the CTN scheme, the elimination of paper-based applications is a saving for us in terms of both time and resources. The speed of both ethical approval and TGA notification plays a key role in quickly establishing dedicated clinical trial administration, which can prove a vital factor in patient recruitment rates. Such initiatives are critical in reducing the complexity of clinical trials so that we can better manage and cope with the increase in trials demand over the next five years," says Soulis.
Choosing Neuroscience Trials Australia
We are a world leader in understanding, navigating and facilitating clinical trials in the neuroscience space. Our core capabilities include:
Project management;
Study design;
Biomarkers and bio-banking;
Site management;
Data management and monitoring; and
Biostatistics.
Notably, we have access to and use of regulatory compliant data management and biostatistics, ensuring study data is of the highest standard and can be used in subsequent regulatory applications and submissions.
Our state-of-the-art facilities over three campuses in Melbourne, Australia, include platforms such as:
Laboratories, including diagnostic laboratories for the assessment of amyloid and tau proteins pre-clinical work;
Imaging facilities, including MRI, CT and PET; and
Translational research.
Our staff, with an average of 14+ years of industry experience, have global management expertise in all phases of clinical research, including studies sponsored by pharmaceutical and device companies, the biotechnology industry, granting bodies, collaborative groups, institutions and investigator-initiated studies. Our work is undertaken utilising either our own suites of standard operating procedures, or those of our clients. Our team is trained in good clinical practice principles and we work according to global regulatory standards. We have expertise in understanding and navigating global regulatory authority requirements, from the TGA in Australia to the Food and Drug Administration (FDA) in the USA.
With several strategic alliances with many therapeutic disease groups, we provide access to key opinion leaders, experienced sites and clinical trial expertise through a range of tailored services. Being a part of clinical trial networks, which includes the Australasian Clinical Trial Network, MS Research Australia, the Australian Epilepsy Clinical Trial Network and Cancer Trials Australia, allows us to keep capabilities databases, assist with feasibility and co-bid for projects. "The importance of these networks cannot be understated as most neuroscience trials require sophisticated and advanced technologies. Without these networks that enable us to access these technologies, information derived from each trial would be limited, meaning the improvement in health outcomes would be delayed," commented Dr Soulis.
Being a niche CRO, we can consistently deliver high quality and specialised support. We offer an overall competitive and low pricing model with no margin added for third party vendor-associated pass-through costs. Any profit that is made is redirected back into neuroscience academic research; we deliver projects in a cost effective and timely manner.
Case study: Cognition Therapeutics
Over the past three years, our team has collaborated with Cognition Therapeutics, investigating the use of the drug Elayta (CT1812) in treating Alzheimer's disease. The drug is a proprietary first-in-class, orally available small molecule and is unique in its disease-modifying nature, high bioavailability and significant penetration across the blood-brain barrier. At the molecular level, CT1812 targets the sigma-2 receptor complex on neuronal synapses. This interaction displaces bound neuroactive molecules and inhibits further binding of the toxic beta amyloid oligomers that are responsible for the form of neurodegeneration observed in Alzheimer's disease. As such, it has been found to have the potential to halt memory loss and to facilitate the regeneration of synapses.
With such promise shown in pre-clinical studies, it was important to ensure the highest quality first-in-man clinical trials to demonstrate the safety and efficacy of CT1812. Phase I clinical trials began in December 2016 and a short time thereafter, we helped Cognition Therapeutics conduct a small Phase II clinical trial in Australia.
Throughout 2017, these trials showed that CT1812 was safe and well-tolerated in patients with mild to moderate Alzheimer's Disease at three different doses for 28 days. It was also found that there were no clinically significant drug to drug interactions. Notably, treatment with CT1812 led to changes to the cerebrospinal spinal concentrations of several key synaptic proteins that are dysregulated in Alzheimer's disease.
We contributed in supporting Cognition Therapeutics navigate convoluted regulatory frameworks and obtain Fast Track status for CT1812 with the FDA. In addition to this, the company started a subsidiary in Australia, which was enabled by the generous R&D tax incentives. We were also able to support Cognition Therapeutics in opening up this CT1812 study to a global cohort.
Recently, Cognition Therapeutics received two multi-year grants, totalling 6.6 million USD, to fund further clinical studies. This successful collaboration between Neuroscience Trials Australia and Cognition Therapeutics exemplifies the importance of complementary and synergistic partnerships that are driven by a shared dedication to quality and excellence.
Case study: Cerebral Therapeutics
Recently, we delivered clinical trial services for Cerebral Therapeutics, assessing a groundbreaking drug and device for the treatment of severe refractory epilepsy. The world-first multi-centre dose-ranging clinical trial investigated the use of the Flowonix Prometra II Programmable Pump, a complex, precise medication delivery pump, which administers a proprietary formulation of an anti-epileptic drug. With the device implanted and the drug delivered through a catheter, implanted directly into the fluid around the brain, the drug and device is designed to enhance efficacy and reduce toxicity.
The support we provided for Cerebral Therapeutics included:
Project and site management;
Monitoring;
Ethics; and
Regulatory submissions;
Data management and biostatistics; and
Specialist clinical field engineer services support.
We helped guide the company in the establishment of a subsidiary in Australia, establish links with world-class clinical trials sites, negotiate and establish local clinical trial site contracts and budgets and set up a specifically designed electronic data capture system and compliant regulatory monitoring management of the clinical trial process.
Working at three sites, we collaborated with Cerebral Therapeutics to recruit 20 patients for the first-in-human study. Recently, Cerebral Therapeutics announced further financing following promising results in its preliminary clinical proof of concept study. "Neuroscience Trials Australia has been integral in successfully moving our drug development program forward from an administrative, leadership and direct operational detailed perspective. NTA has been a critical partner to us," said Dr Dan Abrams, CEO of Cerebral Therapeutics.
Our mission, vision and values
At Neuroscience Trials Australia, our mission is to improve lives through brain research; our vision is to be a world leader in brain research. We value innovation, excellence, commitment, passion, integrity, rigour, collaboration and teamwork.
Reference
Dr Tina Soulis
CEO
Neuroscience Trials Australia
Melbourne Brain Centre
+61 429 300 705
Tweet @NeuroTrialsAus
tina.soulis@florey.edu.au
www.neurotrialsaustralia.com
www.linkedin.com/company/neurosciencetrial
This is a commercial article that will appear in Health Europa Quarterly issue 6, which will be published in August, 2018.
Recommended Related Articles