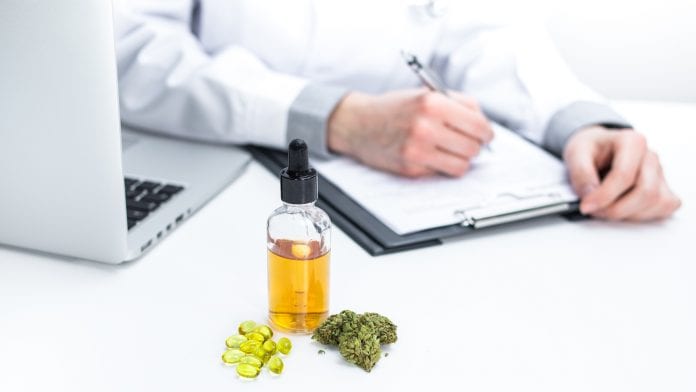 A new CBD and CBG solid 'micropearl' cannabis concentrate product, aimed at helping patients and consumers with controlled cannabis dosing, has received a patent for its design.
Los Angeles-based Evielab has launched and patented the industry's first CBD and CBG solid sublingual pearl. Originally developed in France, Evie pearls measure just 0.15 inches and deliver 5 mg of the CBD and CBG, packaged in a hygienic dispenser and designed to help with controlled cannabis dosing.
Evielab has patents pending on the processing of the micropearls, the dispenser and the custom-designed machines that produce them. The pharmaceutical-grade plastic capsule, injected at the highest level to meet stringent clean standards measures out a single pearl dosage.
Patented technology
The innovative patent-pending micropearl technology dissolves quickly under the tongue. Each pearl consists of purified CBD and CBG (cannabigerol) combined with natural terpenes.
Xavier Suid, Founder of Evielab, said: "We've spent two years developing this process and the end product."
High CBD Bioavailability
The patented pearl design delivers 5 mg of hemp extract with superior bioavailability to ensure that more CBD and CBG reaches the body's neurotransmitters. The patented production process delivers particles for a quick onset, and as a sublingual, they dissolve in your mucus and bypass the liver for more effective bioavailability and absorption.
Controlled cannabis dosing
One issue many patients and consumers have been facing when taking cannabis products is the issue of correct dosing. Accorsing to Evielab, the pear design is aimed at taking the guesswork out of dosing as the unique dispenser design delivers an exact dose of 5 mg in each pearl.
Users can mix and match pearls depending on the desired effect such as a pearl before a workout, focus while at work, a relax after work, and sleep at night time. This individual dosing gives the user much more control over their CBD experience.
Do you want the latest news and updates from Medical Cannabis Network? Click here for your free subscription, and stay connected with us here. 
Recommended Related Articles