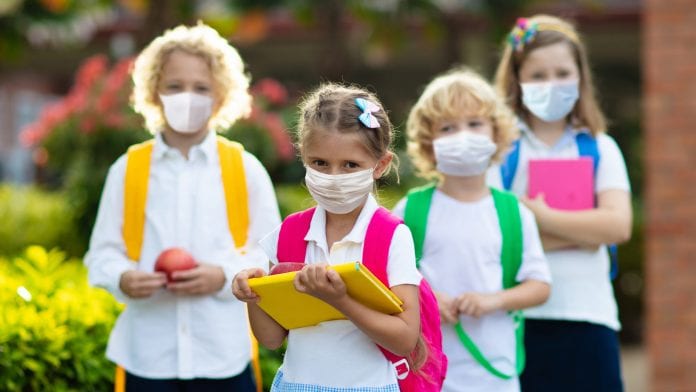 Governments are being urged rethink policies on COVID-19 infection control if primary schools are to be kept open this winter.
Schools across the country have been dealing with outbreaks of COVID-19 which has been forcing pupils into isolation and having a knock-on effect on their families. A children's infectious disease specialist highlighted that a new, pragmatic, evidence-based approach, recognising the unintended consequences of excessively risk averse approaches is needed regarding infection control if primary schools are to stay open this winter.
In the article published in Archives of Disease in Childhood, the authors call on governments to urgently rethink their policies.
The impact on children
They have said that the impact of missed schooling on children's physical and mental health, as well as their educational development during the first wave of the pandemic far outweighed the benefits of shutting schools to stop the spread of the virus.  Europe has also imposed various measure to limit the spread of infection and avoid further school closures during the second wave of the COVID-19 pandemic.
These measures include guidance on the use of face coverings at school, the isolation of children with symptoms and members of their families, as well as isolation of close contacts of confirmed cases – however, the authors highlight that these measures are not evidence-based and vary widely across the continent. They also highlight that no distinctions have been made between primary and secondary school children despite the known differences in the risks in these two age groups.
Finding solutions
What further disadvantages children is that none of the measures implemented across Europe have provisions to be relaxed based on infection rates, say the authors, as young children can contract anywhere between four and eight respiratory infections ever winter.
As the symptoms of colds are very similar to COVID-19, the researchers say this could end up with children missing unnecessary amounts of schooling, and families isolating and missing work when they need not.
The authors write: "The default position for primary schools should be the implementation of less restrictive infection control requirements. Implementation of evidence-based recommendations for primary school is a priority for all governments to avoid young children unnecessarily missing significant quantities of schooling this winter, along with a knock-on effect on their families."
The authors put forward recommendations including:
No compulsory face coverings for young children
No requirement for entire bubbles to isolate following a single case at school
No requirement for the entire family to isolate while awaiting the child's test results
Schools prioritised for rapid spit tests for COVID-19 when these become available
Flexibility to tighten or relax restrictions according to local infection rates
Teachers prioritised over children for COVID-19 vaccine
Lower testing threshold for children with symptoms and vulnerable close relatives
Prioritisation of these children for vaccination