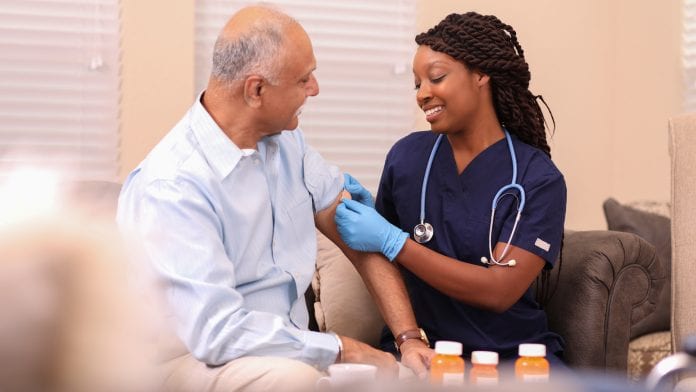 The European Commission has given regulatory approval for the first adjuvanted quadrivalent influenza vaccine to become available across Europe and is designed to protect those aged 65 and over.
This new adjuvanted quadrivalent vaccine (aQIV) builds on the technology used in an existing adjuvanted trivalent influenza vaccine (aTIV) which is currently available in several European countries. This new vaccine is designed to give enhanced protection to people aged 65 and over in comparison to standard influenza vaccines.
The four strains it is designed to protect against are two A strains and two B strains, as opposed to a two A strains and a single B strain in the currently available vaccines.
Seasonal influenza – commonly referred to as flu – is a highly contagious infectious disease. The European Centre for Disease Prevention and Control estimates that 15,000-70,000 people in Europe die from flu-related complications each year.
A new tool in the fight against flu
By the additional B strain into the new vaccine, it can provide additional protection, as data from the European Centre for Disease Prevention and Control showed that nearly half of all deaths in 2017 and 2018 from influenza in intensive care units reporting were due to B strain viruses.
Ageing can make people more vulnerable to catching influenza and can reduce the body's immune response to flu vaccinations. The adjuvant added to aQIV is designed to boost the immune response in older adults and to help compensate for this effect.
Dr Raja Rajaram, Head of Medical Affairs, Europe, said: "In these times, even more than in most, it's important to have age-appropriate vaccines to help protect against influenza.
"We know that people who get vaccinated are less likely to become ill with influenza. This will potentially help to keep pressure off health systems during continuing concern over COVID-19.  As a company, we are very focussed on developing vaccines that offer better protection for people who are particularly vulnerable to influenza. We are delighted to be able to bring this vaccine to Europe, which offers healthcare professionals an additional tool on the front line of influenza prevention."
The new vaccine will be manufactured in Liverpool, UK, by one of Europe's largest flu vaccine producers, Seqirus, and the approval for marketing authorisation means the vaccine will be available for use by 2021/22.