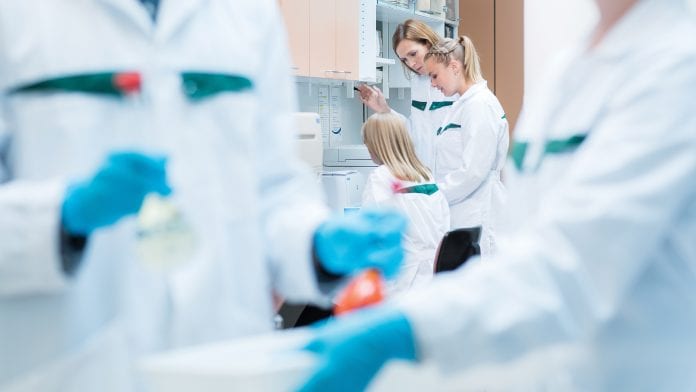 The collaborative New Modalities Ecosystem unites academia, pharma and technology companies to drive real and meaningful progress in research and treatments for rare diseases.
IN 2018, Finnish pharmaceutical company Orion launched the New Modalities Ecosystem, a unique multidisciplinary collaboration combining high-level academic knowledge with drug discovery and development. The ecosystem is aimed at enabling an improved understanding of disease pathology related to symptoms and progression of rare diseases and facilitating better, personalised treatments for patients.
It will initially target rare diseases that are part of the Finnish disease heritage, taking advantage of the strong genetic and clinical research and collaboration networks that have already been established in Finland in this area.
Why rare diseases?
Orion has chosen to target monogenic rare diseases on the understanding that they may provide a more straightforward and rational way of identifying suitable drug target proteins and implementing new treatment technologies, which may also be applicable in more common diseases.
Dr Amir Snapir, Orion's rare diseases development director, tells Health Europa that many companies have for a long time lacked incentive to invest money in understanding rare diseases – but this has at last begun to change.
He is hopeful that the New Modalities Ecosystem will build on already existing knowledge by improving our understanding of rare diseases from the perspective of treatment.
In particular, Snapir is keen to see the collaboration arrive at the identification of biomarkers, a key tool in drug development. There are two types of biomarker he is concerned with:
Pharmacodynamic biomarkers, which allow scientists to assess the effect of a given drug on the body
Predictive biomarkers, which allow scientists to determine which population is most likely to respond – and how well they are likely to respond – to a given drug.
"Now that we have this big, substantial collaboration going on, and we'll be collecting many different types of samples, I am hopeful that we'll finally be able to discover the biomarkers we need to do effective clinical trials, which has been a challenge in the past," he explains.
Case study: EPM1
One disease the New Modalities Ecosystem will be focusing on is progressive myoclonus epilepsy (EPM1), a group of conditions characterised by the worsening of symptoms over time and the presence of both muscle contractions (myoclonus) and seizures (epilepsy).
Reetta Kälviäinen, a professor of neurology at the University of Eastern Finland, has been studying the symptomatology and treatment of EPM1 for much of her life. Some time ago, she received a grant from the Academy of Finland to begin a large-scale phenotyping project, which was successful in demonstrating that, although EPM1 is a monogenic disease, there is variation: some patients have a milder phenotype and some a more severe one.
Kälviäinen – who also heads the Kuopio Epilepsy Center at Kuopio University Hospital – is now exploring this further in the hopes of identifying new treatments for the disease.
Alongside her, Professor Pasi Karjalainen and Dr Saara Rissanen – both of the Biomedical Signal Analysis Research Group at the University of Eastern Finland – are working to develop digital applications for measuring and reporting motion disturbances in patients with EPM1.
The 24/7 monitoring sensors, which Rissanen tells Health Europa are no bigger than a USB stick, can be used to monitor muscle activation and motion both in clinical trials and at the patient's home, allowing the doctor to verify symptoms that may not be present at the time of a medical appointment and use this information when planning a patient's treatment.
Karjalainen and Rissanen are currently adapting the technologies to be suitable for EPM1, but they have already witnessed promising results in Parkinson's disease patients, who have been benefitting from the applications for ten years. The challenge now is to modify the algorithms used in the technologies and to also develop a better understanding of EPM1, as has already been established for Parkinson's disease.
Kälviäinen is hopeful that these technologies will enable her to better and more easily measure the effects of new drugs – one day paving the way to effective and available treatments for patients with EPM1.
Collaborating for rare diseases
Snapir, Kälviäinen, Karjalainen and Rissanen are all in agreement that the New Modalities Ecosystem is a much-needed boost to their work. For Rissanen, the collaboration is vital in permitting them access to patients in a clinical setting. It also provides them with a direct line to pharma companies, allowing the two to consult with one another on their needs and exchange information and ideas. Karjalainen is meanwhile hopeful that the connections formed in the ecosystem will allow them to make already performed animal studies more comparable with human studies.
For Kälviäinen, the New Modalities Ecosystem is a useful structure that will bring academics, businesses and drug developers together to drive real progress in rare disease research and development.
She explains to Health Europa: "There has already been some collaboration between different universities, and many of us working on this disease in academia already knew each other, but we hadn't perhaps had the time or energy to begin discussing or collaborating with one another. Sometimes, you have your own ideas and hypotheses, but because you don't have the time or maybe the connections, you just think about them by yourself and they don't lead to anything. Now, we have a real framework in which to start working together and developing new solutions. We will share reports, have meetings – have a real collaboration. I am confident it will be very fruitful, and EPM1 is an excellent candidate disease to begin this work."
Snapir adds that it's uncommon that a pharma company would put the effort in to understand the mechanisms of a rare disease or the patient populations, so working with academic groups – many of whom operate close to patients in university hospitals – is for him the most beneficial way to understand a disease.
"Breaking down the walls between pharma companies and academia – as well as technology companies, who will be providing, for example, diagnostics or measurement tests – will be of enormous benefit to drug development programmes for rare diseases, which need to find a way to maximise benefit to the patients but at the same time control costs of development," he explains.
"It would take years for a pharma company to develop the same kind of relationship with, and gain the same kind of knowledge of, the patient population that academia has, and that understanding is invaluable. Vice versa, the New Modalities Ecosystem will allow academia to understand better the process of drug development and more deeply understand the regulatory environment pharma operates in, which will help them to better cater to our needs. It is a win-win situation – hopefully and especially for the patients."
The New Modalities Ecosystem is supported by funding from Business Finland and brings together Orion, PerkinElmer, Syrinx Bioanalytics, AdmeScope, Petsofi, Forendo Pharma, as well as the University of Eastern Finland, University of Turku, University of Helsinki, and Folkhälsan.
Professor Antti Haapalinna
Vice President, Research
and Development
Global Head, Therapy Area
Rare Diseases
Orion Corporation ORION PHARMA
+358 10 4261
antti.haapalinna@orionpharma.com
www.orion.fi/en
Please note, this article will appear in issue 8 of Health Europa Quarterly, which is available to read now.