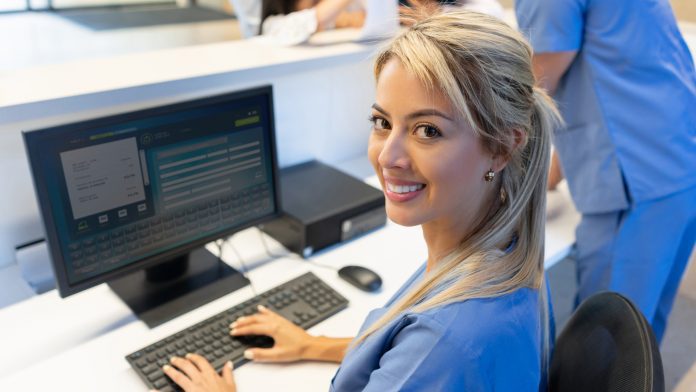 The Open University (OU) and Imperial College Healthcare NHS Trust have introduced a nursing associate degree course to offer a flexible route into healthcare.
The new partnership offers a Foundation Degree in Nursing Associate Practice, which is part-sponsored (the Trust is fully funding the second year's tuition fees) and delivered through the OU's flexible online learning and practice-based learning at the Trust.
The nursing associate role
A nursing associate is a fairly new role for healthcare in England and bridges the gap between healthcare support workers and registered nurses. Nursing associates deliver care under the supervision of a registered nurse.
Jan Webb, the OU's Associate Head of School, Nursing and Health Professions, School of Health, Wellbeing and Social Care, said: "It's exciting to be working with Imperial College Healthcare in an innovative way of developing nursing associates for the organisation, providing flexible education to support the Trust to develop a sustainable local workforce."
Jan Goldsmith, the Trust's Lead Nurse for Education and lead for the Nursing Associate Programme, said: "We are delighted to give members of our local communities the opportunity to begin a career in nursing with us.
"We are one of the biggest NHS trusts in the country with a fantastic tradition in nursing practice, education and research."
Two yearly enrolment opportunities
In a scheme set to run for the next five years, the OU will work with the Trust to offer two annual enrolment opportunities for cohorts of up to 26 London-based applicants. The first applicants will be interviewed in August for a start date in the autumn of this year.
Flexible study
The OU's Jan Webb added: "This is a unique partnership that is reaching out to the London community and one that we are able to deliver at scale. It sits fairly and squarely within our core values of offering education to all.
"Some of the people accessing this course will have never had the opportunity to enter higher education, so it's exciting that the OU will have such a hand in shaping their future careers. The OU's flexible learning model also opens up a career route to those who need to fit their learning around personal commitments – such as part-time work, family life, or caring responsibilities."
Following successful completion of the course, students will receive a guaranteed offer of a registered nursing associate post at one of the Trust's hospitals. They will also have the opportunity to work in the Trust's staffing bank as a healthcare support worker during the programme.
To be eligible to apply for this opportunity, applicants must live within the London boroughs of Hammersmith and Fulham; Westminster; Kensington and Chelsea; Brent; Harrow or Ealing; or be able to provide evidence of relocation prior to the course start date. More details can be found here.
Recommended Related Articles