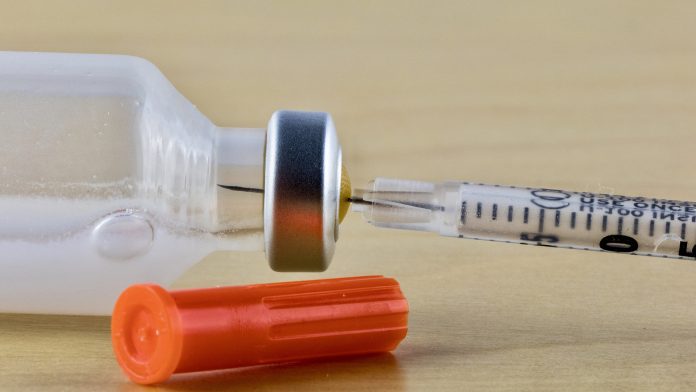 A new study has found that people who received weekly injections of the type 2 diabetes medication,
tirzepatide, reached their target blood glucose levels four to 12 weeks sooner than those who took existing diabetes medication. 
Research published in 2021 found that tirzepatide lowered blood sugar and supported weight loss better than existing type 2 diabetes medication. Now, new research evaluating the length of time taken for patients to reach their ideal blood glucose targets also indicates that tirzepatide works faster than existing type 2 diabetes medication.  
The latest trials found that adults who were injected with tirzepatide reached blood glucose targets four weeks sooner than those taking injectable semaglutide and 12 weeks sooner than those taking daily insulin. The results will be presented at this year's European Association for the Study of Diabetes (EASD) Annual Meeting in Stockholm, Sweden (19-23 September).  
Tirzepatide may prevent long-term complications
"Tirzepatide is a unique type 2 diabetes medication because it mimics two natural insulin-releasing and appetite-suppressing hormones in one injection", says lead author Dr Adie Viljoen, a Consultant Metabolic Physician and Chemical Pathologist from the East and North Hertfordshire NHS Trust.  
"The speed we are seeing in glucose-lowering and weight loss is beyond anything else we have available right now and it may put adults with type 2 diabetes in a better position for preventing long-term complications. But it is important to remember that these medications should be used in addition to diet and exercise," Dr Adie added. 
30 million people in the US have type 2 diabetes, and despite the availability of a range of type 2 diabetes medication, only around half of these achieve their target haemoglobin levels. The target for adult blood sugar levels is typically 7%, any higher can cause complications such as heart disease, stroke, kidney disease, eye disease and nerve disease.  
The trials compared different doses of tirzepatide (5, 10, and 15 mg) against a once-weekly 1 mg injection of semaglutide and a long-acting insulin (iDeg). 
Existing type 2 diabetes medication is significantly slower
On average participants who were treated with all doses of tirzepatide lowered their haemoglobin levels more than those treated with semaglutide and iDeg. A greater proportion reached haemoglobin levels of less than 7% after 40 weeks. 
The median time for people to achieve haemoglobin levels of less than 7% for those on tirzepatide was around eight weeks, compared to 12 for both semaglutide and iDeg. 
The researchers also found that those treated with tirzepatide also read their weight loss goals significantly faster than those who received semaglutide. 
"Even a modest weight loss of 5% of initial body weight is associated with clinically significant improvements in weight-related health issues for many individuals. For people with type 2 diabetes to be able to achieve these improvements in health in around half the time is incredible." said Viljoen. 
However, some mild to moderate negative side effects were recorded after tirzepatide use such as such as nausea, vomiting, and diarrhoea. These were most frequently reported during the dose escalation period and mellowed over time.  
The authors also acknowledged that the study had several limitations. The study was not designed specifically to compare the rate of glycaemic control and weight loss in type 2 diabetes medication and therefore the analysis should be interpreted with caution.  
Recommended Related Articles