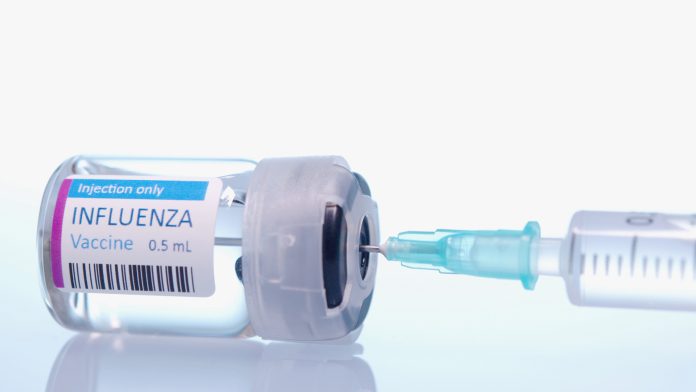 A new universal influenza B vaccine offers a strong defence against different strains and improved immune protection.
A new study by biomedical scientists from the Institute for Biomedical Sciences at Georgia State University has researched and developed a universal flu vaccine that protects against influenza B viruses. Influenza A and B most prominently cause seasonal epidemic infections yearly, leaving affected individuals with achy muscles, sore throats and headaches.
The findings are published in the journal Biomaterials.
Influenza B: why a universal vaccine is needed?
Influenza challenges the healthcare system each year, with vulnerable patients at risk of hospitalisation and death. The influenza B strain causes around one-quarter of clinical infections and can often be the dominant type during influenza season.
Influenza B has two lineages that trigger different immune responses. Despite existing vaccines being developed with one or both lineages, they quickly become insufficient due to the variable portion of the influenza virus. As a result, vaccines require constant reformulation, and new inoculations are always on the horizon. To mitigate these concerns, a universal vaccine that encompasses conserved parts of the virus and provides extensive cross-protection against various virus diseases is needed.
Creating an influenza vaccine with long-term proficiency
The scientists designed a double-layered protein nanoparticle influenza vaccine utilising the stabilised portion of the influenza virus, known as the hemagglutinin HA stalk. This new vaccine generated a broad immune response and showcased sustained cross-immune protection against influenza B virus strains of both lineages.
"In this study, we generated structure-stabilised HA stalk antigens from influenza B and fabricated double-layered protein nanoparticles as universal influenza B vaccine candidates," said Dr Baozhong Wang, senior author of the study and Distinguished University Professor in the Institute for Biomedical Sciences at Georgia State University. "We found that layered protein nanoparticles incorporated with structure-stabilised constant antigens have potential as a universal influenza vaccine with improved immune protective potency and breadth."
The scientists tested their vaccine in cell cultures and mice. They found that, in cell cultures, the protein nanoparticles effectively activated dendritic cells, inducing protective immune responses against pathogens. Moreover, the vaccine was safe, biocompatible, biodegradable and highly immunogenic in animals.
"Our next aim is to combine the influenza A nanoparticles from our previous study with the influenza B nanoparticles we have fabricated and tested here to create a multivalent universal influenza nanoparticle vaccine against both influenza A and B," Wang concluded.
Recommended Related Articles