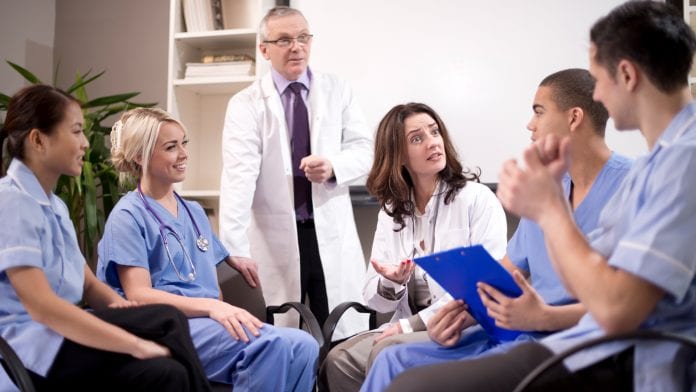 NHS Digital Academy CEO Rachel Dunscombe introduces the Digital Academy and explores how digital leadership can effectively disrupt the healthcare system
AT the HETT Show in October 2019, Health Europa had the opportunity to speak with the CEO of the NHS Digital Academy, Rachel Dunscombe. She gave us an insight into the world of the Digital Academy, highlighting the importance of education around digital transformation, laying out how the Academy can innovatively disrupt the UK's healthcare system; and exploring the need to anticipate and avert potential setbacks.
What does the NHS Digital Academy entail and what can applicants expect?
The Academy is, in essence, the route for chief innovation officers (CIOs) and chief technology innovation officers (CTIOs) to train and be prepared to work at board level: they may currently be working at a higher level with boards or on boards, but the Academy further provides training to support working at board level efficiently and effectively.
The Academy provides a postgraduate diploma, which can be taken to an MSc. It is a collaborative initiative provided by Imperial College London, the University of Edinburgh and Harvard University.
Applicants can expect a very real-world experience that allows them to understand everything from the work of the healthcare system to the technology that is being used, along with how to actively engage with citizens and patients; and how to implement transformational change in their personal leadership journey as well. It deals with everything that is relevant to a training CIO; applicants are encouraged to use their experience in the workplace, in projects and in learning sets to demonstrate their leadership journey while on the programme.
Applicants can expect to spend 10 to 11 days face to face with us, then they work through six modules via online learning and collaborative virtual sessions. There is also the opportunity to participate in regional action learning sets, where applicants will meet and work together on shared problems.
This is incorporated into the Academy because we have seen workers in the industry coming out of the training having gone from feeling that they work in a silo in their organisation to feeling that they work across a wider geography and, more importantly, feeling that they can positively affect national policy.
What these people also find in the process of participating in the Academy is their voice, both in terms of articulating policy as a whole and in terms of articulating the need for specific requests. Moreover, the Academy supports the potential for a set of people coming together to provide psychological safety for one another, especially when people are experiencing very difficult circumstances, be it personal, academic or professional.
It has really been great to see that participants are choosing to meet up on a very regular basis – we've seen them go on holiday together, some of them take group trips to conferences.
We have approximately 100 to 125 individuals in each cohort, and the programme is growing. We were at our maximum capacity in 2018 and in 2019: from this you see those participants in the cohort creating a set of professional frameworks and contributing to the bigger picture together. They are not just learning; they are using that learning to feed back into progress for the wider system.
How effective do you believe the Academy will be in bridging the 'digital transformation' gap?
It will be effective. But there is a lot more around it, this is just the start: by my estimation, in the next five years, we need to have education around digital for roughly 75,000 people in our workforce. Some of those will be doing this at Master's level, whereas for other people it may be heavyweight leadership courses. There may also be doctors who need a science postgraduate certificate, or perhaps an advanced apprenticeship that we want to put our staff on.
Nevertheless, we need to commission a whole suite of education to complement digital transformation, as individuals at board level alone cannot make a cultural change until we have the education and the system to support it. For me, this is something that needs to be implemented from school age to post-doctorate education.
This programme is essentially starting a digital-ready workforce, and I am contributing to it. It is a much wider and exciting programme and there are many more parts to it, however, I am proud to be contributing other parts of the jigsaw in the programme.
How do you believe the Digital Academy will positively disrupt the current healthcare system in the UK and engage with innovators in the industry?
The Academy gives the participants the skills to redesign care with stakeholders, including patients; it gives them an ability to articulate their case, along with providing a frame of reference to work with partners from smaller or larger businesses in the industry. Everything from the legal needs to the commercial needs, as well as the ethics around dealing with patients, will need to be covered; and we have workshops designed for some of those. We provide a space for small and large companies to interact and roleplay with those in the Academy.
The aim here is to remove the constraint from participants, providing them with infrastructure and techniques to allow them to perform in an unconstrained way. The reason I say 'constraint' is that when we look at using digital, we can quite often still think about 'building' people in a very traditional way to perform traditional tasks when people have the creative freedom to not be 'built' anymore. For instance, we may not need as many people on front desks greeting people, but we might need more people dealing with digital support for devices in the home.
Disruption is an interesting word. I like disruption. To me, it means doing things in a different way – but also doing things in a different way responsibly. I believe you can take everyone into a disruptive model, as long as you get their understanding of how they can utilise this. Many of these new models, if we're very conscious of how we design them, create a space for everybody that can be incredibly exciting.
We study healthcare systems as our first module. This allows people to understand how healthcare and other public and private sector bodies interact at a kind of national and regional level. By doing so, those in the programme understand how to place cases and how to make economic cases; and this is part of what is important here.
Much of what we do is about upscaling our communities: it is about getting people into work; it is about keeping people healthy so that they can ultimately continue to work. Therefore, there are many nuances to what we explore on the programme – but it has all got a very strong basis of ethics, consultation and co-creation.
How will the success of the Academy and the training it provides be assessed?
The NHS Leadership Academy is formally evaluating us to see how successful we are. They have interviewed and continued to interview people who have been on the programme, and then followed up with people to see how their career pathways have progressed compared to peers who did not join the Academy.
We already have anecdotal evidence that people are feeling a lot more confident in standing up and taking more senior jobs once they have been on the Academy. However, the evidence will come out from that very rigorous assessment of how successful it has been.
I like to measure the success in terms of how many real professionals we gain from a result of participating in the Academy. I have noticed that there are more people who are willing to contribute to the national picture, and that to me is one of my success factors.
What challenges do you expect the Academy to encounter? How can they be overcome?
I do not think there are roadblocks to the Academy itself, but in digitising the system the need to orchestrate education in the right way is key. There is a chance that education could become a limiting factor in digital health and care across the UK; although the Academy and Health Data Research UK, which is providing data science programmes for healthcare, are making great progress.
I believe the most important thing is to think about the next steps for education in terms of getting a digitally ready workforce programme alongside health education, and making sure that the people can do the job they need to do while allowing that transformational change to happen with digital technology. I think we are going to have to increase the capacity of universities for this: there are some programmes out there, but we need to integrate them into medical education.
I'm cautious about all the parts being ready at the same time. I would say that education is on the critical path to making this happen as this investment. I think for me, it is about getting the system ready, and that also includes the education process.
When I say education, what I mean is the ability for them to understand what we do, what we are going to provide for them and how will we provide transparency and allow them to build confidence by the governance that we provide for them to engage with what we are doing the right thing for them and ultimately show them transparently what we are doing as well.
Rachel Dunscombe
CEO
NHS Digital Academy
Tweet @ukpenguin
Please note, this article will appear in issue 12 of Health Europa Quarterly, which is available to read now.