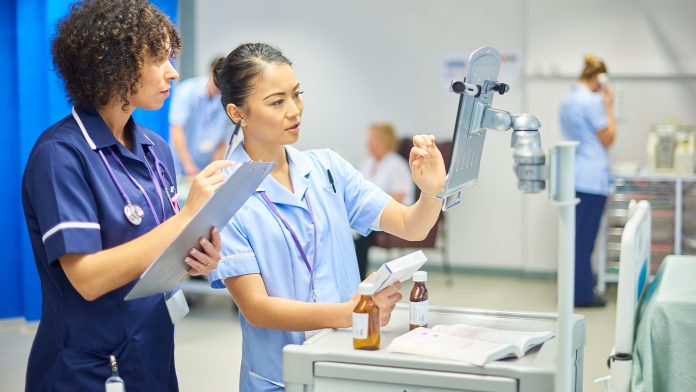 NHS Digital maintains and develops the mission-critical IT infrastructure that underpins the NHS and social care – but can a new hybrid solution improve digitally enabled care?
VMware, Inc., a leading innovator in enterprise software, announced that NHS Digital, the national information and technology partner for the UK's health and care system, has made VMware Cloud on AWS available across the NHS to help accelerate digitally enabled care.
Part of its multi-cloud, cloud-first approach, NHS Digital is now migrating VMware vSphere workloads to the cloud to drive down costs and improve operational efficiencies.
Accelerating digitally enabled care
As the NHS continues its large-scale digital transformation, and more of its services are delivered online, NHS Digital has adopted a cloud-first approach that will leverage multiple clouds as the best and fastest way to support this change in service delivery and improve NHS staff productivity. NHS Digital has been a long-standing user of VMware solutions over the past 15 years and has significant usage of AWS and Microsoft Azure.
VMware Cloud on AWS brings together the best of the VMware and AWS environments to the NHS. Ultimately, NHS Digital intends to migrate most of its services from its on-premises environment leveraging VMware Cloud on AWS, Amazon Web Services (AWS) and Azure.
VMware Cloud on AWS has enabled NHS Digital to create a new commercial model to act as a single cloud service broker to organizations across NHS and the UK public sector. This model will provide better economies of scale and help facilitate a move to cloud across the NHS. It illustrates well how NHS Digital is working with its suppliers to transform health and care through technology.
Benefiting from the economies of sale
"The uptake of digital services in the NHS is accelerating so the NHS and social care's IT backbone must be up to the job. With VMware Cloud on AWS, we're providing a resilient platform to support digitally enabled care today and in the future. We now have a commercial framework in place to enable NHS and public-sector organizations to confidently use the cloud. Together we can benefit from the economies of scale and cost efficiencies of this model," said Rob Shaw, Deputy Chief Executive, NHS Digital.
"We choose the right cloud for each workload, and VMware Cloud on AWS is the absolute best option for running our vSphere-based environments in the cloud. It's easy to move solutions across the different environments and it's easy to run and manage. We built a virtual data center in the AWS cloud in less than three hours. That speed and agility is just what we need to harness innovation and make the best digital services available for the NHS and social care sector," said Michael Flintoft, Associate Director, Platforms and Infrastructure, NHS Digital.
About VMware
Headquartered in Palo Alto, USA, VMware software powers the world's complex digital infrastructure. The company's cloud, networking and security, and digital workspace offerings provide a dynamic and efficient digital foundation to over 500,000 customers globally, aided by an ecosystem of 75,000 partners.