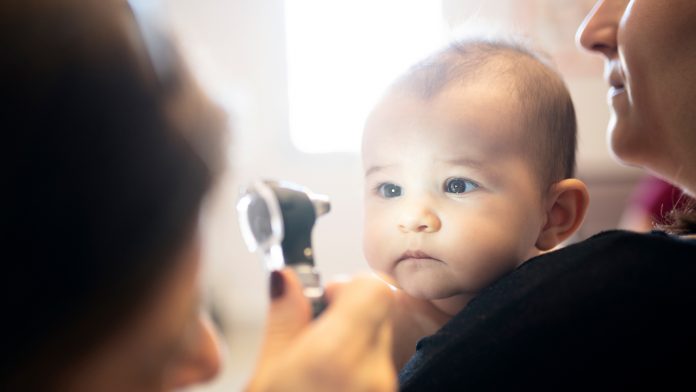 A life-saving test allowing doctors to spot a rare form of eye cancer in babies in the womb will be available on the NHS in England.
The new test, developed at the Birmingham Women's and Children's NHS Foundation Trust, will allow babies identified as being at risk of developing retinoblastoma to be monitored and treated sooner for eye cancer.
Retinoblastoma is a rare type of eye cancer that can affect young children. Symptoms are hard to detect, and a diagnosis can normally only be made once the tumour has progressed, and the eye cannot be saved.
Professor Dame Sue Hill, Chief Scientific Officer and Senior Responsible Officer for Genomics in NHS England said: "This new test is a perfect example of how the NHS Genomic Medicine Service is harnessing cutting-edge technology to deliver genomic tests for cancers like this and many other conditions through the National Genomic Test Directory – meaning more comprehensive and earlier diagnoses and more targeted treatments sooner for all our patients."
Cutting-edge eye cancer test
The new non-invasive eye cancer test can detect changes in the gene in DNA and is likely to identify around 50 infants with retinoblastoma each year, in the latest example of the NHS harnessing the power of genomics to diagnose and treat patients faster and more effectively.
Non-Invasive Prenatal Diagnosis (NIPD) also means parents can be informed early in pregnancy if their child is at risk.
The blood sample test is taken from the mother before birth and tested and analysed for mutations, which can determine with almost 100% accuracy if the baby will develop retinoblastoma.
Treatment for the eye cancer can begin on the affected eye when the baby is born, with doctors closely monitoring the other eye for any other signs. Furthermore, the test can also predict if the disease could develop in their siblings and will be offered to families where there is a confirmed case of retinoblastoma in the family.
Birmingham Women's and Children's Hospitals is also developing a non-invasive post-natal eye cancer test for retinoblastoma patients using eye fluid – which can also identify if a patient is at risk from other cancers later in life.
Dr Amy Gerrish, from Birmingham Women's and Children's Trust, who was behind the research, said: "The introduction of this technology of cell-free DNA analysis will revolutionise the management of all aspects of retinoblastoma from early detection, selection of the best treatments, identification of family members at risk of retinoblastoma and early detection and treatment of associated adult-onset cancers.
"We also believe it will help address the huge discrepancy in retinoblastoma outcome for individuals in high income and low- and middle-income countries, which has been highlighted by the World Health Organisation (WHO)."
Innovating NIPD
The NIPD is one of more than 15 new tests and amendments being added to the National Genomic Test Directory (NGTD), which outlines the genomic tests available via the NHS in England through the NHS Genomic Medicine Service (GMS). The directory, which is the only one of its kind, covers more than 3000 rare diseases and over 200 types of cancer.
Professor Dame Sue Hill, Chief Scientific Officer and Senior Responsible Officer for Genomics in NHS England said: "This new test is a perfect example of how the NHS Genomic Medicine Service is harnessing cutting-edge technology to deliver genomic tests for cancers like this and many other conditions through the National Genomic Test Directory – meaning more comprehensive and earlier diagnoses and more targeted treatments sooner for all our patients."
Patrick Tonks, Chief Executive of The Childhood Eye Cancer Trust (CHECT), concluded: "Any developments such as this new diagnostic test which has the potential to allow treatment to be started much sooner and therefore the real potential to improve patient outcomes is very exciting news for babies and the families of anyone affected by retinoblastoma. We watch with interest as this new development is rolled out across the country."
Recommended Related Articles