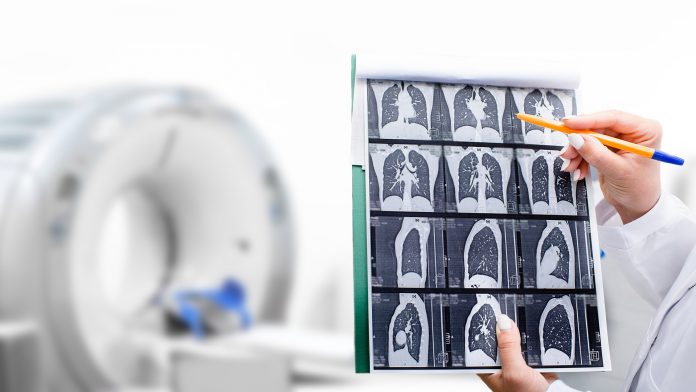 The NHS has revealed that hundreds of people have received a potentially life-saving early diagnosis for lung cancer thanks to its mobile lung cancer screening initiative.
In an effort to enhance lung cancer screening and diagnostics, the NHS is travelling to different areas across the country in trucks to deliver what they call a 'lung MOT', which has already seen 600 people get an early diagnosis. The programme will enable healthcare professionals to identify the disease in its early stages, meaning they can provide optimal treatment to enhance patient outcomes.
Saving lives through lung cancer screening
The mobile lung cancer screening project is part of the NHS Targeted Lung Health Check Programme, which has seen 77% of cancers caught at either stage one or two, boosting the patient's chances of beating the disease.
Compared to recent years, this is a significant improvement, with only one-third of cancers caught in these stages in 2018. Early diagnosis is vital, as people diagnosed with lung cancer at the earliest stages are 20 times more likely to survive for five years than those whose cancer is identified too late.
The initiative comes after recent data highlighted that only 35% of patients go to their lung health check when invited by the NHS, meaning thousands could be living unaware that they have the disease.
To combat this, the NHS has rolled out 23 trucks that roam the country performing lung cancer screening, with the trucks sending out around 25,000 invitations each month. An additional 20 NHS lung truck sites are scheduled to go live soon, which will increase the capacity to invite 750,000 more people for a lung health check. The NHS aims to have invited around 1.5 million people for a lung screening by 2024/25.
Dame Cally Palmer, NHS cancer director, said: "These lung checks can save lives – by going out into communities, we find more people who may not have otherwise realised they have lung cancer – with hundreds already diagnosed and hundreds of thousands due to be invited. The trucks are conveniently located to make them easy to access, and it is vital that as soon as you are invited, you take up the offer and come forward for these potentially life-saving checks.
"The rollout of our Targeted Lung Health Check Programme is a huge step towards reaching our NHS Long Term Plan ambitions of catching thousands more cancers at an earlier stage when they are easier to treat."
Where do the lung trucks visit?
The NHS lung trucks travel to convenient community sites around the country, including supermarket car parks, sports venues, and shopping centres, performing targeted lung health checks in areas of the country where lung cancer death rates are highest.
For example, in the North-West, a truck moves between Blackburn Rovers and a Blackpool sports centre, and in the South, vital lung cancer screening has been provided in Luton and Thurrock.
In addition to scanning for cancer, the mobile trucks have identified people with other undiagnosed conditions, such as respiratory and cardiovascular disease, resulting in efficient treatment and reduced hospitalisations.
Professor Peter Johnson, NHS clinical director for cancer, said: "Lung cancer can often be hard to detect at an early stage, and so these checks, close to people's homes, show how the NHS is taking action to find more people with cancer. Lives are saved when cancers are caught early and when more people are referred for tests, which is why the NHS has put so much effort into early diagnosis in recent years.
"We know that some people had concerns seeking help during the pandemic, but if you do have a worrying symptom or have been coughing for three weeks or more, please do contact your GP and get checked out."
Who is eligible?
The mobile lung cancer screening trucks target those most at risk of the disease, including current and ex-smokers aged between 55 and 74, with advice on quitting smoking also available to those who attend. Smoking causes more than 70% of UK lung cancer cases, with previous trials demonstrating that CT lung cancer screening reduced mortality by 26% in men and between 39% and 61% in women. People with any symptoms of lung cancer should visit their GP immediately.
Health and Social Care Secretary Sajid Javid commented: "I am committed to radically improving outcomes for cancer patients across the UK, and our 10-Year Cancer Plan will set out how we will lead the world in cancer care. We are also supporting the NHS to tackle the backlog with innovations such as community diagnostic centres which are delivering millions more tests, reducing pressure on other services and allowing people to be seen more quickly. This community scheme is exactly what we need to ensure hundreds of people get an earlier diagnosis, allowing them to get the treatment they need as soon as possible."
Christine and Danny, a couple who both went through the check and stopped smoking after Danny was diagnosed with lung cancer, said: "We received an invitation letter and are so thankful that we made the decision to go ahead with the lung health check. Unfortunately, the CT scan picked something up on Danny's lung and within days, we were at Castle Hill Hospital receiving a lung cancer diagnosis.
"He had no symptoms other than a cough, which we naturally put down to smoking, and we were shocked to find out the growth was really large. We were so lucky, the lung health check caught it just in time, and the amazing cancer team at Castle Hill Hospital were able to operate and remove the cancer without the need for chemo or radiotherapy.
"Danny is now completely cancer-free, but if it wasn't for the lung health check, he simply wouldn't be here today. We are so grateful to the amazing team who saved my husband's life and would urge anyone who is invited to take up the offer."
Bill Simpson, who has taken part in the Targeted Lung Health Check programme, said: "I had a call from a nurse inviting me to the lung health check, and I thought I may as well go. At the initial appointment, I was told I needed a CT scan and then a PET scan. That was when I was told – 'you have lung cancer. However, it's localised, it's a very small amount, and it hasn't spread'. One minute you've been given a death sentence, the next you're getting a reprieve, and it comes out in two sentences!
"The whole process, from the initial tests to having the operation and getting out of the hospital, took about six weeks. You're operated on, and a couple of days later, you can go home. You're fixed, you're mended, you feel great! The doctors have said it's given me ten more years of my life. I've got everything to live for, everything to look forward to. That's the big thing – if they find it, you can be fixed."
Recommended Related Articles