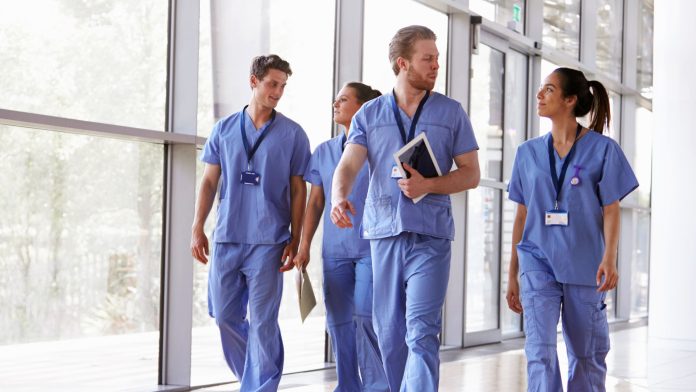 Health Secretary, Matt Hancock, launches TPA report on automation in health care highlighting that technology will allow NHS staff more time to do the vital jobs they love, saving billions of pounds.
A new report has been launched by Matt Hancock highlighting that improved NHS staff productivity from increased automation in the NHS is estimated to release £12.5 billion (~€14.6 billion) a year's worth of staff time.
The TaxPayers' Alliance report argues that technology will allow NHS staff more time to do the vital jobs they enjoy, and that technology can help address shortages and free professionals from repetitive tasks.
The TPA's report considers how existing and developing technology can enable the health and social care system to increase productivity, reduce costs, and result in world class health and social care.
The benefits of tech for NHS staff
Hancock explains: "Automation and innovation are changing the way we live our lives, and can transform the way we deliver public services for decades to come. It is mission critical for all of us who love and cherish our NHS that we seize the opportunities of the future and ensure that modern technology benefits staff, benefits patients and benefits our country as a whole."
The potential value of time released for NHS staff through improved productivity from increased automation is estimated to be £12.5 billion a year. Also, the social care sector could similarly save £5.9 billion (~€6.9 billion) annually by improved productivity from accelerated automation.
These combine to give potential annual savings of up to £18.5 billion (~€21.6 billion) by 2030.
There will be an increase from 19% of the population being above the state pension age in 2016 to 23.1% in 2066.
Public spending on health as a percentage of national income is projected to increase to over 12% of national income by 2067.
To continue providing world class care now and, in the future, the NHS will have to take steps to increase its productivity and reduce the chance of a workforce crisis. Progress is already being made in this regard, but big productivity gains are made when technology is embraced.
"Technology will not only help the NHS thrive it will help save lives"
Dr. Simon Wallace, Chief Clinical Information Officer at Nuance Communications adds: "The NHS must demonstrate how it can encourage a culture shift to ensure technology is properly being used to boost efficiency, improve patient care and reduce stress and burnout seen across the healthcare profession.
"Technologies like cloud computing is enabling more interoperability, resulting in increased data sharing across Trusts and more complete patient records, whilst artificial intelligence should reduce the burden of administration and support clinical decision-making."
"In order to ensure these technologies are more widely available, it is important that budget allocated to digital health is utilised in investing in innovative technologies, and not clawed back to fund other reactive needs, such as previous winter pressure. Innovative technology will not only help the NHS thrive it will help save lives."