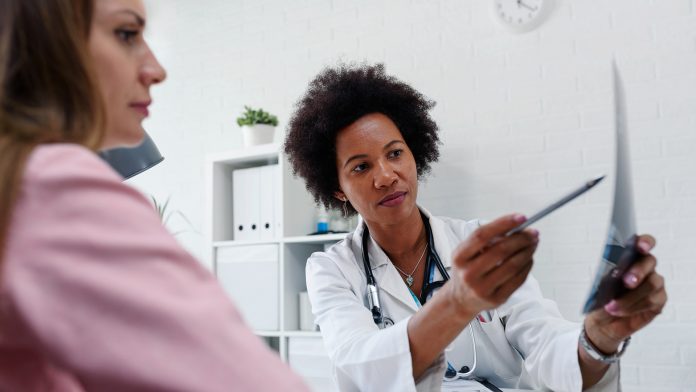 In an exciting announcement, the NHS has revealed it has secured a potentially lifesaving deal for pembrolizumab, a drug tailored to breast cancer. 
Pembrolizumab is used in combination with chemotherapy and works by reducing the chances of breast cancer progressing by almost two-fifths. The latest drug deal will help up to 1,600 women a year affected by high-risk triple negative breast cancer. 
Triple negative breast cancer is a rare type of breast cancer. It is found in around one in five women with breast cancer and is commonly seen in women under 40. Treatment options for this variation of breast cancer include surgery, removing the breast, breast reconstruction, lymph node surgery, radiotherapy and chemotherapy. However, patients in England will now gain access to pembrolizumab. 
What is pembrolizumab and how does it work?
Pembrolizumab works by stimulating the body's immune system to fight cancer cells. They target and block a specific protein on the surface of certain immune cells which then seek out and destroy the cancerous cells.  
It is delivered directly into the bloodstream every three to six weeks for around one year, and the treatment will be fully funded by the NHS for eligible patients in England.  
NHS chief executive, Amanda Pritchard, said: "This is a hugely significant moment for women – the NHS has struck a new deal to roll out a potentially life-saving drug for patients suffering with the most aggressive form of breast cancer that has been traditionally very difficult to treat.
"It is fantastic news for around 1,600 women across the country each year who have either been diagnosed with triple-negative breast cancer or will be in the coming years – it will give hope to those who are diagnosed, and prevent the cancer from progressing allowing people to live normal, healthy, lives. 
"This is just the latest commercial drug deal that the NHS has struck for patients – once again highlighting the innovative treatments available at a price that represents good value for money for taxpayers." 
The National Institute for Health and Care Excellence (NICE) has published draft guidance recommending pembrolizumab to be used in combination with chemotherapy.  
The drug offers a range of benefits to triple negative breast cancer patients
The drug has already offered various benefits to women who have used it in clinical trials or on a compassionate basis. However, up to 1,600 women will now gain access to pembrolizumab because they are at a higher risk and already receiving chemotherapy.  
Whether a patient will receive pembrolizumab will depend on individual factors, such as high risk and if they are fit and well enough to take it. 
It will be used initially with two types of chemotherapy, each given on a three-month basis prior to surgery for breast cancer and then used alone after surgery. The treatment has indicated it can increase the chance of remaining free of an adverse breast cancer event and also there being no active cancer found in the resected breast tissue and axially lymph nodes.  
NHS director of specialised commissioning, John Stewart, said: "The NHS is committed to delivering the best for its patients and this latest deal for a cutting-edge breast cancer treatment showcases the power of the NHS to agree on deals for the latest medicines and treatments at affordable prices for taxpayers. 
"Pembrolizumab is the second drug the NHS has secured for women with triple-negative breast cancer this year, and just the latest in a series of commercial drug deals struck by the NHS to ensure patients have access to the best possible treatments." 
Recommended Related Articles