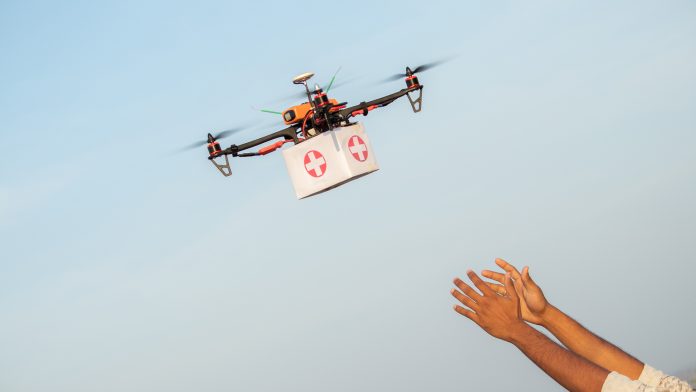 The NHS has revealed that it will be trialling the world's first drone delivery service for chemotherapy. This groundbreaking innovation will get life-saving treatments to patients faster and reduce carbon emissions.
The announcement comes on the NHS' 74th birthday and adds to a range of cutting-edge innovations in the NHS Long Term Plan that aim to optimise care for UK patients. The drone delivery service is scheduled to start in the coming weeks and will ensure that essential chemotherapy treatment can be picked up and dropped off to patients on the same day.
The trial is a collaborative effort between the Isle of Wight NHS Trust, Portsmouth Hospitals University NHS Trust, Solent Transport, University of Southampton, King's College London, Skylift, Modini, the Ministry of Defence, UKRI and Apian.
Where will the chemotherapy drone delivery be used?
Chemotherapy is especially challenging to transport because some doses of the treatment have a short shelf life. To overcome this, the NHS has partnered with Apian, a medical drone delivery start-up company, to optimise the distribution of the treatment.
The chemotherapy drone delivery project will be initially trialled on the Isle of Wight, with the chemo flown directly from a pharmacy Portsmouth Hospitals University NHS Trust to St Mary's Hospital, where staff will distribute it to hospital teams and patients. The project will later be trialled in Northumbria, allowing clinicians to make same-day orders for critical medical equipment and treatments.
A Net-Zero NHS
Medical drones will reduce delivery times from four hours to just 30 minutes, saving both fuel and labour and making cancer care more convenient for patients who live in remote areas. Per delivery, each drone will replace at least two care journeys and one hovercraft or ferry journey, taking the NHS one step closer to becoming the first carbon-neutral health system globally.
Amanda Pritchard, the chief executive of the NHS, commented: "Drone delivery chemotherapy is another extraordinary development for cancer patients and shows how the NHS will stop at nothing to ensure people get the treatment they need as promptly as possible – while also cutting costs and carbon emissions.
"From a smartwatch to manage Parkinson's to revolutionary prostate treatments and making the most expensive drug in the world available to NHS patients, it has been another amazing year of innovation in the way the health service delivers treatment and care.
"As the NHS turns 74, it is clear that the pace of change and improvement across the health service is only accelerating as our fantastic staff seek to make the most of life-changing advances to improve patients' lives as we promised in the NHS Long Term Plan."
Sajid Javid, the UK Health and Social Care Secretary, said: "I want England to become a world leader in cancer care and using the latest technology to deliver chemo by drone means patients will have quicker, fairer access to treatment no matter where they live.
"As the NHS turns 74, innovations like this will help improve patient's access to life-saving care while ensuring the NHS is making the best use of the record funding we're investing to bust the Covid backlogs. Our upcoming 10-Year Cancer Plan will set out a vision for how we will speed up diagnosis, roll out innovative new treatments and revolutionise cancer services across the country."
IOW NHS Trust CEO, Darren Cattell, commented: "The Island has a long history of innovation. We are excited to continue that tradition by utilising the latest technology to overcome the challenges we face and to provide the very best service to our patients.
"We are still at a relatively early stage, but the use of drone delivery to transport medical supplies is a concept that has radical and positive implications for both the NHS and patients across the UK as well as the Isle of Wight. It is great to be part of this innovative project."
Apian CEO, Alexander Trewby, said: "My mother worked for the NHS in Portsmouth her entire life before she passed away from cancer three years ago. This project marks a very important first step in the construction of a network of drone corridors connecting hospitals, pathology labs, GP surgeries, care homes and pharmacies up and down the country so that in the future, everyone's mother will benefit from the delivery of faster, smarter and greener healthcare."
Matt Whitty, Chief Executive of the Accelerated Access Collaborative & Director for Innovation, Research and Life Sciences at NHS England, said: "It's a pleasure to see an innovation that began as an idea from talented NHS staff become a reality with such huge potential, and all with the support of our Accelerated Access Collaborative programmes.
"Apian was supported by the NHS Clinical Entrepreneur Programme (CEP) which provides support to entrepreneurial NHS staff helping nurture innovation within the NHS and then they received funding support from our Small Business Research Initiative Healthcare Awards. The first-ever drone delivery of chemotherapy will show the very best of the impact that innovation can have on patient care as well as contributing to supporting the NHS's net-zero goals."