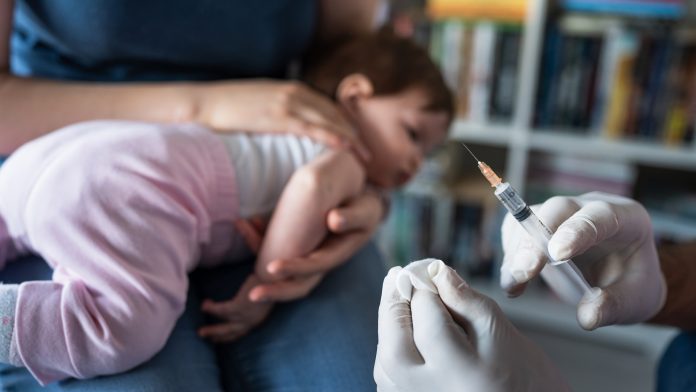 The NHS is campaigning for parents and carers to book their children for the MMR vaccination by sending reminders through text, email and letters.
In the latest drive to encourage immunisation, the NHS are contacting parents and carers of around 750,000 children aged between one and six who have not had one of both doses of the measles, mumps and rubella (MMR) vaccination, urging them to make an appointment with their child's GP practice.
Current statistics indicate that one in ten children are not currently up to date with their MMR vaccinations, despite the ongoing push to get children vaccinated.
What is the MMR vaccination?
The MMR vaccination is an effective combined vaccine that tackles three serious illnesses: measles, mumps, and rubella.
These conditions spread easily among unvaccinated people and can lead to problems including meningitis, hearing loss and problems during pregnancy.
The MMR vaccination is typically administered when the child is one year old and then when the child is three years and four months old. The reason the first dosage is given at one year is that newborn babies have antibodies passed from their mother at birth, protecting them for a short period against measles, mumps, and rubella.
The MMR vaccination is highly effective, with two doses protecting around 99% of people from measles and rubella, and 88% of people are protected against mumps. Moreover, if you caught mumps and are vaccinated, the likelihood of serious complications or admittance to the hospital is low. This protection starts to develop around two weeks following the MMR vaccination.
Side effects of this vaccination are minimal but can include sore or swollen injection area, and around seven days later, babies or young children may feel unwell or develop a high temperature.
Ensuring children stay up to date with vaccines
Alongside MMR vaccination reminders, the NHS has sent 1.5 million invitations to parents with children aged two to three years old to get their flu vaccination before winter. This is a great opportunity for unvaccinated children to also receive their MMR vaccinations.
Steve Russell, NHS director of vaccinations and screening, said: "Measles, mumps and rubella easily spread between unvaccinated people and can be very serious, so it is important that parents make sure their children are protected against MMR as they return to school, and are up to date with their flu vaccination if eligible as we head into the winter months.
"The MMR vaccine is one of the most studied vaccines in the world, with millions of doses given every year – it is safe for your child, and will protect them, their friends and the wider community from these unpleasant but preventable diseases. If your child hasn't been vaccinated yet or is not up to date with their vaccinations, please contact your GP to book an appointment."
Recommended Related Articles