Nordic Lab is a global supplier of unique and innovative compact freezers, providing cold storage solutions for a plethora of medical settings.
Based in Denmark, Nordic Lab has earned its reputation as an industry-leading manufacturer and distributor of innovative low-temperature freezer storage solutions, providing laboratories, hospitals, and research institutions with unparalleled expertise and technology.
Their unique products are built to the highest quality, demonstrating outstanding long-term durability, exceptional energy efficiency, and require extremely low maintenance and servicing. Nordic Lab's low-temperature freezers can be obtained at competitive prices, making them some of the most economical on the market.
Freezer storage solutions for the medical sector
The comprehensive Nordic Lab product range possesses the versatility to meet all requirements and demands of the medical industry in terms of length of storage, sensitivity, and type of samples. The company's cold storage solutions cover temperatures from -10°C to -86°C, perfect for any medical or industrial laboratory.
The primary goal of Nordic Lab is to produce compact cold storage solutions for the medical industry, ensuring optimal performance and ease of use. That's why all of their freezers are designed around three key areas: simplicity, quality and functionality, and are all manufactured in Denmark. The positioning of the Nordic freezers is unique in the market, as their products complement the larger freezers from all the major brands, with the strategy being to focus on smaller sized and cost-efficient freezers.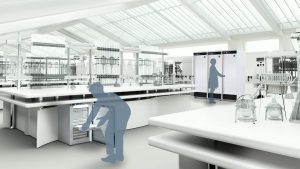 Innovative design
Nordic Lab freezers are based on a unique single-stage compressor technology that allows them to build small units with a large storage capacity. The company's Ultra Low Temperature (ULT) freezers meet the demands for long-term storage of the most sensitive articles and samples, achieving temperatures of -86°C. In addition, they boast a variety of chest and upright freezers; these are premium products with outstanding long-term durability, low energy consumption, and minimum maintenance and service requirements.
Furthermore, environmental friendliness, a natural refrigerant, cyclopentane insulation, and recyclable materials make Nordic Lab a green alternative. The production is in accordance with ISO 9001, 14001 and 45001 certification and standards, assuring a uniform and consistent high quality.
Areas of expertise
Compact freezers for low-temperature storage
Single-stage compressor technology
Manufactured in Denmark
No yearly service is required and easy to install
A green alternative
Recommended Related Articles