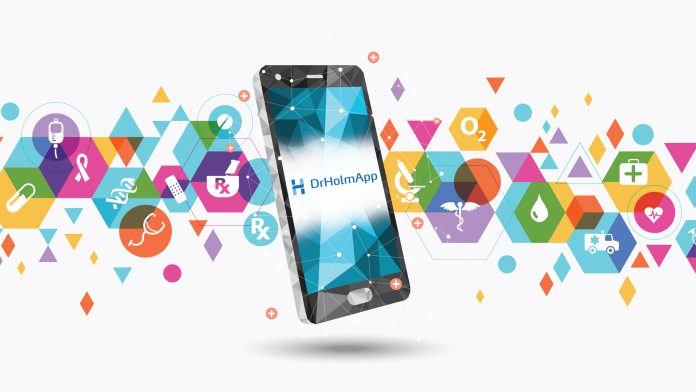 Dr Holm Ltd. offers the web application DrHolmApp and educational courses for both healthcare professionals and patients.
Obesity is an immense global health challenge and efficient obesity treatment is of pivotal importance. Efficient and easily implementable protocols for the treatment of obesity are lacking. Dr Holm Ltd. is introducing a new and efficient paradigm in the understanding and treatment of obesity.
The treatment platforms are provided in the form of country-specific web application services (DrHolmApp.co.uk, DrHolmApp.de, DrHolmApp.eu etc. available from August 2018), accessible from the web browser on any device with an internet connection (smartphone, tablet, computer etc.), as well as educational courses addressing obesity treatment for both healthcare professionals and patients (Dr Holm Health Courses Ltd.).
Background
Obesity evolves at a pandemic scale with enormous implications for future public health and disease including a shortening in expected life span. Treatment of obesity has traditionally been a difficult task with disappointing retention rates and treatment results. An effective obesity treatment strategy is imperative and urgently needed worldwide.
Obesity is not only an individual problem, but conveys considerable global economical and societal challenges.1,2 Since no gold standard for treating obesity has been identified, it is imperative to take action in this paradigm shift, where obesity is treated as a disease as declared by the World Health Organization (WHO) in 1948, by the American Medical Association and the American Heart Association in 2013, by the Canadian Medical Association in 2015,3-6 and as recommended by the EASO's Childhood Obesity Task Force in 2015.7 The understanding of obesity as a disease implies that patients with obesity must be offered a professional medical healthcare service in accordance with good clinical practice and their individual psychosocial and medical needs.
Treatment of obesity by the Dr Holm protocol is a gamechanger, and has demonstrated convincing results in a clinical setting with reductions in the degree of obesity in 69-90% of thousands of patients in several studies in both primary and secondary healthcare clinics.8-10 Additionally, the Dr Holm protocol has managed to ameliorate obesity-related medical complications including the degree of hypertension, fatty liver disease, visceral fat, and five out of five lipid fractions in dyslipidemia11-13 as well as improvements in appetite, bullying, quality of life, and body satisfaction.14 Furthermore, reductions in the degree of obesity during multidisciplinary childhood obesity treatment are accompanied by improvements in body composition and fasting plasma lipid concentrations in nine out of ten.15
Course training and obesity treatment for both healthcare professionals and patients
Dr Holm Health Courses Ltd. has developed a full course programme for healthcare professionals (courses 1-3 and brush-up courses) and patients (weight loss treatment and follow-up courses). The patient courses are developed and held in concert with the DrHolmApp program providing the patients with subsequent guidance, support and treatment. The courses are widely used throughout Denmark (i.e. in the vast majority of the 98 municipalities) and are provided internationally.
The combined health and weight loss web application, DrHolmApp (.dk, .co.uk, .de, .eu, etc.)
The web application DrHolmApp has established a treatment protocol for adults, adolescents, and children with overweight or obesity. The web application is commercially available (pay-per-use) and costs approximately €5-20 per month depending on subscription type. The web solution provides a structured, tailored treatment plan comprising a series of lifestyle advises based on the user's answers to a thorough questionnaire regarding habits of eating, physical activity and inactivity, sleeping, drinking, smoking and much more. The users self-report their height and weight at baseline and at the subsequent monthly follow-up consultations, which enable a process development where the user integrates the treatment plan as part of their everyday life the rest of their life.
DrHolmApp.dk shows excellent results
The first evaluation of DrHolmApp.dk web application showed that the degree of obesity (measured by BMI) was reduced in 76% of all participants corresponding to a decrease in BMI of 0.72 units (95% confidence interval: 0.63-0.82, p<0.0001). Those not obtaining a weight loss did not increase their degree of obesity.
Conclusion
The DrHolmApp web application treatment protocol is effective in reducing BMI and does so in a novel and easily accessible manner, which has the potential to offer efficient treatment of overweight and obesity to everybody.
For more information, contact Consultant, MD, PhD, CEO Jens-Christian Holm at jch@drholm.com, contact@drholmapp.dk or contact@drholmcourses.com
DrHolmApp Ltd. and Dr Holm Health Courses Ltd. are part of Jens-Christian Holm Holding.
The DrHolmApp programs are based on country specific responsive homepages (web applications) and are thus not available in App store or Google Play.
References
Withrow D et al. The economic burden of obesity worldwide: a systematic review of the direct costs of obesity. Obes Rev. 2011 Feb;12(2):131–41
2. Wang YC et al. Health and economic burden of the projected obesity trends in the USA and the UK. Lancet. 2011 Aug 27;378(9793):815–25
3. James WPT. WHO recognition of the global obesity epidemic. Int J Obes (Lond). 2008 Dec;32 Suppl 7:S120-126
4. AMA Adopts New Policies on Second Day of Voting at Annual Meeting [Internet; http://www.ama-assn.org/ama/pub/news/news/2013/2013-06-18-new-ama-policies-annual-meeting.page]
5. Jensen MD et al. 2013 AHA/ACC/TOS guideline for the management of overweight and obesity in adults: a report of the American College of Cardiology/American Heart Association Task Force on Practice Guidelines and The Obesity Society. J Am Coll Cardiol. 2014 Jul 1;63(25 Pt B):2985–3023
6. CMA recognizes obesity as a disease [Internet; https://www.cma.ca/En/Pages/cma-recognizes-obesity-as-a-disease.aspx]
7. Farpour-Lambert NJ, Baker JL, Hassapidou M, Holm JC, Nowicka P, O'Malley G, Weiss R. Childhood Obesity Is a Chronic Disease Demanding Specific Health Care-a Position Statement from the Childhood Obesity Task Force (COTF) of the European Association for the Study of Obesity (EASO). Obes Facts. 2015;8(5):342–9
8. Holm J-C, Gamborg M, Bille DS, Grønbæk HN, Ward LC, Faerk J. Chronic care treatment of obese children and adolescents. Int J Pediatr Obes. 2011 Aug;6(3–4):188–96
9. Most SW, Højgaard B, Teilmann G, Andersen J, Valentiner M, Gamborg M, Holm J-C. Adoption of the children's obesity clinic's treatment (TCOCT) protocol into another Danish pediatric obesity treatment clinic. BMC Pediatr. 2015 Mar 1;15:13
10. Mollerup PM, Gamborg M, Trier C, Bøjsøe C, Nielsen TRH, Baker JL, Holm J-C. A hospital-based child and adolescent overweight and obesity treatment protocol transferred into a community healthcare setting. PLoS ONE. 2017;12(3):e0173033
11. Hvidt KN, Olsen MH, Ibsen H, Holm J-C. Effect of changes in BMI and waist circumference on ambulatory blood pressure in obese children and adolescents. J Hypertens. 2014 Jul;32(7):1470–7
12. Fonvig CE, Chabanova E, Ohrt JD, Nielsen LA, Pedersen O, Hansen T, Thomsen HS, Holm J-C. Multidisciplinary care of obese children and adolescents for one year reduces ectopic fat content in liver and skeletal muscle. BMC Pediatr. 2015 Dec 30;15:196
13. Nielsen TRH, Gamborg M, Fonvig CE, Kloppenborg J, Hvidt KN, Ibsen H, Holm J-C. Changes in lipidemia during chronic care treatment of childhood obesity. Child Obes. 2012 Dec;8(6):533–41
14. Fonvig CE, Hamann SA, Nielsen TRH, Johansen MØ, Grønbæk HN, Mollerup PM, Holm J-C. Subjective evaluation of psychosocial well-being in children and youths with overweight or obesity: the impact of multidisciplinary obesity treatment. Qual Life Res. 2017;26(12):3279–88
15. Nielsen TRH, Fonvig CE, Dahl M, Mollerup PM, Lausten-Thomsen U, Pedersen O, Hansen T, Holm J-C. Childhood obesity treatment; Effects on BMI SDS, body composition, and fasting plasma lipid concentrations. PLoS ONE. 2018;13(2):e0190576
Special Report Contact Details
Recommended Related Articles