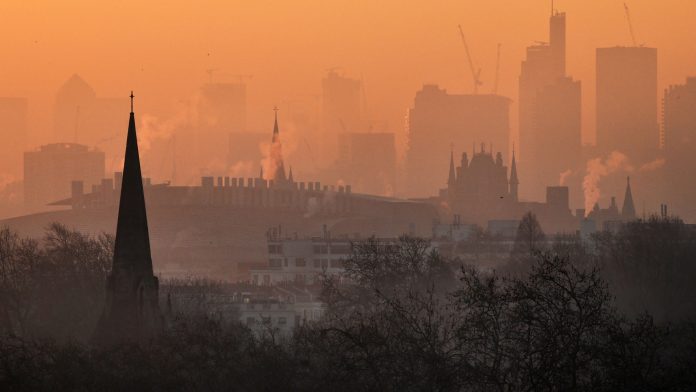 According to new research by Asthma UK and the British Lung Foundation, every two minutes in the UK, a baby is born in an area with dangerous air pollution, putting them at risk of developing serious health conditions such as asthma.
The research has been outlined in a new report named 'Clear the air: improving air quality to protect future generations and level up our communities.'
Air pollution is the largest environmental risk to public health in the UK. Epidemiolocal studies have highlighted that long-term exposure to poor air quality reduces life expectancy, causing cardiovascular, respiratory diseases, and lung cancer. Short-term exposure over hours or days to high levels of air pollution can impact health, such as exacerbation of asthma and lung function.
Toxic air pollution in the UK
The new report found that more than 250,000 children in the UK in 2019 were born in areas where levels of toxic air pollution exceeded World Health Organization (WHO) 2005 recommendations. Since 2005, recommendations have become stricter, with an estimated 600,000 babies being exposed to unsafe levels of air pollution from September 2021.
The study uncovered the following statistics:
Nearly a third (29%) of hospitals in England are in polluted areas (above the 2005 WHO guideline). This includes 71 maternity units, where an estimated 183,979 babies are born each year.
At the local authority level, Newham Council in London has the worst levels of air pollution, followed by the City of London and Waltham Forest Councils.
Birmingham, which has the highest rates of birth in the country, is the second most polluted city after London.
St Albans, Windsor, and Eton have dangerously high levels of air pollution, with more than 1,500 babies being exposed in each area.
There is strong evidence that air pollution can damage every organ in the body, including stunting lungs growth, putting children at risk of developing asthma and causing existing lung conditions to worsen.
Children are particularly vulnerable to air pollution because their lungs are still developing, and they breathe faster than adults. Previous research from Asthma UK found that an estimated half a million children in the UK with asthma find their symptoms such as coughing, wheezing, and gasping for breath are triggered by air pollution.
Pollution affects the vulnerable
Air pollution not only affects infant babies, but it also affects babies that are still in the womb. It can damage the lungs and brains of unborn babies and emerging evidence shows that pregnant women who breathe toxic air are more likely to give birth to premature babies and those with low birth weight.
It has been estimated that toxic air pollution causes 36,000 premature deaths in the UK every year.
Groups including pregnant women, infants, children, older people, and those living with lung conditions are particularly vulnerable to the effects of air pollution. Further findings show that low-income groups are disproportionately affected by air pollution and often contribute least to the problem as they are less likely to own a car or drive long distances.
The charities are calling for the UK Government to put improving air quality at the heart of its levelling up agenda, ensuring people can access clean air regardless of where they are born or where they live. Furthermore, the charities suggest that the UK Governments need to bring in bolder clean air laws with targets that will be met by 2030 and provide sufficient funding for better and more effective public transport and cycling to encourage people to move away from using their cars. Local councils also have a part to play and should expand clean air zones that charge the most polluting vehicles to maximise people's health.
Recommended Related Articles