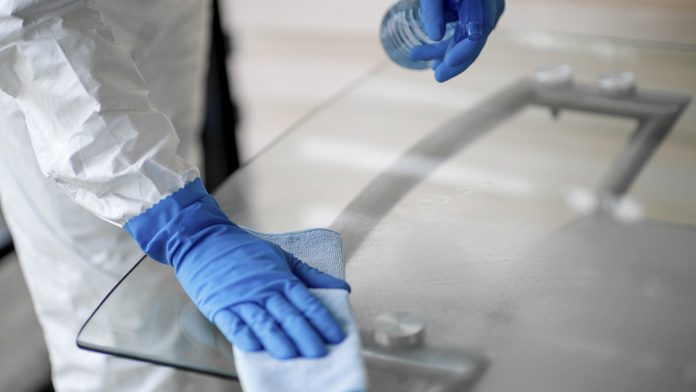 One1Star Solutions introduces its groundbreaking Tetraacetylethylenediamine (TAED), an innovative solution to cleaning and disinfection needs for a vast range of sectors.
One1Star Solutions has patented the most advanced TAED, which has 50 times higher performance than others on the market. The collective market size for TAED with applications in various sectors is approximately $40bn, with the most common use being as a bleach activator in the detergent industry. Due to its low water solubility, TAED applications in detergent and many other sectors are limited.
To combat this, we have developed the most advanced form of TAED, which has 50 times higher performance with excellent water solubility. This has created wider sector applications along with detergent sectors, including cleaning and disinfection, agriculture (fresh produce processing, antifungal, antibacterial), water disinfection (wastewater treatment), veterinary (animal cleaning and disinfection products), paper pulp, textiles, and the meat industry.
Landscape of the TAED market
The market overview of TAED has vast applications, detergents being the major one among them. Other than that, TAED is used in bleaching and cleaning agents. TAED's main application lies as a bleaching activator in household detergents. Also, a small amount is used in the bleaching of paper, the textile industry, and the generation of peracetic acid in disinfectants, in addition to the manufacturing of food contact paper and paperboard products.
A recent study examined three key applications of TAED, namely, detergents, bleaching agents, and cleaning agents. The report analysed the global TAED market trends and forecasts till 2020. The market size estimations were provided in terms of market size by value (USD million) and market size by consumption (kilotons). The report also identified major market players and provided analysis for each player in terms of company overview, financials, products and services offered, recent developments, and growth strategies.
The global TAED market was estimated to grow at a CAGR of 2.83% from 2015 to 2020 to reach a value of $543.80m by 2020. The market for cleaning agent applications was also projected to grow at a CAGR of 2.37% by consumption from 2015 to 2020, which is the fastest growth in the overall TAEDs market by application. The market is also expected to be penetrated by the increasing demand for bleaching agent applications and investments from major players in expansions and agreements & partnerships.
The highest growth in the TAED market is expected to come from the cleaning agent application in terms of value and consumption. TAED is rapidly finding use in the global disinfectants market. The market for disinfectants is increasing at a brisk pace, directly driving the growth of the TAED market. In the recent past, agreements & partnerships dominated the strategies adopted by TAED players globally. The major market players have invested significant amounts in emerging countries to enter and enhance their market position and distribution network through capacity expansion and supply agreements.
The TAED industry is projected to show decent growth in the near future; however, it will have to overcome challenges, such as the limited application areas, price volatility of raw materials, and so on, to meet the increasing demand. The demand for TAED was projected to increase at a CAGR of 2.00% by consumption from 2015 to 2020, elevating the market size to 135.70 KT.
TAED enables effective washing even at low temperatures, acting as an excellent bleach booster that is added to a detergent to increase whiteness and the removal of bleachable stains. The only limitation of TAED is that it is highly temperature-dependent. It facilitates the heavy-duty powder detergents and tablets to be more effective at lower temperatures. TAED is manufactured by reacting ethylenediamine with acetic acid and acetic anhydride with minimal environmental impact. The use of TAED as an ingredient in the detergent enables the bleaching system to release the active oxygen species, the peroxyacetic ion, to act at lower temperatures.
It solves the washing and stain removal problems even when the wash water is cold. TAED is also used for dishwashing purposes, improving the bleaching action in the textile industry, and improving the brightness of paper in the pulp and paper sector. Detergent was the largest application segment for TAED in 2014 and was projected to hold the largest share by 2020.
Europe dominated the TAED market in 2014 and accounted for over 50% of the market by consumption. The TAED market for the rest of the world was projected to witness the highest growth rate by 2020, followed by Asia-Pacific. With the growing attempts of the market participants to increase applications of TAED, the global TAED market is expected to register decent growth in the near future with agreements & partnerships, expansions, and new investments for TAED plants. Largely, the TAED market is fragmented in nature, with leading participants being Warwick Chemicals and Weylchem Group.
Groundbreaking One1Star Solutions technology
One1Star Solutions has developed a novel cleaning and disinfection solution based on their advanced TAED. The aim of this cutting-edge technology is to reduce the use of chemical and toxic ingredients in surface cleaning/disinfection products. The solution is comprised of:
A multipurpose cleaning/disinfection formulation that is based on LiquiEU matrix technology. All the ingredients are natural, non-toxic and safe.
The formulation will be available in a refillable sachet to reduce the burden of packaging and plastic use and recycling; this way, it will be helpful to reduce the eco burden.
This product can replace all the cleaning/disinfecting products in the household (instead of separate cleaning bottles such as intended for the kitchen, bathroom, glass, floor cleaners, carpet cleaners and any other cleaner/disinfection product). Instead of using several different bottles and products for cleaning/disinfection of any surface or edible products, our product will be all in one solution for all these purposes.
Fruit and vegetables need to be disinfected due to the COVID-19 situation; the product is based on LiquiEU matrix technology (There is no such product that can be effectively used for the disinfection of fruit and vegetables).
The product has also passed the UKCAS accredited test, EN1276 Suspension Bacterial Test, EN1650 Suspension Fungal Test, EN13697 Surface Disinfection Test, EN13704 Sporicidal test, EN14348 Mycobacterium test, EN14476 Suspension Viral Test for Norovirus, and ENISO 4120: 2007 Food Taint Test.
The future of disinfectants
According to a new report from Global Industry Analysts, Inc. (GIA), the global market for disinfectants is projected to reach $2.9bn by 2017, primarily driven by an increased focus on hygiene and growing concerns over the spread of infectious diseases in both residential and commercial/industrial spaces.
Rising demand from the food industry, driven by stringent regulations guiding food safety, and increased adoption in water disinfection and aquaculture applications are expected to drive short- to medium-term growth opportunities. Innovative promotional campaigns and robust demand from developing markets, Asia-Pacific, also bodes well for the market.
Disinfectants remain indispensable in most industries. For instance, in the healthcare and food processing industry, cleaning and sanitation are one of the most important activities. Demand for disinfectants that sanitise food preparation surfaces especially are gaining traction, given the high risks associated with foodborne pathogens and bacterial and viral food-related infections. There is also increased usage of disinfectant chemicals in various conventional cleaning products.
Increased consumer focus on meeting safety, social, and self-actualisation needs, especially by enabling safe food storage, eliminating pests and insects, disinfecting household surfaces, controlling garbage in a hygienic manner, and improving sanitary conditions are driving gains for disinfectants in the consumer segment. The rapid proliferation of lifestyle gurus and home experts across the globe are also driving consumers to take household maintenance to the next level, thereby encouraging them to use advanced household cleaning and safety products such as surface disinfectants.
The report says that the global disinfectants market, in retrospect, has been resilient to the recent recessionary pressures for the simple reason that sanitation and hygiene are essential, and periods of recession and economic slowdown do not weaken the need. Irrespective of the state of the economy, schools, institutions, hospitals, industrial facilities, workshops, manufacturing facilities need to be cleaned and disinfected.
Additionally, clean working conditions are imperative for building better employee morale. Also, the recent outbreaks of infectious diseases and epidemics, such as COVID-19, H1N1 influenza, avian influenza, pertussis, seasonal influenza, cholera, and West Nile virus infection, have made spending on cleaning and disinfectant products less discretionary and more indispensable. The role of cleaning and disinfectant products in addressing key societal and social issues related to health and well-being makes the market resilient to recessionary forces.
Against this backdrop, the report says that branded cleaning and disinfectant products survived, even as most brands of packaged goods crumbled. The category that benefited the most was private labelled (in-store) brands, and with consumer flight towards cheaper private labels forecasted to long outlast the recession, there are opportunities galore for supermarkets and grocery stores. To survive the onslaught of competition from private brands, P&G introduced a cheaper and more economical version of its popular upmarket brands, despite the dangers associated with floating existing brands downmarket.
The year 2008, however, witnessed slight deceleration in growth due to higher office/commercial building vacancy rates and closure/shutdown of plants and manufacturing facilities, both of which reduced the need for janitorial activities. The year 2009 witnessed the market make a quick recovery of its lost growth momentum. In Japan, demand for disinfectants rose in 2011, immediately following the earthquake and Tsunami which rocked the country, leaving behind post-disaster health concerns. Demand waxed supported by government-initiated disinfection/disinfestation operations.
The report adds that continued demand for cleaners and disinfectants to maintain inherently dirty and grimy industrial/commercial floors and titles will drive growth in the upcoming years. The need to comply with stringent rules and regulations designed to ensure the food supply's safety will especially boost demand for disinfection products in the food service industry. Disinfectant chemicals are used at all levels of food production, including preparation, processing, sale and service and therefore attract market opportunities across the value chain. The growing adoption of disinfectants for water desalination and re-use as an effort to improve access to safe drinking water and address issues such as growing water-borne diseases and fast depleting natural water resources also augurs well for the future of this market.
Europe continues to represent the largest regional market for disinfectants. Well established legislations and usage guidelines governed by regulatory standards such as Biocidal Products Directive (BPD) have been a key factor in the European market growth over the years. Asia-Pacific represents the fastest-growing regional market, with revenue from the region waxing at a CAGR of about 6.3% over the analysis period. By disinfectant delivery system, the aerosol disinfectants market represents the largest and the fastest-growing segment. The non-aerosol disinfectants market meanwhile is projected to grow at a CAGR of about 4.2% over the analysis period. Industrial processing represents the largest and the fastest-growing end-use application for disinfectants.
The challenges, side effects, and risk of marketed cleaning disinfection products include:
Many traditional cleaning products, floor strippers, and disinfectants present a variety of human health and environmental concerns. They often contribute to poor indoor air quality and may contain chemicals that cause cancer, reproductive disorders, respiratory ailments (including occupational asthma), eye and skin irritation, central nervous system impairment, and other human health effects.
In addition, some of these products contain persistent, bioaccumulative, and toxic chemicals (PBTs), classified as hazardous waste, or otherwise contribute to environmental pollution during their manufacture, use, or disposal.
Triclosan, an antibacterial biocide increasingly prevalent in liquid detergents and soaps (janitorial products), could enhance the ability of bacteria to resist antibiotics and pose a long-term threat to wildlife and human health. Traces of triclosan have been found in human breast milk.
There is high demand for less-toxic, environmentally friendly maintenance products for almost all health care facility needs.
Hospitals also use a variety of methods to disinfect and sterilise surfaces and equipment. However, some of the most commonly used products, such as glutaraldehyde and ethylene oxide, have been shown to cause serious health effects. Alternatives to these products offer effective disinfection while protecting health care workers and the environment.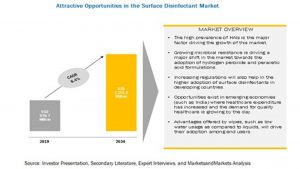 One1Star Solutions' TAED is patented and secured, and we are open to an exclusive license or sector-specific deal to explore collaborative opportunities and possible joint ventures.
Manufacturing and supply of Advanced TAED
We are in the process of introducing advanced TAED in the market. We have a current manufacturing facility of 1 tonne/month. We are actively looking for any potential distributors and interested commercial partners to help us penetrate our advanced TAED in various markets.
Special Report Contact Details