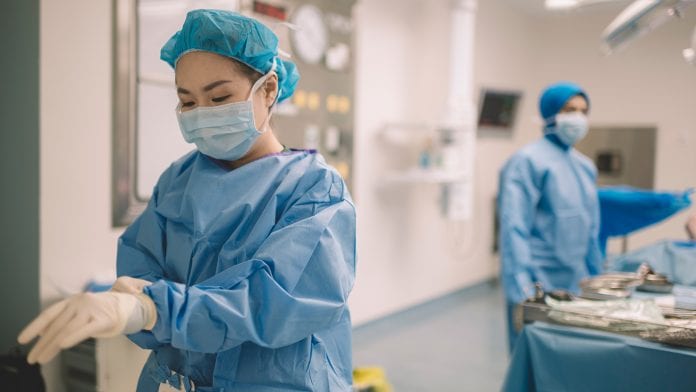 Orbel is a patented, wearable hand sanitiser designed to drastically reduce the spread of infection.
According to the World Health Organization, an estimated two million hospital-acquired infections (HAIs) occur globally per year, affecting 10% of the world's hospital patients. In Europe alone, the European Centre for Disease Prevention and Control estimates that on any given day, 80,000 patients – one in every 18 patients in a European hospital – have at least one healthcare-associated infection. Practising hand hygiene is a simple and effective way to prevent infections, yet studies show that lack of time, poor accessibility and high workloads result in a 25% compliance shortfall.
It is well established that if handwashing compliance can be increased, HAI rates can be commensurately reduced. The challenge though has been finding ways to effectively increase compliance rates.
Orbel is a patented, wearable hand sanitiser unit purpose-built to do just that. The orb-shaped unit can be clipped onto a pocket or belt; and by rolling a single hand across its rollerball system, a premium 72% ethyl alcohol gel is released, killing 99.9% of germs within 15 seconds.
Orbel reinforces the habit of hand hygiene via intuitive hand sanitisation movement and provides immediate access to compliance in a simple, easy and cost effective manner. In turn, Orbel saves lives through improved hand hygiene, reducing the spread of bacteria, viruses, and infection.
Orbel is excited to introduce this innovative new product to the European market. Orbel has already won a European innovative product design award (iF DESIGN AWARD 2016, Discipline Product), being named the most innovative creation for hand hygiene in decades.
Glo-Med Networks, Incorporated, one of Orbel's leading distributors, is teaming up with the Orbel team to bring its product to the European market for the first time. Glo-Med's current distribution footprint includes the Americas, Western Africa and the Middle East, where customers include hospitals, restaurants, hotels, banks, schools, professional sports leagues and law enforcement. Glo-Med is also already in talks with organisations across Europe and has opened an office in Switzerland in preparation for Orbel's official European launch.
"Orbel has actually been in development for quite a while. There's a lot of work that goes into launching a new product like this – a lot of research and development, logistics, certifications, etc – it wasn't developed specifically in response to COVID," says Matus Knoblich, CEO of Glo-Med Networks and Managing Director of Med-Stat Consulting Services.
"Hospitals always saw the value of the product because of how easily it helps increase compliance rates, which is a continual problem they face. In today's COVID climate, though, the general public is increasingly conscious of hand hygiene. Orbel is really an invaluable tool for anyone that comes into contact with the public or potentially contaminated surfaces, disinfecting with a simple swipe of the hand. We feel very fortunate that we're in a position to be able to help and continue to expand Orbel's footprint around the globe."
Glo-Med Networks was founded in 2016 to meet the continuously growing demand for medical appliances and related products in the US and selected international markets. Glo-Med maintains extensive access to high-quality medical products globally via long-term partnerships and relationships with medical providers, as well as through our sister company, Med-Stat Consulting Services, Inc, which is a comprehensive health care consulting and services company dedicated to providing healthcare institutions with expert advice in meeting the standards of the Joint Commission on Accreditation of Healthcare Organisations (JCAHO), National Fire Protection Association (NFPA), Occupational Safety and Health Administration (OSHA) and Environmental Protection Agency (EPA).
Today Glo-Med Networks CEO and managing director of Med-Stat Consulting Services, Matus Knoblich sits down to chat with Adam Sutcliffe, inventor of Orbel, to tell Health Europa Quarterly readers more about how Orbel is changing the habit of hand hygiene.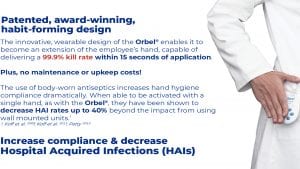 How did you come up with the concept for Orbel?
I've always really been drawn to the idea of using design as a way to improve lives: it's a way I know I can contribute good to the world. The idea of Orbel came out of a project while I was attending the Royal College of Art, studying Industrial Design. We were tasked to find a problem in the world where people live, work and play; and solve it. I turned to hospitals first, since they are where so many lives are affected on a regular basis. So, I spent months in Chelsea and Westminster Hospital speaking with doctors and nurses, understanding the issues they faced with equipment, sharps disposals and so on.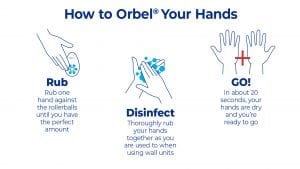 Why did you decide to address hand hygiene specifically?
Methicillin-resistant Staphylococcus aureus (MRSA), the most commonly acquired hospital infection, was in the news a lot. There was a famous female actress who had been admitted to Chelsea and Westminster hospital, who had acquired the potentially deadly MRSA pathogen during her stay. Contracting MRSA resulted in this young actress becoming partially paralysed and leaving the hospital with a walker. It also resulted in £5m being paid out to her in damages by the hospital. The problem is that MRSA, like other HAIs, is spread by dirty hands. It's that simple, and it's preventable. That's really when it clicked that this was an issue I could try to address.
Hospitals have tried to increase hand hygiene compliance before – what are some of the challenges?
Over the past 20 years, more than 100 scientific articles have been published on clinical and behavioural studies on the topic of how to train healthcare workers to have good hand hygiene. The World Health Organization developed its 'Five moments for hand hygiene', which defined the key moments when healthcare workers should perform hand hygiene, such as before and after touching a patient. The NHS launched a Clean Your Hands campaign, created and hung posters which would be periodically moved around in hospitals so that people didn't become desensitised to the messaging. But that is all a top-down approach: it says, 'I have an idea,' and then tries to force everyone to do it; but it didn't address why there was a problem to begin with, or how to solve the 'why'. The reality was that nurses, for example, were too busy, too stressed, they forget, they can't be bothered, they don't realise surfaces are potentially contaminated. Really, for a solution to work, it had to address these problems from the bottom up.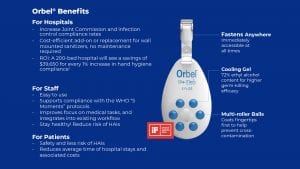 How does Orbel solve these problems?
Through its innovative design. The beauty of Orbel is that it can clip onto your person, so it's just at arm's reach and able to become an extension of your hand. The user can simply rub a single hand across Orbel's patented roller-ball system and rounded design, to release a 72% ethyl-alcohol premium gel hand sanitiser which is non-drying, non-irritating, and has a pleasant fragrance. It's a stronger formula than many on the market and effectively kills 99.9% of germs in 15 seconds, in line with recommendations from the WHO.
Another advantage of Orbel compared to standard alcohol dispensers is that Orbel coats the fingertips first, making it easier to reach areas linked to cross-contamination, including under the fingernails. Healthcare workers are also not always aware that bacterial spread can occur even during activities perceived to be low-risk, such as touching ward computers, case notes, door handles and other high touch surfaces; having immediate access to effective hand sanitising in these instances, such as that which Orbel can provide, is critical.
You say Orbel is easy, effective and accessible, as well as habit-forming. How is this the case?
Ultimately, we wanted to create an experience that was pleasurable and stress-relieving, while making it as easy as possible to access and use. It's utilitarian – if you're wearing it, it's being used. That's not the case with a typical flip-top dispenser which can just stay closed all day. There is nothing in that design that would make anyone actively want to use it. Orbel's award-winning design borrows a page from neuroscience; and is able to convert the hand hygiene process from something that is normally high-attention and time-consuming for the brain into an automatic process, also known as 'muscle memory'. With Orbel, there is a pleasure-reward response created by the positive stimulation of the hand with its tactile rollerballs and cooling gel that reinforces neural pathways, creating subconscious habits.
What feedback have you received from some of the hospitals you work with? Are they seeing this in practice?
Absolutely. I think it's twofold: we know that Orbel is having a positive impact on compliance rates, especially in bringing up the bottom and/or habitual non-compliers who are the primary drivers of infection rates. Research studies show that when comprehensive hand sanitisation can be activated with a single hand, as is possible with Orbel, HAI rates decrease up to 40% beyond the impact compared to using only wall-mounted units, for instance. We get positive feedback that the Orbel system provides a unique approach to training and provides a point-of-care personal unit that healthcare workers actually use. We have hospitals now that are requiring all of their employees to have an Orbel – not just nursing staff and doctors but general hospital workers as well.
Another benefit we're hearing is that since the design of Orbel is visible and unique, people see it and ask, 'what is that?' A patient isn't likely to ask their nurse if he or she washed their hands, but to see Orbel being used in practice in a hospital environment provides assurance to patients that their safety is being taken seriously. Using Orbel in your hospital – or in any business or organisation which is public-facing – demonstrates a visible commitment to good hand hygiene as well as a clean, safe environment.
The Orbel Advantage
Compliance: increases compliance by up to 40%;
Portable: Orbel is wearable and is always accessible;
Single-handed activation: only one hand required;
Multi-directional balls: evenly spreads to all parts of your hands;
Powerful: highly effective ethyl-alcohol and water-based hand sanitiser formula;
Promotes hygiene: reducing the spread of bacteria, viruses and infection;
Visible: patients and the community can see your organisation's commitment to good hand hygiene; and
Save money: reduce employee sick day and patient hospital stay durations. Plus, no maintenance or upkeep is required.
Orbel is expected to launch in the UK this year and in the EU in 2021. To learn more about Orbel, contact Glo-Med Networks on info@glomednet.com or Orbel Health on info@orbelhealth.com.
Adam Sutcliffe
Orbel Health Ltd (UK)
Matus Knoblich
Glo-Med Networks, Inc
info@orbelhealth.com
info@glomednet.com
www.orbelhealth.com
www.glomednet.com
This article is from issue 15 of Health Europa. Click here to get your free subscription today.