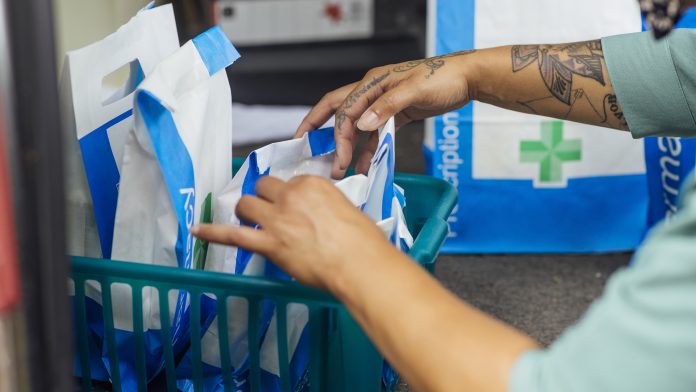 New NHS data shows that thousands of people are now being seen by their local pharmacy, alleviating pressure on GP practices.
In June, 118,123 people with minor illnesses received a same-day consultation with their local pharmacy after calling NHS 111 or their GP practice. This is an increase of 83% compared to the same month in 2020. 
This increase comes at a time when GP practices are facing record demand and further expansion of roles in local pharmacies ahead of winter. 
Local pharmacy services
The NHS has implemented that 111 online can now directly refer patients to their local pharmacy for a same-day consultation, rather than patients phoning the 111 number. 
Pharmacists are qualified to offer clinical advice and administer over-the-counter medicines for minor illnesses, such as coughs and colds. All pharmacists train for five years in the use of medicines. All pharmacies can provide NHS prescriptions, emergency supplies of medicines, non-prescription medications, disposal of unwanted medicines, and advice on minor health concerns. 
Approaching GP healthcare different
Furthermore, GP practices are trialling a new service that allows people to register or change their GP surgery online. People can now search on the NHS website for their nearest GP and register within minutes in a new pilot project in 70 practices. The NHS plan to increase the service to 600 practices in the next few months. 
Amanda Pritchard, NHS chief executive, said: "Our local pharmacies ensure hundreds of thousands of people every week get the support and medication they need and today's figures show that in just one month, over 100,000 patients have also had consultations with their local pharmacist for minor illnesses – this means patients are getting the care they need quickly but also in a convenient way that can fit in with their busy lives. 
"We are committed to making access to NHS services as easy as possible for our patients – from this week, people can be referred for a consultation with their local pharmacy through the touch of a button through NHS 111 online and from tomorrow, a new pilot will mean people can register for a local GP practice online within minutes. 
"It is likely that we will face a busy and challenging winter, and while we have already announced plans to boost capacity across our services, I am delighted that hardworking pharmacy teams are playing an even greater role. 
"It is vital that the public continue to use the NHS as they normally would if they are unwell so people should continue to use NHS 111 and as ever if it is life-threatening, call 999." 
Recommended Related Articles