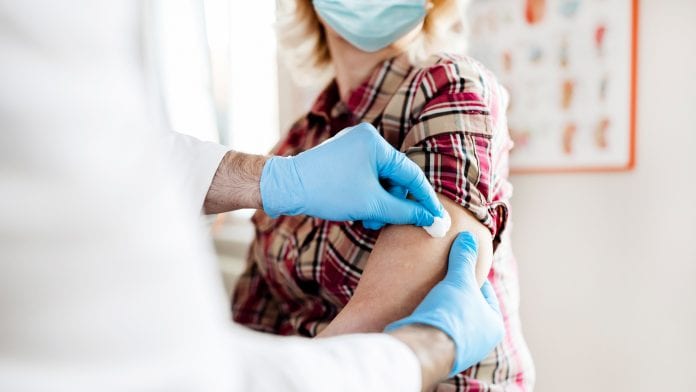 The first person in the UK has now received the Oxford University and AstraZeneca COVID-19 vaccine, which has begun its NHS roll out today.
The COVID-19 vaccine developed by Oxford University and AstraZeneca was given regulatory approval by the Medicines and Healthcare products Regulatory Agency (MHRA) after meeting required safety, quality, and effectiveness standards. The UK Government has secured access to 100 million doses of the vaccine, which is the only approved vaccine that can be stored at fridge temperatures.
More than half a million doses are available today, with tens of millions more to be delivered in the coming weeks and months once batches have been quality checked by the MHRA. More than 730 vaccination sites have already been established across the UK and hundreds more are opening this week to take the total to over 1,000, helping those who are most at risk from COVID-19 to access vaccines for free, regardless of where they live.
Health Secretary Matt Hancock said: "I am delighted that today we are rolling out the Oxford vaccine – a testament to British science. This is a pivotal moment in our fight against this awful virus and I hope it provides renewed hope to everybody that the end of this pandemic is in sight. Through its vaccine delivery plan, the NHS is doing everything it can to vaccinate those most at risk as quickly as possible and we will rapidly accelerate our vaccination programme.
"While the most vulnerable are immunised, I urge everybody to continue following the restrictions so we can keep cases down and protect our loved ones."
This roll out follows the vaccination of more than a million people in the UK with the Pfizer/BioNTech vaccine.
Oxford vaccine roll out
Following a rigorous, detailed scientific review by the MHRA and on the basis of the advice of its scientific, independent advisory body, the Commission on Human Medicines, the regulator approved the Oxford University and AstraZeneca COVID-19 vaccine on December 30.
The roll out will begin in hospitals across the country before the bulk of supplies are sent to hundreds of GP-led services and care homes later this week. GPs and local vaccination services have been asked to ensure every care home resident in their local area is vaccinated by the end of January.
MHRA Chief Executive Dr June Raine said: "We are delighted to announce the good news that the Oxford University/AstraZeneca vaccine for COVID-19 is now approved for supply following a robust and thorough assessment of all the available data. A huge collaborative effort and commitment goes into these assessments which include reviewing vast amounts of data. Our staff have worked tirelessly to ensure we continue to make safe vaccines available to people across the UK.
"No stone is left unturned when it comes to our assessments. This approval means more people can be protected against this virus and will help save lives. This is another significant milestone in the fight against this virus. We will continue to support and work across the healthcare system to ensure that COVID-19 vaccines are rolled out safely across the UK. Protecting health and improving lives is our mission and what we strive for."