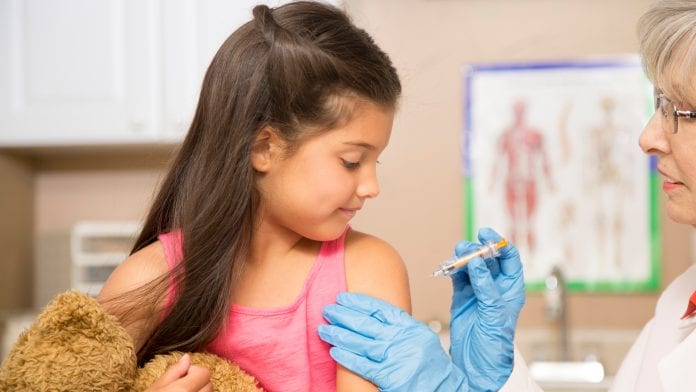 Public Health England (PHE) is urging parents to keep vaccination appointments for their children during national COVID-19 restrictions. Routine vaccinations should continue to go ahead, it says, and the NHS is ensuring that appointments for vaccinations are still available.
In the first three  to four  weeks following the introduction of the national COVID-19 lockdown on 23 March 2020, there was a decline in the number of children receiving the MMR (measles, mumps and rubella) and hexavalent (protection against diphtheria, tetanus, pertussis, polio, haemophilus influenzae type B and hepatitis B) vaccines.
This decline can possibly by explained by the COVID-19 lockdown messaging which guided people to stay at home, overwhelming the messaging that the immunisation programme was operating as usual.
A new report released by PHE on 10 November 2020, shows there has been a continued recovery in the amount of vaccinations being given since April 2020, but figures are still behind on previous years. Health experts are worried that the figures may fall again, which would leave thousands of children vulnerable to serious illness.
According to data from 38% of GP practices, 3.8% fewer hexavalent vaccines and 2.8% fewer MMR vaccines have been given compared to the same time last year. PHE continues to monitor this data.
While it is vital to stay at home to prevent the spread of COVID-19, parents are being asked to make sure children attend routine vaccination appointments and catch up on any potentially missed vaccinations, providing they are not displaying symptoms of COVID-19 or self-isolating.
The risk of infectious diseases such as measles is ongoing and in order to avoid outbreaks, high coverage is essential. Therefore, continuing vaccinations against these diseases will help to reduce the pressure on the NHS.
Dr Mary Ramsay, Head of Immunisations at PHE, said: "Vaccines remain the best defence against infection. It's essential we maintain the highest possible uptake to prevent a resurgence of serious and sometimes life-threatening diseases.
"Routine vaccinations are still available throughout the pandemic – it's vital that we continue to make it as easy and safe as possible for parents to take their children to appointments."
As well as the MMR and hexavalent vaccines, parents of two  to three-year-olds are urged to ensure their children receive a  flu nasal spray from their GP as winter approaches. Also, parents of school-aged children should continue returning consent forms to their children's schools, to make certain that they receive the flu vaccine.
PHE also reminds the public that when going to appointments, people should minimise time spent outside the home, and ensure that they are two metres apart from anyone outside of their household, or one metre with extra precautions (such as wearing face coverings) in place.