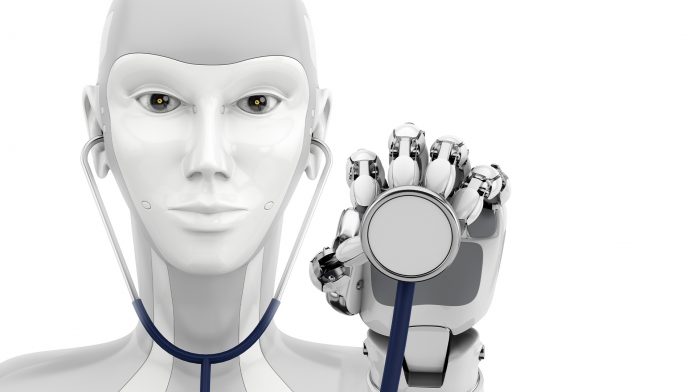 Virtual cognitive assistants could drastically reduce the administrative burden on NHS staff, leading to improved patient experience and health outcomes.
It's becoming widely accepted that effective use of technology, such as virtual cognitive assistants, and innovation can have an enormous impact on healthcare and patient experience. Health leaders are starting to acknowledge that digital technologies do hold the key to protecting the long-term future of the NHS.
This is evident from the government's recently set out 10-year plan for the NHS, in which it pledged to increase investment in artificial intelligence (AI) to help save hundreds of thousands more lives. Whilst it's positive to see the NHS making a clear commitment to driving digital transformation, in order to improve patient care and enhance operational efficiencies, the worry is that budget and resource limits will lead to disjointed plans that see the roll out of hospital-based electronic healthcare records (EHR) programmes and little else.
What is truly needed for sustainable, long term reform of the service is investment in emerging technologies, like intelligent cognitive virtual assistants, which have already been successfully implemented by the private sector in multiple industries.
One area where AI, and virtual cognitive assistants more specifically, can play a critical role is in addressing both current and future staffing needs. This growing shortage of nurses and carers and increasing reports of burnout amongst healthcare staff demonstrate why we must explore more creative ways of supporting them. Hiring costly agency staff to plug the gaps is an unsustainable approach in the long-term.
Developing a hybrid workforce of human caregivers and virtual care assistants will be critical to the NHS addressing this challenge, augmenting the capacity and experience of their existing workforce to deliver an even better service at a greater scale. But, what does this look like in practice?
Automating processes to free up human capital
Virtual cognitive agents provide a massive opportunity to reduce the mounting pressure on healthcare professionals through the automation of processes that will relieve them from the high volume of administrative tasks that they deal with day-to-day.
In a practical sense, nurses and doctors can hand over basic administration processes to a virtual assistant. This includes handling appointment scheduling, prescription orders, booking rooms and beds for patients and coordinating patient transfers, so that nurses and carers can spend more time treating and engaging in face-to-face interactions with their patients.
Redefining at-home patient care
Cognitive virtual assistants will not only improve the experience for doctors and nurses, it will directly improve the experience of patients; especially at-home patients suffering chronic or injury related illnesses. Having a cognitive virtual assistant acting as a 24/7 care navigation buddy will mean that patient care extends beyond the hospital, with easy and straight forward access to routine information and service support. This is particularly useful for older patients who may not want to interact with an app-based platform and would prefer to receive text and voice enabled assistance.
There are three key benefits to this approach. Firstly, it helps reduce the number of non-urgent calls or visits to healthcare services to answer routine questions. Secondly, simple nudges or reminders have been found to have a positive impact on adherence and engagement with care plans. And finally, it enables patients to more easily access information about the behavioural or dietary choices they could make to improve their condition or recovery.
Given that nonadherence to care plans (that is patients failing to complete their course of medication, a lack of physical activity or incorrectly following their aftercare procedures) has been reported to cost the NHS well over £500m ($578m) a year, the case for at-home virtual medical assistants is indisputable.
But it's important to highlight that any AI powered solution should not be seen as a replacement for our healthcare workforce. We must be looking to integrate digital services seamlessly with human care delivery, so that it does not impact on patient care or employee experience. In fact, as several digital health innovators are experiencing, there needs to be a balance struck between the digital solution and the human element. Success for these types of start-ups will be found in moving from a 'digital only' service, to an integrated healthcare service combining human carers with a digital platform, which caregivers and healthcare professionals can leverage to provide advice and support.
Working alongside a virtual healthcare assistant
Indeed, cognitive virtual assistants can also collaborate with medical and care practitioners, by acting as a care coordination whisper agent to support doctors and care workers in preparing for conversations with patients.
By providing relevant insights and protocol compliant support via an intuitive conversational interface to care providers, they can improve the effectiveness of their interventions and enhance patient outcomes. What's more, the integration of voice capabilities means that healthcare professionals can receive important medical information and data faster. This could improve the speed and efficiency of consultations so that more patients can be seen in one day, widening the overall access and affordability of NHS services.
Potential of a hybrid healthcare workforce
There is no denying that the NHS is facing massive challenges, with a deepening staff crisis and more demand on services than ever before.
However, the potential for conversational AI healthcare assistants to alleviate many of these pressures is immense. They present a huge opportunity to lessen the workload on our healthcare professionals, to drive better medical outcomes by increasing access to critical patient data and to improve the patient experience by providing round the clock assistance and advice.
Only through harnessing AI enabled cognitive virtual agent technology and embracing innovation can we ensure that the NHS continues to provide lifesaving care, affordably and at scale, to millions of UK citizens.
David King
Cognitive Healthcare
Solutions Architect
IPsoft
https://www.ipsoft.com/
Tweet @IPsoft
Please note, this article will appear in issue 10 of Health Europa Quarterly, which will be available t read in July 2019.