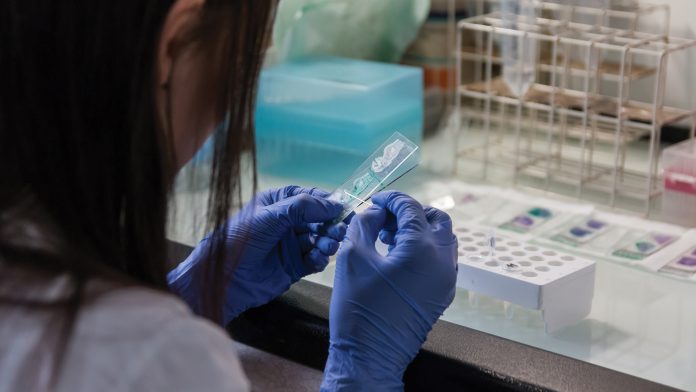 Dr Luciana Herda and Professor William Gallagher introduce the first Irish Cancer Society Collaborative Cancer Research Centre BREAST-PREDICT: a nationwide effort to make personalised medicine a reality for breast cancer patients.
Patients are all unique and so are the conditions affecting them. Research in oncology has increasingly become aligned towards finding the right treatment for the right patient under the right conditions, and overcoming the 'one-size-fits-all approach'. When tailoring treatment for cancer, in this instance breast cancer, the factors that need to be taken into account include information on the patient's genome, prior treatments, relevant biomarkers, and environmental and behavioural aspects.
Towards precision oncology
Scientists and clinicians worldwide have embarked on a journey towards making precision oncology a reality for every patient, and Ireland is not an exception. BREAST-PREDICT is not only the Irish Cancer Society's first Collaborative Cancer Research Centre but also the first of its kind across Ireland.
The centre was created in 2013 to harness all data available on breast cancer from around the country and accelerate the pace of scientific understanding and discovery in the arena. Over 50 researchers from six universities, namely University College Dublin, Trinity College Dublin, The Royal College of Surgeons in Ireland, Dublin City University, NUI Galway and University College Cork, work together towards a common goal. At the heart of BREAST-PREDICT lies Cancer Trials Ireland, the leading cancer research trials organisation in the country. The centre's expertise spans a variety of breast cancer areas including laboratory and computer science, surgery, medical oncology, pathology, statistics, population science, clinical trials, and biobanking.
The vision of BREAST-PREDICT is that each breast cancer patient in Ireland should have their treatment plan tailored for their individual cancer. Most women diagnosed with breast cancer now survive, due to earlier diagnosis and improved treatments. Through a multidisciplinary approach, the envisaged endpoint is to predict as accurately as possible the most suitable therapies for each patient, thus giving breast cancer patients the best chance at a long and healthy life.
This simply stated goal of making personalised medicine a reality for patients does not, however, reflect the significant challenges arising and needing to be addressed. One of the main issues is the lack of large-scale, standardised, and well-annotated patient-specific samples to help scientists understand and evaluate the particularities of treatment responses.
As optimal patient profiling is key to the successful development of targeted therapies, BREAST-PREDICT strives to develop an extensive pathophysiological and epidemiological resource to advance the study of tumour progression and, ultimately, facilitate evidence-based precision breast cancer medicine. To achieve this, two critical infrastructural components, namely the National Breast Cancer Biobank and the Integrated National Breast Cancer Database, have been developed and linked to form an integrated resource. Access to samples from Irish and European cohorts has been made possible through Cancer Trials Ireland and through collaboration with RATHER, a large European consortium of eight partners across six EU countries funded under the Seventh Framework Programme (FP7), which has integrated preclinical and clinical research in difficult-to-treat subtypes of breast cancer (www.ratherproject.com).
The tumour challenge
Another set of challenges related to implementing personalised medicine emerges from the characteristics of tumours. It has long been agreed that molecular differences exist between breast tumours from different patients and even between sub-populations of cancer cells within tumours from individual patients. Heterogeneity can, therefore, be present within the same biopsy or over different stages of a cancer, from initiation to metastasis and potential relapse. These aspects reiterate the aforementioned importance of large-scale, longitudinal tissue sampling and closely relate to tumour progression and resistance to treatment.
Previous and current research from BREAST-PREDICT investigators employing pan-omic profiling has unravelled important changes in gene expression between primary, nodal and metastatic tumour tissues in patients that have undergone endocrine therapy and developed resistance. These alterations critically impact response to monotherapy and often require combination treatments of targeted therapies for improved outcomes.
Advanced molecular profiling of tumours has also brought BREAST-PREDICT investigators a step closer to deciphering druggable targets for difficult-to-treat breast cancers. It is the case of triple-negative breast cancer (TNBC), an aggressive type affecting one-in-five women diagnosed with breast cancer. This subtype lacks the most important druggable proteins in tumour cells, with only chemotherapy being a potential option for standard of care at present.
Through national and international collaboration, BREAST-PREDICT researchers have unravelled an important and novel treatment possibility, namely targeting a key protein, CDK7, which appears to be overexpressed in tumours from TNBC patients which have generally poor survival. Drugs, such as THZ1, have been developed to target this protein, with clinical trials taking place with this and similar agents in the US and the UK.
While further work is required on this new therapeutic approach before full clinical implementation, it certainly represents a step forward towards tailoring treatment for TNBC patients and reducing unnecessary chemotherapy.
Delivering diagnostic tools
Herein lies another fundamental concern related to current cancer treatment strategies: the overprescription of chemotherapy. Current strategies to assess upfront which patient would potentially benefit from a treatment or would be at low or high risk of tumour recurrence are not optimal. For therapy to be tailored according to each patient's needs, clinicians would have to identify prognostic markers to determine who can be spared the toxic side effects of unnecessary treatment. An ideal prognostic or predictive assay would be robust, reliable, accurate, clinically available, and cost-efficient. Seven ground-breaking diagnostic tools are currently under development within BREAST-PREDICT, one of them due for launch into the clinic in 2018.
OncoMasTR® is a novel assay for early-stage breast cancer which will determine the risk of tumour recurrence for early stage hormone receptor-positive, lymph node-negative breast cancer patients. It has the preferred binary output that assigns patients to low- or high- risk groups, thereby aiding clinicians in determining the need for chemotherapy and the best treatment options.
Soon enough, response to treatment could also be foreseen using novel in silico prediction models. Researchers within BREAST-PREDICT have recently developed a mathematical model which could anticipate the effectiveness of genotoxic agents in treating TNBC patients. Currently at an early stage of research, the formula is pending testing in more advanced laboratory cancer models, helping to refine it for potential future clinical trials.
An advanced approach to clinical development
Precision oncology has the potential to advance health outcomes of patients by tailoring treatments effectively and avoiding unnecessary toxic agents when there is no clinical justification. Having entered its final year, BREAST-PREDICT continues to deliver scientific and medical excellence for implementation of personalised breast cancer medicine in Ireland and beyond.
With 17 novel drug therapies in preclinical testing, 13 hospitals participating, seven breast cancer diagnostic tests in development, and nine clinical studies underway, the consortium has taken an advanced approach to clinical development. The importance of clinical trials cannot be overstated: they are not only a great opportunity for cancer patients to gain access to innovative medicines but also the key path to medical breakthroughs. Current strategies to tailor clinical interventions for precision oncology are moving away from the conventional population-based approach and strive to identify only those subjects that would benefit from the study. With an identified cancer-causing gene, a therapeutic lead, and a well-validated diagnostic, proof-of-concept trials can be efficiently designed to deliver optimal therapies for cancer patients in a more efficient manner.
Collaborating against cancer
Considering all the advances in the medical field, it is indeed a great time to bring precision oncology forward. At the core of making it mainstream lies a strong, ongoing collaboration between researchers, clinicians, and patients. Large multidisciplinary consortia like BREAST-PREDICT and RATHER have brought together different experts in a team-based approach to work diligently and efficiently towards overcoming key challenges associated with personalised medicine.
In the end, the fight against cancer is a common bond.
Dr Luciana Herda, Project Manager
Professor William Gallagher, Director
BREAST-PREDICT
www.breastpredict.com
This article will appear in issue 5 of Health Europa Quarterly, which will be published in May.
Recommended Related Articles