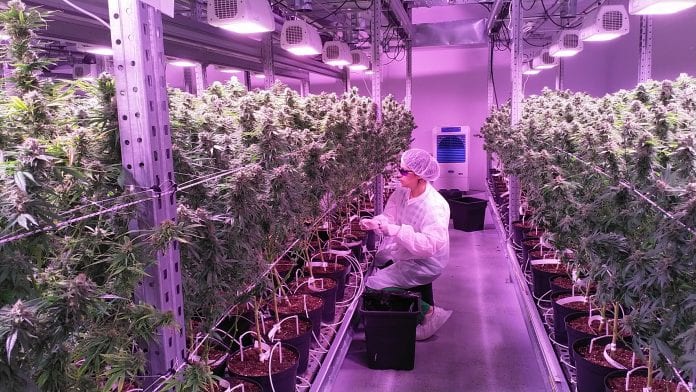 Combining the best of science and agritech to pave the path for pharmaceutical grade cannabis solutions.
Natural products have been the backbone of traditional healing throughout the globe and an integral part of history and culture1. Products drawn from nature constitute an extremely important resource for pharmaceutical companies in the ongoing race for the development of novel medicines – the fact is that many blockbuster drugs are derived directly or indirectly from plants,1,2 including:
The opioid analgesic morphine;
The antibiotic and antifungal agents penicillin and erythromycin;
The anti-cholesterolaemics simvastatin and atorvastatin;
The antitumoral agents taxol, docetaxel and others.
However, since the cannabis flower is administered as a medicine by itself, and contains hundreds of active ingredients, it should be treated differently.
Medical cannabis – tremendous surge in interest and research
Cannabis is a plant-based product with origins tracing back to the ancient world. According to the WHO, cannabis consumption has an annual prevalence rate of approximately 147 million individuals or nearly 2.5% of the global population.3
Due to its therapeutic properties, the significance of cannabis in the healthcare sector is rapidly growing, along with medical cannabis clinical evidence. Its wide range of potential therapeutic effects are attributed to the extensive profile of cannabinoids, terpenes and flavonoids, which act on cannabinoid receptors, also known as the human endocannabinoid system.
The desired destination: a consistent, predictable, pharmaceutical grade product
The benefits and practical applications of cannabis have prompted research into the optimal agronomic requirements, with the aim of attaining high quality and consistent raw materials which are compatible for pharmaceutical processing standards.
Environmental factors play a crucial role in regulating the metabolic yield of the plant's active molecules. Hence, to achieve a consistent profile and concentration of effective components in cannabis as an herbal medicine, numerous parameters should be monitored, including growing conditions; customised genetics; climate control ; layout of the operation; flow of material and people; integrated pest management (IPM); fertilisation method; quality control; lighting techniques; drying and storage processes; and more.
Standardisation of the quality and quantity of compounds, through precise, controlled growing conditions, is a major step towards bridging the gap between plant and patients.
What exactly is a 'pharmaceutical grade' cannabis product?
Pharmaceutical grade cannabis products are cannabis commodities that are produced at a 'research class' facility with laboratory standards of contained environment agriculture. This grade of production aims to replicate near-perfect consistency in cannabinoid and terpene profiles and product output. This method requires advanced controlled environment agriculture (CEA) housed within indoor facilities.4
Sade's Medical420 Indoor Facility in North Macedonia aspires to provide solutions for growing European demand
Founded in 2017 by Sade Group and local partners, led by Tony Gasovski, Medical420 is one of the first medical cannabis indoor cultivation facilities to have been established in Europe.
With a population of more than 500 million, high per capita gross domestic product and health insurance coverage for medical cannabis treatments in several countries, Europe is a key region for the medical cannabis industry.5 Industry analysts anticipate that the European cannabis market could grow to a $136bn industry by 2028 if all European countries legalise it.6
However, to date there are not enough growing facilities in Europe which meet the European Good Manufacturing Practice (EU GMP) standard so the continent relies heavily on import from Canada. Medical420 in North Macedonia aspires to meet that growing demand from local production.
Indoor cultivation facility requires substantial investment in money and resources – is it clinically and financially justified?
The need for consistency and high quality, in both the growing methods and final product, is apparent from efficacy, safety and commercial perspectives. As the cannabis dried flower is considered a medicine, it's mandatory to have a consistent, controlled outcome, free from bacteria, fungus and mould.
What are the relevant attributes to consider when evaluating a greenhouse-based operation and an indoor one?
Sade Group considered the following key factors before finally opting for indoor cultivation:
Complete control of the environment – including temperature; radiation; lighting pattern; humidity; air circulation; and sterilisation;
Ability to attain identical conditions and results for each growing cycle;
Improved product quality;
The ability to mitigate risks such as pests and climate effects;
Accelerated harvest cycles and increased yields; and
Attractive HR and operating costs.
Sade's Medical420 is a state of the art vertical cultivation facility located in North Macedonia. It was designed to fully comply with the strict EU GMP regulations for processing medicinal cannabis. The cultivation operations are led by a team of renowned Israeli and local experts with vast knowledge and experience in agronomy, plant genetics and breeding.
Sade has brought in a unique toolkit of expertise through funding and involvement in advanced plant genetic research. The research, headed by Professor Ari Schaffer at the Israeli Government Agriculture Research Organization (ARO/VULCANI), mapped specific genes residing at the base of the trichome, which are responsible for metabolic pathways leading to the generation of desired chemical profiles for cannabinoids and terpenes. The findings allow for highly targeted science-based breeding.
Determined to operate as a 'cultivation lab', Sade Group has also formed strategic partnerships with leading companies in its field: Netafim (irrigation services and solutions), Jugano (breakthrough LED technology, AI and edge computing) and Heliospectra (industry leading LED solutions for horticulture producers).
"Applying Israeli cutting edge technologies, Medical420 is a highly automated, fully controlled indoor facility designated to deliver consistent, predictable and pharmaceutical grade cannabis-based products," said Amit Sade, CEO of Sade Group, adding: "We are solidly positioned to meet the growing European market demands for medicinal cannabis, with an end goal of providing patients with the highest quality, consistent and affordable pharma grade cannabis."
Medical cannabis is one of the world's fastest growing industries and a fascinating global phenomenon by itself; one that integrates scientific research, pharma, cultivation and novel technological solutions. Exciting opportunities unfurl as cannabis continues to solidify its position within the healthcare industry.
References
1          Prof. (Dr.) Ciddi Veeresham: Natural products derived from plants as a source of drugs. J Adv Pharm Technol Res. 2012 Oct-Dec; 3(4): 200–201.
2          Felipe de Almeida La Porta and Carlton A. Taft: Emerging Research in Science and Engineering Based on Advanced Experimental and Computational Strategies (eBook ©Springer Nature).
3          World Health Organization: Management of substance abuse: cannabis. 2016. Available at: www.who.int/substance_abuse/
facts/cannabis/en.2016
4          Thomas Forrest: A Global Analysis of Cannabis Cultivation. 2019 Churchill Fellowship Report.
5          VK PREMIUM Business Consultants: European Medical Cannabis Market – Trends & Opportunities in 2020. https://www.vkmedicalcannabis.com/european-medical-cannabis-market-trends-and-opportunities-in-2020/
6          The fourth European Cannabis Report, 4th Edition from Prohibition Partners. https://prohibitionpartners.com/reports/#european-cannabis-report-fourth-edition
Amit Sade
Sade Precise Agriculture
amits@sade.group
www.sade.group
This article is for issue 3 of Medical Cannabis Network. Click here to get your free subscription today.