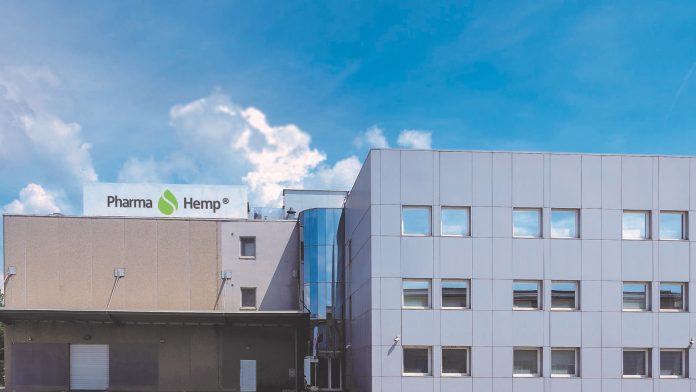 PharmaHemp is a leading global player in the field of hemp-based phytocannabinoid products & solutions, here Andrej Sušnik, CEO and founder, tells us more.
PharmaHemp is a pioneering European manufacturer and trusted supplier of superior hemp-derived phytocannabinoid products. Passionate about unspoiled nature and innovative technologies, PharmaHemp strives to bring the purest, high-quality products with full-spectrum extracts to the world's wellness and health markets.
Our mission is to create a better everyday life for everyone, based on safe and effective products with the highest quality standards. With our entrepreneurial mind-set and our local knowledge of growing industrial hemp, we have many advantages when it comes to developing new and improved ways of highlighting the many health benefits of phytocannabinoids.
A family business since 1965
We have the advantage of being part of two important traditions. PharmaHemp was born in Slovenia, in the heart of Europe's traditional hemp-growing region, with an excellent infrastructure and connections for easy access to the global market, and we grew up in a family business, conceived as the cosmetics company Pharmachem in 1965.
Our hemp story started in the 1990s, when we launched a line of personal care products enriched with essential oils obtained by the steam distillation of the cannabis plant. About 10 years ago we took our experience with cannabis sativa plants and our pioneering spirit to become one of the first companies in Europe to start producing and commercialising products based on hemp extracts rich in CBD and other phytocannabinoids.
From the family owned Pharmachem we founded PharmaHemp, which has since positioned itself as an established brand providing a wide range of impeccable products based on phytocannabinoid oils. An important part of our business is providing bulk products for our customers coming from different industries and offering support to those venturing into the expanding CBD market. Added to this, we have built a network of business partners in more than 40 countries around the world.
Varieties of PharmaHemp products
We have products and services for both business partners and consumers. Our main partners are chain stores, pharmaceutical companies, medical institutions, pharmacies and producers of wellness products. For B2B there are various programmes available: we supply bulk and raw materials and we have a private-label programme, with the possibility of custom formulations.
We are one of the largest European distributors of raw and bulk materials derived from hemp. All of our raw materials, including dried hemp biomass, CBD and CBG crystals and powders, water-soluble CBD formulations, e-liquids, balms, pastes, oils and other personal care products are available in different amounts, as requested by the customer. With our subsidiary company, Hannah biz, we also cover the field of hemp-derived food products, including industrial hemp seeds, hempseed oil, proteins, pellets, flour and tea.
With the widest range of private-label products, we empower our partners to be a part of the growing CBD market. We cover the complete service and offer full support – we provide the customer with a label design and printing service, and take care of all the legal requirements, including documentation and the registration of their final products.
For those with specific needs we also offer custom-made solutions and formulations, all produced in-house. For example, we formulate oily products in a solvent of the partner's choice (e.g., hemp seed oil, organic olive oil, coconut oil, marula oil, etc.) with any requested percentage of CBD. If necessary, we can give our customers suggestions for the best formulation, by considering their specific requirements.
Apart from private-label products, we also offer a similar range of our own, PharmaHemp-branded products, i.e., drops, pastes, balms and e-liquids. The PharmaHemp brand was one of the first on the CBD market, making us a worldwide-known producer of CBD products. Besides the well-established PharmaHemp products, we are constantly developing new and exciting lines. With our background in cosmetics' development, we had the knowledge to bring to the world three new brands that are enriched with CBD extracts: the cosmetics lines DR. KENT, MIKKA and ELIXIR.
Cosmetic lines enriched with CBD extracts
Dr. KENT combines the well-known benefits of CBD with soothing herbal ingredients that have been passed down for generations in the form of dermal formulations. Dr. KENT has been developed with a focus on delivering targeted relief for 'tired legs' syndrome and pain in the joints and muscles.
Whereas, MIKKA is the second line in our portfolio. It consists of cosmetic products based on a combination of hemp extracts and other highly nutritious ingredients, which maintain the normal balance and improve the state of the skin and the lips through soothing, hydration and anti-aging effects.
Moreover, ELIXIR is a personal care product that brings the anti-inflammatory benefits of CBD to oral care with a toothpaste and a mouthwash. It has treatment possibilities for periodontitis, one of the most common inflammatory diseases in the oral cavity, which affects 20–50% of the global population. A special product in this line, CBD-infused wipes, soothes the problems related to haemorrhoids (e.g. swelling, pain and redness).
The team
We are a rapidly growing company, with currently more than 40 employees working in eight departments – Technology, Production and Logistics, Regulatory, Quality Control, Marketing & Design, Sales, Finance and, most importantly, Research & Development – to fulfil all our customers' needs. Due to the exponential growth of the hemp industry we expect to recruit more highly qualified personnel in the future and constantly upgrade our robust organisational structure.
Our focus on the R&D department is essential to cover all the rapidly emerging market/consumer demands that challenge us in terms of new-product development, innovations in the field of manufacturing technologies and quality-control measures. We employ highly educated personnel, where the knowledge from fields like biochemistry, pharmacy, medicine, physics and the cosmetics industry is combined.
We have several ongoing R&D projects covering the development of new products and implementing new technologies. In the scope of these we have recently developed new formulations for oil-in-water emulsions with our full-spectrum extracts. Finally, this water-soluble product is currently being tested in a clinical trial to confirm its improved bioavailability compared to more conventional forms of CBD products. This will be the first clinical study where the bioavailability of a full-spectrum extract will
be investigated.
Full traceability from seeds to the final products
As we are committed to transparency and full traceability, PharmaHemp's experts monitor every step of the production process. We start by choosing the right seeds to carefully balance the varieties from the list of certified hemp. Currently, our licensed subcontractors have 500 ha of ECO-certified fields in the Pannonian planes of Slovenia and Croatia, with possibilities for a rapid expansion to at least 1200 ha, which makes us the largest grower of certified hemp varieties in the region. The careful choice of fields and organic farming methods ensure that our hemp is free of pesticides, herbicides, fungicides, heavy metals and other environmental pollutants. Special attention is paid to the drying process, where the air temperature never exceeds 35 °C.
The next stage is the extraction process, which uses supercritical CO2, followed by post-processing, mixing and homogenisation to obtain the desired formulations. After every stage of the process we perform quality control to quantitatively determine the major cannabinoids. All our end products are subjected to continuous and rigorous quality-assurance checks as well as short- and long-term stability tests.
Quality assurance and control
We assure high end-product quality by having control over the whole manufacturing procedure, from EU-certified seeds that are used for hemp cultivation, to the final product on the shelves. The hemp biomass is cultivated, harvested and handled in compliance with Good Agricultural and Collection Practice (GACP) guidelines and the final products are produced and handled in accordance with GMP standards.
The manufacturing processes for each individual product are presented in a traceability flowchart, which is available for our customers together with supplementary documentation in the form of GACP, GMP certificates, ISO standards, etc. Additionally, our customers are informed about the product's quality and characteristics through the provided Certificates of Analyses (CoAs), Product Specifications and Material Safety Data Sheets.
Traceability is another quality parameter that is covered through the connection of each delivered/received raw material to the batch numbers of our final products, using the enterprise resource planning system. An essential part of traceability are the numbers of the various CoAs on the raw material, bulk products and final products prior to shipment.
The materials involved in our process are subjected to both in-house and third-party laboratory checks. With our in-house analytical technique, which is based on a high-pressure liquid chromatography system, we quantitatively determine the presence of ten major cannabinoids (CBD, CBDA, CBDV, THC, THCA, THCV, CBG, CBGA, and CBN) in a variety of samples, from hemp biomass and extracts to various end products. Using a validated method, our profiling is accurate, precise and has a high degree of robustness to ensure confidence in the results.
We are in the final stage of accreditation for an analytical method under the international standard ISO/IEC 17025 for testing and calibration laboratories, which will be completed in Q4 of 2019. Apart from the analysis used to cover critical control points in our manufacturing process, PharmaHemp Laboratories also offer fast and reliable cannabinoid analyses for our partners, end-users and other legal entities.
Currently, additional testing for the presence of pesticides, heavy metals, environmental pollutants, residual solvents, microbiological analyses and stability studies are outsourced to trusted national and international accredited laboratories, such as the National Laboratory of Health, Environment and Food (Slovenia), ProVerde (US) and Eurofins (Europe).
Collaboration with universities and research institutions
We are constantly striving to improve our research capabilities and are aware of the importance of collaboration with research institutions and universities. In collaboration with the Jožef Stefan Institute in Ljubljana we developed and validated a method for the accurate determination of cannabinoids at ppm levels. With the Faculty of Pharmacy of the University of Ljubljana, we continuously develop and test new methods for production, and with the Department of Food Chemistry and Analysis of the Institute of Chemical Technology, Prague we perform analyses of the extracts with respect to minor, unknown cannabinoids and other bioactive compounds.
With ETH Zurich we are setting up a project aimed at studying the selective degradation of phytocannabinoids under controlled light, temperature and atmosphere. We are also collaborating with the Paediatric Neurology Department at the University Medical Center Ljubljana, which performs clinical studies for the treatment of childhood epilepsy and mitigating spasticity in children with cerebral palsy using extracts with the full spectrum of cannabinoids.
PharmaHemp is also playing an active part in applying for European funding and is currently leading a project entitled 'New generation of hemp extracts for natural cosmetics', with the aim of launching new phytocannabinoid oil for use in the cosmetics industry.
The future
We see PharmaHemp at the forefront of innovative solutions in the rapidly expanding hemp-related industry. To ensure a competitive advantage on the market and to deliver unique products, we will be active in recruiting highly qualified personnel and expanding our production and business facilities.
By the end of this year we will double the capacity of our R&D department and strengthen our collaboration with leading research institutions and universities through bilateral projects and by applying for EU funding. In 2020 we plan to finish building a new facility that will house a processing line from hemp to the final products, analytical laboratories and research capabilities, all in compliance with the regulations defining good manufacturing practices.
Andrej Sušnik
Founder and CEO
PharmaHemp d.o.o.
+386 142 397 90
info@pharma-hemp.com
www.pharma-hemp.com
Please note, this article will appear in issue 10 of Health Europa Quarterly, which will be available to read in July 2019.