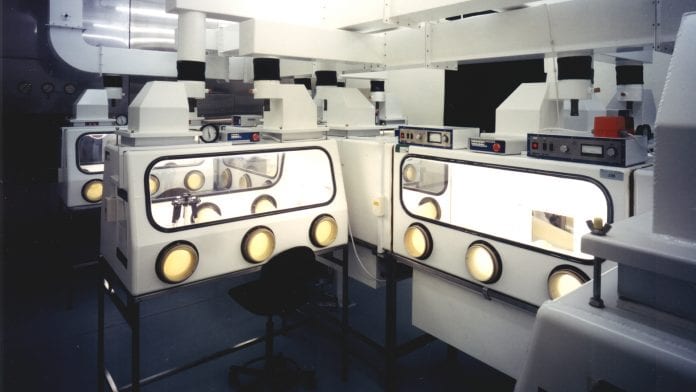 Professor Nigel Silman of PHE explains how they can help you to further your research.
Public Health England (PHE) is an executive agency of the Department of Health and Social Care. Unusually for a public sector organisation, it operates on a semi-commercial basis with close to 50% of the operating budget of the organisation derived from commercial sources. This article describes the breadth of these commercial activities and sets out how we can help you take your research forward and translate it into a licensed product.
PHE plays a key role in protecting the population's health from infectious diseases. There are over 600 staff at PHE Porton Down – a key PHE site for research on infectious disease – and these staff include scientists, managers, animal technical specialists, administrative staff and biosafety experts.
PHE Porton Down operates a large number of microbiological containment laboratories at containment levels (biosafety levels) 2, 3 and 4. These mean we are able to handle the most high-hazard microbial pathogens, such as Ebola virus in both laboratory experiments and in animal studies to evaluate vaccines and therapeutics against these diseases in representative animal models.
Our scientific credibility and regulatory expertise provide comprehensive preclinical and clinical services to both the UK and international governments, academic partners, and the global pharma vaccine industry.
In specific support of the vaccine industry, PHE (via its sites at Porton Down, Colindale and the vaccine evaluation unit in Manchester) brings extensive expertise and a proven track record in assay development, qualification, validation and the execution of these assays under GxP compliance for product and process characterisation, release and stability and in serological assessment of serum samples from clinical trials.
We also provide consultancy on method feasibility, development, validation, and methods technology transfer. We provide rare expertise in the development and validation of biological assays including functional, neutralisation and cell-based assays which measure the true biological activity of the enzyme, protein or antibody. We also routinely develop and validate novel assays including those measuring host cell protein and enzymatic activity.
PHE has significant capabilities in the development and validation of assays to evaluate cellular and memory immune responses in both clinical and non-clinical samples and we have received international recognition for the provision of specialist serology services including those to evaluate response to tetanus, diphtheria, HIB, and pertussis (PT, Fim2+3, FHA and Pertactin) vaccines all in compliance with GCLP. These activities are provided to the customer to support vaccine clinical trials. For vaccine manufacturers, we routinely perform batch release assays and stability testing of vaccines (including seasonal flu) and other therapeutics for worldwide pharma.
Animal Models
One of the greatest assets that PHE Porton Down can offer the industry is access to our well-characterised, representative animal models for discovery, evaluation and validation of novel therapeutic/prophylactic interventions. We have extensive experience in the development and application of animal models (mouse, guinea pig, ferret, rabbit and NHP) to perform studies such as disease pathogenesis, transmission, immunogenicity, efficacy, and potency.
Some examples of the animal models available at PHE Porton include influenza, TB, Ebola, Lassa, CCHF, monkeypox, anthrax, MERS, chikungunya, zika, C. difficile, Burkholderia pseudomallei and Coxiella burnetii. In vivo activities are conducted at containment levels (BSL level) 2, 3 and 4 in specialised facilities by a dedicated team of animal technicians, a duty named veterinary surgeon (NVS), two registered veterinary pathologists and several named animal care welfare officers as required by UK law.
We also meet the US Animal Welfare regulations (AAALAC) and have for many years conducted studies for US government, academia and industry. We have received global recognition for our research and development activities in infectious diseases up to and including biosafety level three and four and including rare and exotic pathogens and those identified as potential bioterrorism agents and publish over 100 peer-reviewed publications each year on our work.
As an example of how we can help move your research, development and licensure forwards, some short case studies describe some specific areas where we have supported international governments, WHO, pharma industry and academia to progress novel products.
Case Studies:
Rapid evaluation of therapeutic compounds against Ebola: During the recent Ebola outbreak in Sierra Leone, Liberia and Guinea, PHE Porton was able to rapidly evaluate developmental therapeutic compounds for activity against Ebola virus infection.
We used the Lambert Toolkit and developed a fast-track model agreement to expedite the work which was conducted for a range of pharma, academe and SME's using both in vitro assessment of activity against the virus in cell culture systems and in vivo activity against model infection in either A129 mice or guinea pigs. In total over 100 novel compounds were evaluated against Ebola virus infection during the period 2014-2016.
Construction of influenza virus seed-stocks: The process by which influenza vaccines are updated according to the WHO guidelines involves annual production of a recombinant virus seed-stock by either virus recombination or genetic manipulation of virus by re-assortment.
In the case of influenza strains derived from an Avian virus (such as the H5, H7, H9 viruses), specialist facilities are needed to handle these viruses safely as they must conform to the Defra Specified Animal Pathogen Act (SAPO) regulations. PHE has supported one of the major influenza vaccine manufacturers to produce an avian influenza vaccine seed stock against an Avian virus by genetic re-assortment; in this example, scientists from the pharma company worked alongside PHE scientists in PHE laboratories to conduct these studies and produce the required seed stock.
Open Innovation platform for antimicrobial resistance: PHE was recently awarded a significant grant from the Department of Health and Social Care (DHSC) to establish an open innovation platform to discover and evaluate novel antimicrobial compounds against a range of clinically relevant isolates using in vitro test systems.
This innovative approach came about as we believe that there is a fundamental gap in early stage evaluation against clinically relevant isolates of key pathogens, together with appropriate test models that allow us to understand resistance and mechanism of action. This lack of capability to evaluate such novel compounds prevents many researchers entering the field or means they have poor quality data that does not adequately support future funding applications. Addressing this gap represents an opportunity to stimulate the sector by providing ready access to such tests through an open innovation model with visiting workers being hosted within research groups at PHE.
The proposed structure has an added benefit in providing early stage career researchers, particularly from the fields of medicinal/synthetic chemistry and pharmacology, the opportunity to become fully conversant with the microbiology considerations for the development of new antibiotics. This has a significant benefit for the sector, helps build interdisciplinary networks, will stimulate an overall increase in knowledge and expertise feeding back into academic research and could lead to the development of new antimicrobial compounds.
The scheme will run on an open access innovation model. Visiting workers will be responsible for their own salary and travel and subsistence costs. Ideally, they will contribute to direct costs for evaluation work carried out during the visit. In the first instance, bench fees, other overheads and training/supervision costs will be met by PHE. At the initial evaluation stage, all IP will rest with the visiting worker and/or their host institution.
A recent example of this open innovation platform in action: a visiting post-doctoral scientist was hosted for 4 weeks; they were an experienced chemist but with minimal microbiology training. They had a small series of compounds, rationally designed for a novel target, with inhibition data from biochemical assays. The activity against susceptible and multi-drug resistant (MDR) isolates of 3 three species of Gram negative bacteria confirmed the mode of action in bacteria by adding a product of inhibited pathway.
The novel antimicrobial was found to be rapidly bactericidal with no observed resistance in time kill assays. Moreover, synergy was demonstrated with three classes of frontline antibiotic in multiple bacterial species and there was also evidence of in vivo efficacy against MDR Gram negative bacteria in the Galleria (silk moth larvae) model of infection.
The visiting scientist commented that: "the data generated will inform us on how to better design our next series of inhibitors and has re-itinerated that there are other aspects to designing inhibitors, not necessarily related to in vitro potency against the target."
PHE are ready to help you translate your research through the pre-clinical and early clinical pathway. Contact us to see how we can help you.
Nick Macready
Marketing Manager
Public Health England
+44 1980612100
business@phe.gov.uk
www.gov.uk/government/organisations/public-health-england
Please note, this article will appear in issue 12 of Health Europa Quarterly, which will be available to read in February 2020.