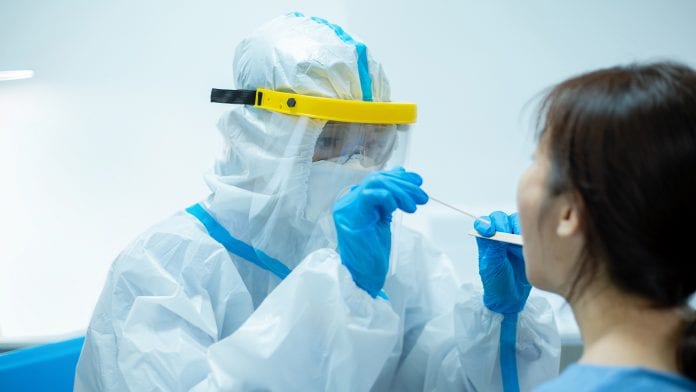 Exploring the value of point-of-care C-reactive protein testing in the time of COVID-19 in patient risk assessment and monitoring.
As the healthcare industry's understanding of coronavirus (COVID-19) evolves, the need for accurate and rapid diagnosis continues to grow. As part of a broader response to the COVID-19 pandemic and the drive to limit the impact of the virus, Abbott has made many contributions by expanding access, sharing resources and developing technologies during the pandemic.
C-reactive protein
C-reactive protein (CRP) is an acute-phase protein synthesised by certain cytokines. The body's CRP levels rise as a result of infection or in response to non-infectious inflammatory processes. While the CRP response is normally much higher in bacterial infections, some viral infections can also cause elevated CRP levels. As elevated CRP is typically associated with pathological changes, the CRP assay can provide information which informs the diagnosis, therapy, and monitoring of inflammatory conditions.
Elevated levels of CRP have been found in the majority of patients presenting with COVID-19,1 especially in more severe cases. Meanwhile, public health organisations in Germany, 2 China3 and Italy,4 along with the International Federation of Clinical Chemistry and Laboratory Medicine (IFCC),5 have recommended the close monitoring of inflammation markers including CRP for COVID-19 patients.
Point-of-care testing
POC testing is preferred in CRP monitoring, as it can be performed at the patient's bedside at any time and reduces the number of samples which are sent to central labs. In just a few minutes a rapid POC CRP test can deliver information regarding the inflammatory status of a patient who is being managed for COVID-19: elevated CRP levels may indicate severe complications such as cardiac complications, cytokine storm or secondary bacterial infection. However, recommendations from the World Health Organization (WHO) and US Centers for Disease Control and Prevention (CDC) do not yet include provision for CRP in terms of identifying or ruling out patients for further COVID-19 testing. Only approved RT- PCR techniques are recommended to diagnose COVID-19.
CRP and AMR
Antimicrobial resistance (AMR) is the climate crisis of medicine: the man-made depletion of a vital medical resource due to rampant worldwide misuse. Antibiotics are among the most valuable classes of drugs ever discovered, saving countless lives every year, but with growing levels of antibiotic resistance there is a danger that their benefits may soon be lost. This represents an increasing menace for healthcare authorities worldwide, affecting the efficacy of antibiotics and compromising their efforts to battle infections in the clinical space. Afinion™ CRP from Abbott is a POCT which could help physicians avoid the misuse of antibiotics and, as a result, could increase the number of positive outcomes for patients, helping to tackle the serious healthcare and economic problem of AMR, and ensuring that antibiotics remain effective for generations to come.
A 30-year pioneer in CRP POCT
With 30 years of experience, Abbott continues to offer leading solutions in CRP POCT. It launched its semi qualitative CRP visual test in 1989; today it offers the Afinion CRP; a best-in-class fully automated CRP test which saves time for both healthcare professionals (HCPs) and their patients. CRP POCT has been shown to reduce antibiotic prescribing by more than 60%, when it is delivered in combination with communication training for general practitioners. 6,7
Backed by clinical research
When it comes to diagnosis and treatment, it is crucial to swiftly identify those patients with a severe bacterial infection who need to start antibiotic therapy as soon as possible, while also avoiding unnecessary antibiotic prescriptions. CRP is a major acute-phase biomarker, which can help HCPs distinguish patients with respiratory tract infections (RTIs) who would benefit from antibiotics from those who would not.6,7,9-13 CRP testing can therefore help HCPs make the right decision for their patients and simultaneously improve antimicrobial stewardship.
"Today, antibiotics are rarely prescribed based on a definitive diagnosis," says Dr Margaret Chan, Director of the World Health Organization from 2006 to 2017.8 "Diagnostic tests can show whether or not an antibiotic is actually needed."
Tried and tested: CRP point-of-care testing in COPD patients
The New England Journal of Medicine recently published the results of a UK-based multicentre study11 about the use of CRP POCT, which used the Afinion CRP test on patients presenting with acute exacerbation of chronic obstructive pulmonary disease (COPD) in 86 general practices in England and Wales.
In this study, Dr Chris Butler, Professor of Primary Care in the Nuffield Department of Primary Care Health Sciences at the University of Oxford, along with his colleagues, performed an open label randomised controlled trial (RCT) involving patients with a diagnosis of COPD to determine whether POCT of CRP would reduce antibiotic prescribing.
Their findings suggested that guided antibiotic prescribing for exacerbations of COPD using CRP POCT resulted in a lower percentage of patients who reported receiving antibiotic prescriptions from clinicians. A 20.4% absolute reduction in antibiotic prescribing (57.0% compared to 77.4%) during the first four weeks of follow-up was identified compared to usual care, without any negative effect on patient outcomes or on rates of re-consultation.
EUnetHTA report findings
The European Network for Health Technology Assessment (EUnetHTA), a collaborative network established for health technology assessment across Europe, assessed studies with the goal of determining the relative effectiveness and safety of CRP POCT to guide antibiotic prescribing in patients with acute RTIs in primary care settings.13 EUnetHTA's researchers concluded that CRP POCT may be used in the treatment of patients who present with symptoms of acute RTI, resulting in reduced antibiotic prescribing both at index consultation and up to 28 days follow-up without compromising patient safety. All studies in the report had been performed with quantitative CRP POCT.
The authors also assessed the accuracy of CE-marked devices in Europe. In those studies that compared the Afinion CRP with other methods, the Afinion CRP was reported to be easy to use and was one of the methods that matched best with central laboratory results, scoring well in quality assurance schemes. The review concluded that devices which are easier to use tend to have less pre-analytical handling and are less susceptible to human error.
Afinion CRP enables easy, convenient testing with accurate results in three to four minutes.
A significantly increased CRP result may indicate the need for immediate antibiotic treatment. The CRP level decreases rapidly in response to effective therapy. A normal or moderately increased CRP may support a diagnosis of viral or self-limiting infection, which provides valuable information to prevent unnecessary antibiotic prescriptions. Using CRP POCT, relative reductions of antibiotic prescribing by up to 42% have been found, or more than 60% if combined with communication training for general practitioners. 6,7,9-12 The Afinion CRP is part of Abbott's commitment to make every minute count and improve patient outcomes.
References
Ali, N. Elevated level of C‐reactive protein may be an early marker to predict risk for severity of COVID‐19. J Med Virol 2020, 92: 2409-2411. doi:10.1002/jmv.26097
Ständiger Arbeitskreis der Kompetenz- und Behandlungszentren für Krankheiten durch hochpathogene Erreger am Robert Koch-Institut (STAKOB). Hinweise zu Erkennung, Diagnostik und Therapie von Patienten mit COVID-19; Downloaded 13 March 2020; www.rki.de/covid-19-therapie
Chinese COVID Management Guidelines-19, Version 7; published on 3/3/2020 by R.P.C. National Health Commission and the National Administration of Traditional Medicine of R.P.C.; translated by Jinwei Sun, Physician Specialising in Cardiovascular Disorders at the University of Milan-Bicocca
The Italian Society of Emergency Medicine (SIMEU). COVID-19 First Line Report PS/DEA management organisational structure as part of an epidemic or pre-epidemic outbreak. Downloaded 12 March 2020: https://www.simeu.it/w/articoli/leggiArticolo/334/dir
International Federation of Clinical Chemistry and Laboratory Medicine (IFCC). Information Guide on COVID-19 – Monday 6 April 2020 updates: https://www.ifcc.org/ifcc-news/2020-03-26-ifcc-information-guide-on-covid-19
Cals, JWL et al. BMJ 2009;338(51):1374
Little, P et al. The Lancet 2013;382(9899):1175-1182
O'Neill, J. Review on antimicrobial resistance. 2016
Andreeva E, Melbye H. BMC Family Practice 2014; 15(1):80
Cals, JWL et al. The Annals of Family Medicine 2010; 8(2):124-133
Butler, CC, Gillespie, D, White, P et al. New England Journal of Medicine 2019; 381(2):111-120. doi:10.1056/nejmoa1803185
Verbakel, JY et al. BMJ Open 2019; 9:e025036
O'Brien, K et al. C-reactive protein point-of-care testing (CRP POCT) to guide antibiotic prescribing in primary care settings for acute respiratory tract infections (RTIs). Rapid assessment on other health technologies using the HTA Core Model® or Rapid Relative Effectiveness Assessment. EUnetHTA Project ID:OTCA012. 2019
Hear from the experts on CRP point of care testing
Watch a video of Dr Verena Gantner a GP from Switzerland who uses CRP POCT.
https://alere.wistia.com/medias/ey0c7ub7xg?wtime=0
Felicia Longobardi
Abbott
This article is from issue 15 of Health Europa. Click here to get your free subscription today.