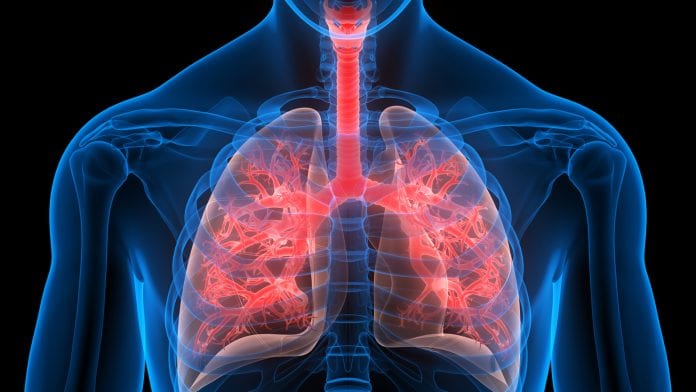 Digital ultrasonic spirometry is a new clinical solution perfectly suited to acute and chronic COVID-19 management.
Pulmonary fibrosis is caused by lung inflammation such as pneumonia and results in the replacement of healthy lung tissue with fibrous dysfunctional tissue and consequent reduced pulmonary function. Pulmonary fibrosis is a complication of SARS-CoV-2 infection, and its extent and progress remains unknown.
Since its initial reports in December 2019, the SARS-CoV-2 virus has changed our world. It is expected that 300 million people worldwide will be infected with the SARS-CoV-2 virus, and the numbers continue to rise. Given that the asymptomatic or undetected infections may be 30% to 90%, it is possible that the total number of infected people worldwide may reach a billion.
COVID-19 is an enigmatic disease which occurs as a result of infection by the SARS-CoV-2 virus, a pulmonary infection with symptoms ranging from none to death. The disease spreads rapidly from person to person via aerosolised droplets and surface contamination; and it was declared by the World Health Organization (WHO) to be a global public health pandemic in March 2020. The infection may be complicated by blood-borne dissemination to other organs including the kidney, liver, muscles, nervous system and the spleen; bleeding disorders (coagulopathy); and can ultimately result in death from sepsis-induced cardiovascular failure. Consequently, pre-existing cardiovascular disease may result in an increase in mortality more than 10 times. There are currently no reliable therapeutic options beyond supportive care such as supplemental oxygen and cardiovascular support.
While vaccines offer some protection, the dynamic mutations of the virus create a moving target, with many evolving variants of the disease continuing to be reported, and each with different pathophysiologic characteristics and clinical consequences.
Many questions remain unanswered.
Symptoms and management
Of symptomatic patients with COVID-19, 5% to 10% will develop severe pneumonia and acute respiratory distress syndrome (ARDS). A recent study on COVID-19 patients requiring ventilation demonstrated that between 12% and 17% have restrictive pulmonary physiology measured on spirometry after three months, indicative of severe pulmonary fibrosis.
Factors such as advanced age; severe illness; prolonged ICU/hospital stay and mechanical ventilation; a history of smoking; and chronic alcoholism are associated with increased lung damage. The severity of the lung injury correlates with the extent of the inflammatory response required to repair the injury, and this response may be acute or chronic.
While acute symptoms may last for two to six weeks, the effects of the disease may be ongoing. This post-COVID response, or syndrome, is a pathologic entity characterised by persistent physical, medical, and cognitive sequelae following COVID-19 infection. The syndrome may include persistent immunosuppression as well as pulmonary, cardiac, and vascular fibrosis. Even asymptomatic patients who recover and test negative for the virus may report debilitating ongoing symptoms lasting for months after infection.
While we lack longitudinal data on post-COVID syndrome, prior experience with related severe acute respiratory syndrome (SARS) and Middle East respiratory syndrome (MERS) patients suggests that while many will stabilise and improve, some will progress to advanced pulmonary fibrosis or post-COVID interstitial lung disease with significant lung dysfunction.
Natural history
The natural history and pathophysiology of these post-COVID patients and their optimal therapy remain to be determined. However, it is clear that there will be many millions of people around the globe with persistent and potentially progressive lung disease that will need frequent monitoring and intense management to preserve their lung function and quality of life. Using conservative numbers of 300 million global infections, around 30 million (10%) will have significant lung inflammatory responses and will require ongoing observation and possibly therapy.
If a further 15% of these develop restrictive lung fibrosis, they will require intense monitoring and significant therapeutic care to manage their chronic and probably severe restrictive pulmonary disease. If we add the pulmonary complications found in the asymptomatic post-COVID syndrome patients, the total number of patients requiring high-level care could be many times this estimate.
The use of six-monthly serial imaging and pulmonary function testing of COVID-19 patients is recommended and costly, thereby imposing a significant and unplanned cost for health systems worldwide. Spirometry non-invasively measures the flow of inhaled and exhaled breath to determine the performance of the lungs. Global spirometry demand is predicted to increase by around 160% over the next six years, from $2.6bn to $6.5bn, driven predominantly by the needs of COVID-19 patients.
Health economics
The challenge for health systems worldwide is to deliver high fidelity lung function testing to this 'tsunami' of post-COVID patients, in a simple, accurate and cost effective way which encourages patient compliance. While digital health models have been established for delivery of spirometry, adoption has been limited by the quality of the devices and accuracy of measures, the requirement for expensive consumables, the requirement for complex calibration and the absence of a proven method to control infectious contamination. The result has generally been poorly delivered home care monitoring and dissatisfied patients who receive minimal benefits, and who are therefore poorly compliant.
The SpiroSonic solution
Digital multi-path ultrasound has recently emerged as the spirometry gold standard, solving many of the technical and reliability limitations of conventional spirometry. The technology is inexpensive, stable and accurate; requires minimal calibration, uses disposable bacterial filters and is simply cleaned: all features which improve clinical effectiveness and patient compliance. Uscom is at the forefront of innovations in the field, having recently released its SpiroSonic AIR multi-path digital ultrasonic spirometer. The SpiroSonic AIR is a patent-protected and entirely wireless technology using Bluetooth and internet connectivity to communicate with the MyAIR app and the SpiroReporter software. As the technology is entirely wireless it is also mobile, providing instantaneous clinician-to-patient connection regardless of the global location.
The international spread of COVID-19 has catapulted telemetric pulmonary monitoring into the clinical domain as an urgent technologic solution. Telemetry has shifted from a theoretical novelty into an essential new solution for remote management of infectious patients; not only increasing access of patients to specialised care clinicians and centres, reducing the risk of disease spread, but also decreasing the cost of that care.  Digital ultrasonic spirometry is a new clinical solution perfectly suited to COVID-19 management during the acute and chronic phases of the disease. It is also applicable for improved monitoring and management of asthma, chronic obstructive pulmonary disease (COPD), and occupational lung disease.
The Uscom SpiroSonic digital ultrasonic home care pulmonary monitoring solution comprises the SpiroSonic AIR digital multi-path ultrasonic spirometer, the MyAIR App and the remote SpiroReporter software solution.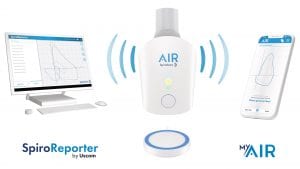 Technology
1) SpiroSonic AIR: a digital multi-path ultrasonic spirometer with low-resistance PureFlow technology for monitoring at high and low outputs. The SpiroSonic AIR is the most advanced device of its kind, featuring voice-guided operations with automated onboard diagnostics and wireless charging. The device uses BT4 communication protocols to wirelessly connect and transmit digital patient data
2) SpiroSonic MyAIR app: a mobile app which generates reports, in addition to offering wireless email transmission to the remote SpiroReporter platform or a clinician's phone for instantaneous diagnosis and therapeutic choice
3) SpiroReporter: advanced software for archiving, image storage, analysis, reporting, and trend monitoring of changes in pulmonary function with disease and therapy
The PureFlow multi-path digital ultrasonic technology is at the core of every high fidelity SpiroSonic AIR spirometer and measures the rate of flow in a continuous, uninterrupted flow path. Unlike turbine spirometers, ultrasonic spirometry has no moving parts and provides a low resistance tube without obstructions
Making use of Uscom's proprietary compensation and signal processing algorithms, SpiroSonic spirometers sample flow 100 times every second, generating a smooth, highly detailed dataset waveform. The continuous flow time, volume time, and flow volume curves can be analysed to reveal more subtle pulmonary anomalies, while the calculated spirometry indicators give a quick insight into the patient's pulmonary condition. Factory-calibrated, SpiroSonic devices do not require daily calibration.
The SpiroSonic PureFlow technology is a feature of the telemetric AIR, the computer connected FLO and the stand alone SMART, all of which deliver ultrasonic safety, accuracy and durability; are simple to clean; require annual calibration; and minimal consumables.
The SpiroSonic AIR solution has now received CE certification for sale in Europe and Southeast Asia, with approvals from China's National Medical Products Association (NMPA) and the US Food and Drug Administration (FDA) expected over the next six to 12 months.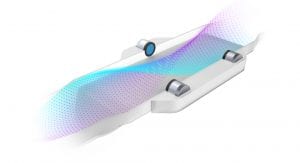 Conclusion
There is expected to be an explosion of demand for recovery pulmonary monitoring as the acute phase of the disease progresses to chronic post-COVID syndrome and a huge number of patients worldwide seek long term care. Serial high fidelity lung function monitoring will be vital for improving our understanding of the natural history of the disease, as well as for identifying the optimal choice of therapies. The innovations and advanced technology of the SpiroSonic AIR solution will simplify and improve the quality of health care for post-COVID patients and reduce the social support cost for their ongoing management.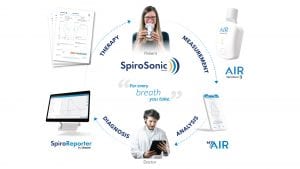 References
1 Machhi J, Herskovitz J, Senan AM et al. The natural history, pathobiology, and clinical; manifestations of SARS-CoV-2 infections. J Neuroimmune Pharmacology 2020; 15: 359-386. https://doi.org/10.1007/s11481-020-09944-5
2 Arnold DT, Hamilton FW, Milne A et al. Patient outcomes after hospitalisation with COVID-19 and implications for follow-up: results from a prospective UK cohort. medRxiv preprint DOI: https://doi.org/10.1101/2020.08.12.20173526
3 Shaobo Shi, Mu Qin, Bo Shen, et al. Association of cardiac injury with mortality in hospitalised patients with COVID-19 in Wuhan, China. JAMA 2020, DOI:10.1001/jamacardio.2020.0950.
4 Udwadia ZF, Koul PA, Richeldi L. Post-COVID lung fibrosis: the tsunami that will follow the earthquake. Lung India 2021; 38(Suppl 1): S41–S47. DOI: 10.4103/lungindia.lungindia_818_20
5 Spagnolo P, Balestro E, Aliberti S, Cocconcelli E, Biondini D, Casa G Della et al. Pulmonary fibrosis secondary to COVID-19: a call to arms? Lancet Resp Med. 2020;8:750–2. DOI: 10.1016/S2213-2600(20)30222 -8
6 Oronsky B, Larson C, Hammond TC et al. A review of persistent post-COVID syndrome (PPCS). Clinic Rev Allerg Immunol 2021; https://doi.org/10.1007/s12016-021-08848-3
7 www.ihealthcareanalyst.com/global-idiopathic-pulmonary-fibrosis-treatment-market/ (accessed 4 June 2021)
Synopsis
1) Diagnosed COVID-19 infections are projected to reach 300 to 500 million worldwide
2)  Asymptomatic undiagnosed patients may double that number
3) COVID-19 is a respiratory infection which damages lung tissue and lung function
4) Many patients, including asymptomatic patients, have ongoing symptoms, including pulmonary fibrosis and impaired lung function: post-COVID syndrome
5) The natural history of COVID-19 is poorly understood and may be progressive
6) Optimal management will require ongoing monitoring
7) High fidelity spirometry provides precision pulmonary monitoring
8) Uscom SpiroSonic AIR and MyAIR app provides a high fidelity spirometry solution
9) SpiroSonic solutions provide instantaneous wireless connection to expert physicians 24 hours a day
10) The SpiroSonic AIR solution is ideal for monitoring post-COVID syndrome, asthma, COPD and occupational lung disease
This article is from issue 18 of Health Europa. Click here to get your free subscription today.
Contributor Details