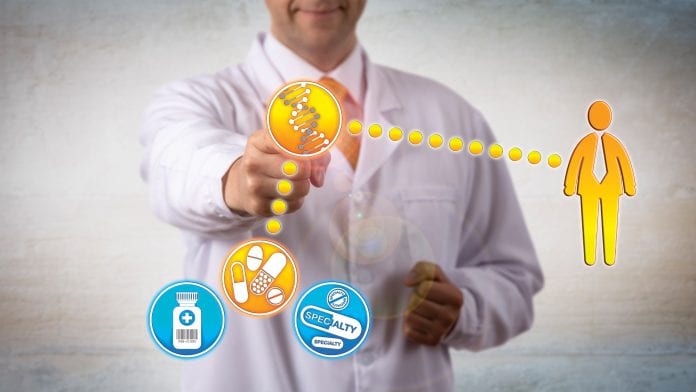 Health Europa listened to InnVentis CEO Thomas Wilckens discuss some of the diagnostic and data challenges involved in precision medicine.
The 5th Precision Medicine and Biomarkers Leaders Summit: Europe, which was held this September in Munich, Germany, and which was attended by Health Europa as media partner, provided an ideal platform for pharma companies, health technology firms, medical professionals and academics to come together to discuss and exchange ideas and expertise on how best to realise precision medicine. With presentations on everything from diagnostic investment opportunities to novel technologies, rare diseases and immuno-oncology, the two-day event was a must for all those interested in the challenges and opportunities of delivering precision medicine to patients.
What is precision medicine?
Precision medicine describes an approach whereby doctors can select the most appropriate and effective treatment and care strategies for a patient based on genetic, environmental and lifestyle factors. Thomas Wilckens, the CEO of Israel-based start-up InnVentis – which is making use of big data and machine learning to provide solutions for diagnostics, monitoring, and therapeutic decisions in the area of major chronic inflammatory diseases – told the summit audience that precision medicine should be understood separately to the "misleading" term personalised medicine, which has led to confusion among patients.
Wilckens described the transition towards precision medicine as a shift away from symptom-based medicine originally, towards cohort-based medicine today and arriving, in the future, at algorithm-based medicine. Referencing the ideas of renowned American academic Clayton Magleby Christensen, who is perhaps best known for his influential theory of 'disruptive innovation', Wilckens explained that we have moved from intuition medicine – which he described as "pattern recognition by MDs that are trained and have seen a lot of patients and feel they know how the patient would respond to [a given drug]" – to evidence-based medicine. Precision medicine, he said, will be the next step, but to get there we must allow the data that's being generated to guide what we do.
Unfortunately, Wilckens continued, "we have just too many data and we have little capabilities that are really for scale to analyse all this data to make diagnostics that deliver in real time, and we have basically not a measure right now to figure out what data we should actually use". This is slowing down the full realisation of precision medicine and also making it difficult to deliver drugs and diagnostics to market, he said, explaining that a lack of related standards between clinics and institutions is resulting in "a lot of garbage in, garbage out". There is "a lot of room for improvement in innovation," he added.
Diagnostic challenges
Wilckens then turned his attention to some of the challenges around diagnostics that we are facing on the journey towards precision medicine. There are 18 million diagnostic errors each year in the US, he said. According to clinical decision support technology firm VisualDx, these result in roughly 74,000 annual deaths – a fact which has helped make medical mistakes the third leading cause of death in America. The chance of somebody receiving a false diagnosis in their lifetime is meanwhile 100%.
"I think it's pretty pathetic that nowadays it can still take up to eight years to get the right diagnosis if you have a rheumatic condition," Wilckens continued. "You can imagine how much damage that is doing to your health already, how much it does to your lifestyle, your productivity, your quality of life in general."
Given these startling diagnosis statistics, it is not hard to see why so many treatment decisions are often incorrect – and why fully realised precision medicine cannot come soon enough.
"You're very lucky if you have something which is self-limiting or if you survive the treatment of the doctor if he's doing the wrong thing to you, but it doesn't help you too much," said Wilckens.
He noted that for "one of the most successful drugs for multiple sclerosis, you have to treat 18 patients to find one responder", while all ten of the dominating antirheumatic drugs "work in just one out of five patients". According to Wilckens, this has left doctors with a "trial and error" approach to treatment decisions, which costs the economy billions of dollars and comes with a significant impact on patients' health and quality of life.
Looking ahead
To deliver more effective diagnostics and improve drug development in the future, Wilckens said he would like to see better use of multiomics and data, as well as strategies involving new and emerging technologies such as Artificial Intelligence (AI).
He pointed to Israel as a good example to follow when it comes to conducting clinical trials: "In Israel, it's one of the better sites [in] the world for clinical trials. The idea is very simple: they have electronic medical records. Everything is digital in Israel."
Drawing his presentation to a close, Wilckens urged the audience to take advantage of the opportunities offered by precision medicine.
"We are at the inflection point with precision medicine to really go from sick care to healthcare and also reconsider how we … apply new technologies," he concluded. "The convergence of technologies – Internet of Things, cloud computing, AI etc. – gives us unprecedented tools and power to really reconsider and reboot how we do research."
The above is just one of the thought-provoking presentations delivered at the 5th Precision Medicine and Biomarkers Leaders Summit: Europe, with others providing insight into the AstraZeneca approach to precision medicine, applications of machine learning to biomarker development and early-stage drug discovery, and challenges in precision diagnostic development and commercialisation.
All in all, the success of the two-day event stands testament to the enormous promise of precision medicine – promise that, thanks to conferences such as this, will hopefully translate into real benefits for more patients in the near future.
This article will appear in issue 7 of Health Europa Quarterly, which will be published in November 2018.