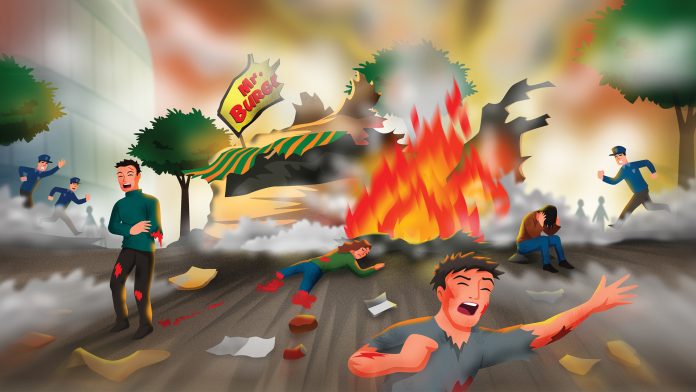 In the aftermath of a terror attack, swift action by the public can save lives. citizenAID™'s Timothy J Hodgetts tells Health Europa Quarterly how.
22 people were killed and 250 injured when suicide bomber Salman Abedi targeted concertgoers at Manchester Arena in May 2017, one of a series of terror attacks to hit the UK last year and the deadliest to take place on UK soil since co-ordinated London bombings left 52 dead in July 2005.
Terror-related deaths have declined in the UK in the 21st Century (1,094 people were killed in a UK terror attack between 1985 and 1999, compared to 126 in the period 2000-2017), but the threat of terrorism continues to loom large on the national agenda, and questions are increasingly being asked about how best to prepare the public in the unlikely but not impossible event that they find themselves caught up in an attack.
Taking 'YOU Can Save Lives' as its tagline, citizenAID is a free and easy-to-use smartphone app designed to fill the gap between point of injury and the arrival of the emergency services by empowering ordinary people to deliver immediate and lifesaving medical care in the aftermath of a terror attack.
Accompanied by a straightforward website and an optional pocket-sized paper guide, citizenAID, which is charity-funded and available via Google Play, iTunes and the Microsoft Store, provides step-by-step instructions on how to call and what to tell the emergency services, how to prioritise the injured, and how to treat burns, pack severe wounds and apply tourniquets.
Officially launched in the UK at the beginning of 2017, its timeliness and simple, cartoon-based appeal have won citizenAID a raft of support from such organisations as the Royal College of Anaesthetists, the National Counter Terrorism Security Office, and the British Medical Association, as well as the government and public alike. Demand for the app has already seen a version launch in the US, and now the four-strong clinician team behind it, all of whom give their time for free, are working alongside other countries to expand the initiative to new audiences in Europe.
Speaking to Health Europa Quarterly, Brigadier Timothy J Hodgetts CBE, an honorary professor of emergency medicine at the University of Birmingham and the medical director of the Defence Medical Services, sets out the benefits of citizenAID and explains why swift public action is key to preventing avoidable deaths.
When did the idea for citizenAID first come about?
In 1991 I was the victim of a bomb attack in Northern Ireland, when the IRA (Irish Republican Army) targeted and effectively destroyed the hospital I was working at. I acted as the medical commander during that incident, which involved setting up a treatment facility in the road while waiting for the emergency services to arrive. That experience prompted me to think about the things we did well and what we could have done better, and within a year myself and civilian colleagues had devised the MIMMS (Major Incident Medical Management and Support) course to help inform medical professionals about how best to manage multiple casualties at the scene. The seven MIMMS principles (command, safety, communication, assessment, triage, treatment, transport) later became an international standard for both civilian and military professionals.
In 1998 I took those principles and reworked them into a much simpler version that could be used to teach soldiers what to do at the scene of a multiple casualty incident when on a military operation. That system, Control then ACT (Assess, Communicate, Triage), has been in use ever since, and it's been used very effectively to save a lot of lives.
History shows us that whenever we make advances in military medicine we spread those advances into the civilian sector, and we made a lot of progress during the conflicts in Iraq and Afghanistan, particularly around how to stop bleeding from injury. We had been translating them to medical professionals, but we hadn't yet filled the gap from point of injury to the arrival of care, which is where citizenAID comes in. It takes the civilian police messaging of 'run, hide, tell' – to which we add a fourth step, 'treat' –  for shooting and stabbing incidents where there is an active threat; and it uses the military 'Control then ACT' approach in the case of bomb blast victims.
One of the key things we've done with citizenAID is to collate all the public safety and health information that's already out there into one resource, which tells you very simply how to keep yourself safe, what to say to the emergency services, how to prioritise the injured with only limited or improvised resources, and what lifesaving manoeuvres you can do before the emergency services arrive.
People tend to assume that if they're caught up in an active threat and dial 999, the emergency services will be with them right away, but that unfortunately isn't the case at all. Any ambulances will be held back until the scene is safe. So the only people that can make a difference in those critical first few minutes after an injury occurs are those already there, i.e. ordinary civilians. We're giving the public the same chance we've given the military to keep themselves or their fellow soldiers alive until professional medical resources can get to them and take them to hospital; without that intervention, they wouldn't get into the casualty evacuation chain alive, and that's the key message we're sending to the public.
How does citizenAID complement traditional first aid? 
While we'd strongly recommend that people do a traditional first aid course, citizenAID is different because it deals with the severe end of the spectrum: life-threatening, combat-style injuries within the civilian setting that require a kind of military intervention. Injuries sustained in a deliberate attack – severe wounds, limb amputations and so on – are potentially very different from those you'd see in a road accident or after a fall down the stairs.
Another key difference is that we say it's okay to improvise. Obviously, if you've got equipment, you should use it. In some situations you might have a first aid kit, for instance, but if you have more than one patient or someone with more than one injury, you'll probably run out of resources, in which case it's absolutely fine to work with the materials you have around you.
Some supporters, such as the Labour peer Lord Jordan, have advocated the inclusion of citizenAID in school curricula. How are you engaging with such places to spread its message?     
It's important that you familiarise yourself with the citizenAID app and also with the resources available on our website, because you must know what to do while there is still the active threat without having to look at your phone. You need to be able to react instantly and then, when you're in a safe place, that's when it's okay to get your phone out and look at the app to remind yourself what to say to the emergency services, how to triage and how to treat. That's how it works for soldiers, too – they practise the steps regularly and only refer to their pocket instruction book if they've forgotten something.
To that end we've already set up a society at the University of Birmingham and we are actively engaged with a number of other universities to establish familiarisation networks with them, too. We have also produced materials for schools, including a book called Moggy's Coming which takes the same principle of 'run, hide, tell, treat' and contextualises it for a younger age group in the form of a story about a cat loose in a school of mice, with additional nursery rhymes. Schoolchildren are already used to things like the 'stranger danger' drill, what to do in the case of a fire, and how to cross the road safely – this is just an extension of being prepared for dangers: if someone is trying to hurt you, here's what you should do, and here's how you can help other people.
How does citizenAID align with the national safety protocols of other countries? Is it suitable for use outside the UK?
We launched a US version of the app within two weeks of officially launching the original in January 2017, purely because so many people were downloading the UK app and we wanted to be certain that all the information was relevant to them, their emergency services and their national messaging. We've since been approached by a number of European countries to develop an app for their use, and we are now actively working with three of them on that.
We are keen to stress that the principles behind citizenAID are not unique to Britain; they can be applied internationally, but they do need to be contextualised to each individual country. Things like the number for the emergency services will have to change, and different countries might give different advice – the US says 'run, hide, fight', for example, as opposed to 'run, hide, tell' – but so long as we are consistent with the country's police messaging, the actual treatment pathways are exactly the same.
We are very open to working collaboratively with countries that come to us to develop the app for them.
Have you been surprised by the interest citizenAID has received, or do you think it reflects a growing wariness of the terror risk in the UK?
I've been working within disaster medicine for 25 years, and the prevailing culture has quite often been one of, 'it will never happen to us, so we don't need to do anything about it'. But at the moment that is definitely not the case, especially among professionals. Now, people are thinking more along the lines of when not if, and that was certainly the message being propagated by senior UK police at the end of 2016, even before the series of attacks that took place here in 2017. Society is beginning to realise that such events, though rare, do happen, and where and when they happen is unpredictable.
Preparation improves response; it increases your physical resilience and it boosts your psychological resilience, too. I see it in hospitals all the time: if a doctor knows they did the very best they could for someone, then no matter the outcome, they can walk away from that incident much more easily and move on to give their next patient the best chance at survival.
That's why the citizenAID motto is 'be prepared, not scared'. It's not about making people feel unsafe, it's about empowering someone in a moment of powerlessness, and equipping them with the skills and confidence they need to go about their normal life and, in the unlikely but not impossible event that they are caught up in a terrorist scenario, making sure that they know what to do and can do it to the best of their ability.
What changes are you introducing to the second version of citizenAID?
We know that the better prepared you are in any emergency situation, the better you'll perform, so version two of the app, which we're working on now, will also feature a bigger section on preparation. That will include things like interactive cartoon scenarios to reinforce the content of the app and encourage people to play with it a little bit before they might have to use it for real.
We are also revising the app to include information on some of the more recent threats we've seen, particularly vehicles as weapons and acid attacks. In both of these instances, although the threats are different, the pathways – Control then ACT and SLIDE (Situation, Location, Injured numbers, Dangers, Emergency services required) – are the same, and that's been very reassuring to us, to know that the structure of the app and the principles it's built on are generic enough and resilient enough to be adapted to new threats as they emerge.
This article will appear in issue 4 of Health Europa Quarterly, which will be published in February.
Recommended Related Articles