Aquarate Ltd is preventing predictable and avoidable medical emergencies from dehydration with Hydracare technology.
Hydracare technology ensures accurate and automated fluid monitoring to increase hydration and reduce associated hydration-related illness within care settings.
Hydration is fundamental to health and wellbeing and, as we age, managing our hydration levels becomes paramount. Within the UK alone there are over 40,000 avoidable hydration related deaths and costs the NHS more than £13bn per year.
Signs and symptoms that are commonly used to detect low-intake dehydration have been shown to be ineffective in older people living in care homes. Low-intake dehydration is associated with an increased risk of death, disability, hospital admission, and longer hospital stays.
Health professionals and care staff need to accurately identify whether older people in their care are drinking enough or becoming dehydrated.
Aquarate Ltd: Hydracare Technology
Hydracare is the only smart cup on the market that can produce accurate data that integrates into care systems, saving staff time, and helping to deliver quality care. The Hydracare cup tracks an individual's fluid intake over the course of the day, allowing care staff to proactively support further fluid intake for those that need it the most.
Hydracare has been designed for domiciliary care and care homes to help reduce avoidable hospital readmissions.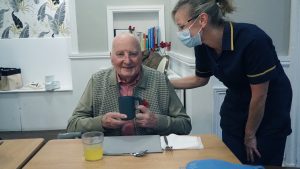 Our most recent customer is Millennium Care Group, who have recently installed the system across several of their care homes to increase their quality of care provided and reduce patient safety issues. Staff were so excited about the flexibility and extra time using the Hydracups would provide for them. Aquarate are also working with a number of Councils including Wirral County Council and Knowsley Council, trying to help vunerable people within the community.
Aquarate's Hydracare cup can help with:
Dehydration in Elderly
Avoidable deterioration such as Acute Kidney Injury and sepsis
Preventable hospital readmissions
Independent living
Recommended Related Articles