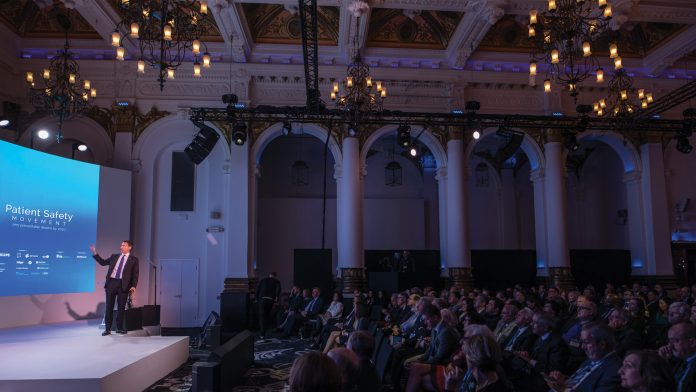 Jeremy Hunt, the UK secretary of state for health and social care, outlined his efforts to enhance patient safety in the NHS at the 6th Annual World Patient Safety, Science & Technology Summit.
One of the highlights of the 6th Annual Patient Safety, Science & Technology Summit was the opportunity to hear from the UK secretary of state for health and social care, Jeremy Hunt, whose championing of the Global Ministerial Summits on Patient Safety and efforts to improve patient safety in the NHS have seen him recognised around the world as a leading figure in the fight for zero preventable deaths.
Breaking down hierarchies in healthcare
Hunt was inspired to act in this area after meeting a number of patient advocates who have suffered tragic consequences as a result of medical error, among them Martin Bromiley, an airline pilot turned patient safety champion.
Bromiley lost his wife Elaine in 2006 when her airways became blocked during a routine sinus operation and, caught up in trying to unblock them, the surgeons didn't think to give her a tracheotomy.
"Even sadder was that in that theatre there was a nurse who thought, 'I wonder if they're going to want to do a tracheotomy', and she got all the equipment brought down from the intensive care unit – she had it there – but she didn't have the courage to challenge the mighty surgeons," Hunt told the summit.
Bromiley has since gone on to found the Clinical Human Factors Group, a non-profit-making charitable trust working to advise and promote best practice around human factors in healthcare, and spends much of his time lecturing NHS hospitals on the importance of breaking down hierarchies in the workplace.
"In the UK we are still very hierarchical in medicine," Hunt explained. "It's one of the only professions where we talk about Mr this, Dr that, rather than the first name terms that are normally used. Every flight that Martin flies for British Airways he starts by saying to his crew: 'My name's Martin and I want you to call me by my first name.' And the reason for that is that, in an operating theatre, if you're a hierarchy, it means you've only got one pair of eyes spotting the mistake, but if you remove the hierarchy you can have eight or nine pairs of eyes spotting those potentially lethal mistakes."
Transforming the quality of care
Breaking down the hierarchical structure of healthcare is just one of the ways that Hunt is keen to transform the NHS, and indeed he has already started. Under his direction, the UK government has appointed a chief inspector of hospitals whose job it is to give every NHS hospital a rating for the quality of its care – either outstanding, good, requires improvement, or inadequate.
To his surprise, Hunt told the patient safety summit, not a single London teaching hospital received an 'outstanding' when initially surveyed; instead, that honour went to "hospitals in parts of the country that no one had really heard of, like a small district hospital on the south coast in Sussex where the chief executive … has been inspired by the work of Virginia Mason in Seattle, flown over of her own accord, and completely taken onboard their approach to rapid process improvement."
Hunt highlighted this hospital as a good example of the "learning culture" he wants to promote across the whole of the NHS, and singled out another, Wexham Park Hospital in Slough, as evidence of the strong leadership that is needed to transform the delivery of care.
"We survey all our hospitals, and we ask the staff in those hospitals whether they would recommend the quality of care they give to a friend or a member of their family. And, in this particular trust, less than half the staff of that trust would recommend the care that they were actually giving. That's a pretty shocking thing for a hospital in a developed country," he said.
"Two years later, transformation in the care they gave – all eight of their clinical areas moved [from inadequate] to good or outstanding. More than two thirds of staff recommend their care.
"I learnt from this process perhaps the most important thing that I've learnt as health secretary, which is that the staff in that trust were the same when they went into special measures, when they got their inadequate rating, as when they came out of special measures two years later; in other words it was nothing to do with the staff, it was all about leadership.
"Everyone goes into healthcare because they want to help people in the most vulnerable moments of their life when they're sick or they're dying. The question is whether you have the leadership in place that can unlock that basic human instinct."
Transparency in the NHS
At the heart of this, Hunt continued, is transparency: "If you really want your hospital or your healthcare system to be a safe one, you've got to be really brave and be prepared to be honest when it's not. And that means a completely different approach to what has been traditional in healthcare systems all over the world, where we are often very guarded or worried about being open when things are going wrong."
In England, this new approach to transparency in the NHS has already been applied to not just hospitals but also mental health, dementia, and diabetes care. Hunt highlighted the Getting It Right First Time (GIRFT) programme as proof of its success.
"We went round every hospital … in the country, and we approached the orthopaedic departments to share their infection rates," he explained. "What shocked us when we started collecting this data from all over the country was the variation: so, our best hospitals in Britain infect about one in 500 patients – that's care at its best; still too many, but nonetheless that is care at its best. Our worst hospitals – one in 25 patients. In fact, there's one part in the northwest of England where there are two hospitals next door to each other, both with the same blue NHS sign outside, both with patients expecting the same high-quality care, one of them one in 500, one of them one in 25 patients.
"What we learnt from this exercise was that transparency and openness, providing the data is reliable and the data is trusted, is actually the simplest and easiest way to get behaviour change. You don't need to instruct people, you don't need to give people new targets, you don't need to have financial incentives – you just need to share the data in an open, supportive way."
This realisation, and the increased focus on the safety and quality of NHS care over the last few years, has already resulted in significant improvements – even as demand for and financial pressure on the system have mounted.
"If you ask NHS staff if they're happy with the quality of care that they're being asked to deliver in their organisation, that's gone up by 7%; if you ask members of the public if they're happy with the care that they're getting from the NHS, that's actually gone up by 13%; and if you ask the Americans … the Commonwealth Fund, which is a New York think-tank that regularly rates healthcare systems across the world, [last year] said that we were the safest healthcare system in the world."
But this progress leaves no room to be complacent. According to Hunt, across NHS England, 3.6% of all hospital deaths have a 50% or more chance of being avoided, which translates to 150 preventable deaths every week; 'never events' such as operating on the wrong part of someone's body happen once a week; the wrong prosthesis is put on someone twice a week; and a foreign object is left in someone's body three times a week.
"If those terrible things are happening somewhere that a New York think-tank says is the safest healthcare system in the world, what does that tell us about the need for healthcare everywhere, urgently, to change?" Hunt asked his audience.
Moving from a blame culture to a learning culture
What, then, does this change entail? For the health secretary, it comes back to the idea of moving from a blame culture to a learning culture, in much the same way as the airline industry has, since the 1970s, transformed its own practices to incentivise the reporting of errors – with remarkable results.
"The number of fatalities in airlines since the 1970s [has] gone down by about three quarters," Hunt said. "It has become massively safer to fly … because the airline industry recognised that there is a central difference between gross negligence [and] ordinary human error."
Where mistakes occur in hospitals, Hunt continued, "any clinician wants nothing more than to be completely open and transparent about what happened, to learn where the lessons need to be learned to make sure that that tragedy doesn't ever happen again. But in modern healthcare systems we make that practically impossible.
"People are terrified [that] if they're open about what happens they will be removed from the register, they might get fired by their hospital, it would be bad for the reputation of their unit, for the reputation of their trust – a thousand worries prevent the one thing that really should be paramount, which is proper learning from that mistake and proper attempts to make sure it can never be repeated."
With that, Hunt urged his audience to work towards a culture that supports transparency, encourages learning, and minimises blame – for the benefit of not just patients but also health systems and their staff. Only then, he concluded, will the Patient Safety Movement target of zero preventable deaths be realised.
This article will appear in issue 5 of Health Europa Quarterly, which will be published in May.