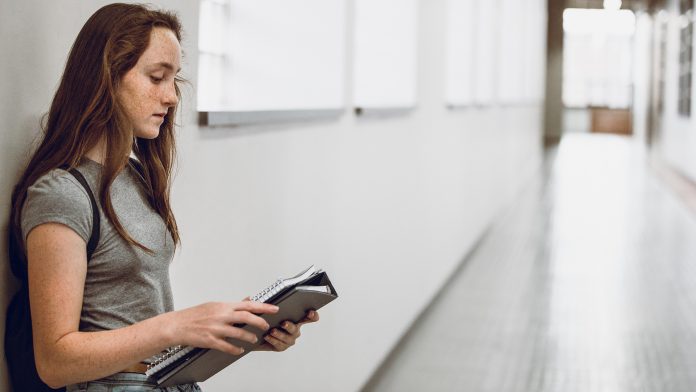 Lorna Rothery spoke to Emma Thompson O'Dowd from Plan International UK about the organisation's efforts to tackle period poverty and improve menstrual health and awareness around the world.
Although periods are a normal part of life for half the population, they are something that many people feel uncomfortable discussing, so much so that there are over 5,000 euphemisms to describe them. Pejoratives terms, archaic beliefs, and cultural stigmas associated with menstruation have, for many women and girls, made this natural bodily process a very negative experience. Hoping to change this is Plan International, a global children's charity committed to protecting young people and ensuring they have access to healthcare, clean water, and education.
As part of its efforts to end the culture of shame around periods and ensure girls have access to safe and affordable menstrual products, Plan International has launched a series of campaigns and initiatives, including its Menstrual Manifesto, and works with local governments and communities to tackle period poverty. Their research revealed that in the UK alone, almost half (42%) of girls are forced to use makeshift period products and 27% have used a period product for longer than intended as they were unable to afford additional products. To discuss the impact of period poverty and how it can be tackled, Lorna Rothery spoke to Plan International UK's Health and Wellbeing Specialist, Emma Thompson O'Dowd.
How prevalent is period poverty in both developed and developing countries? How has the COVID-19 pandemic impacted this?
The World Bank estimates at least 500 million women and girls globally lack access to the facilities they need to manage their periods. The COVID-19 pandemic worsened the issue; in many countries, lockdowns have limited access to period products, while supply chain disruptions limited the supply of such products or increased their cost.
At Plan International UK, we have been monitoring levels of period poverty in the UK for several years. In 2021, our survey showed that more than a third (36%) of girls aged 14-21 in the UK had struggled to afford or access period products during the Coronavirus pandemic – up a fifth on the previous year. That is equivalent to over one million girls.
The cost and accessibility of period products are perhaps what most people understand when talking about period poverty; however, our research with young people in England and Northern Ireland showed that period poverty is also linked to a lack of education about menstrual health, as well as the stigma, shame and taboo that is all too often associated with menstruation.
In the UK and around the world, girls are often not being taught how their bodies work. As a result, few are aware of what healthy and unhealthy periods are like, what types of period products exist, or how to successfully manage the symptoms that may accompany periods, such as headaches, cramps, or nausea. This can negatively impact girls' education as many will skip school due to a lack of facilities to manage their period, because of discomfort, or out of fear they will experience leaks during the day.
Can you highlight some of the ways in which cultural taboos, stigma, and a lack of infrastructure surrounding menstruation impact women and girls?
Too often, girls are being told there is something wrong with their bodies when they have their period. This normal, healthy process is being treated like it is something to be ashamed of.
In many countries around the world, girls are prevented from taking part in daily activities when on their period. In the most extreme cases, it can have deadly consequences.
Chhaupadi, the tradition of banishing girls and young women to mud huts or sheds practised in certain parts of rural Nepal has received a lot of media attention in recent years after dozens of girls reportedly died because of the practice.
While this is an extreme example, Plan International has collected testimonies from girls and colleagues around the world showing the pervasive nature of myths around periods.
In some parts of Brazil, it is believed that if you cook food while on your period, it can spoil, or that people can die if they eat mangoes, lemons, or shrimp while menstruating. In Cameroon, it is believed that you should not wash in rivers, go fishing, eat meat, or go near fresh crops when on your period.
These myths can also impact which period products are used: in Indonesia, tampons and menstrual cups are stigmatised for unmarried girls and young women, as it is believed to 'break' one's virginity.
Lack of infrastructure is also impacting how girls manage their periods. In countries where access to toilets can be limited, Plan International is supporting schools to build toilets that cater for girls' needs so they can better manage their periods and not be forced to miss school.
However, even when infrastructure is available, girls often find themselves locked out. In the UK, where all schools have toilets, our research found that almost 70% of girls are not allowed to use the facilities during school lesson times. These restrictions are impacting girls' ability to successfully manage their period and contribute to anxiety and fear of experiencing leaks which is amongst the top reasons for girls missing school. Plan International also found that nearly two million girls (64%) aged 14-21 in the UK have missed a part day or full day of school because of their period, and many report that they struggle to catch up on schoolwork or feel less able to take an exam as a result.
Over time, these myths and restrictions can limit girls' life opportunities.
What initiatives are Plan International supporting to help mitigate period poverty?
Improving menstrual health and tackling period stigma are key to achieving gender equality. Doing this can improve girls' attendance and performance at school, break down taboos and misconceptions around menstruation, raise girls' self-esteem and enable them to fully participate in all aspects of society.
Around the world, Plan International is working together with local governments and schools to train health workers, teachers, and volunteers to educate young people about periods and talk about them without shame.
Plan International also distributes period products in schools and teaches girls how to manage their periods so they feel more confident and are able to stay in school. In some countries, such as Zimbabwe, Plan International also runs workshops to teach girls and young women how to make reusable period pads, which they can use themselves, give to relatives and friends, or sell for additional income.
Plan International also campaigned for the introduction of a 'period emoji' to help break the taboo of menstruation and make it easier for girls to talk about menstruation. The new emoji became available on phones in 2019.
In the UK, Plan International conducted research about girls' experiences of menstruation, which found that on top of the culture of shame and stigma that still exists around periods, current menstrual health education is not meeting girl's and young women's needs. Following the publication of our 'Break the Barriers: Girls' Experiences of Menstruation in the UK' report, we partnered with Brook, the young people's sexual health and wellbeing charity, to launch Let's talk. Period, a project committed to ending period poverty in England. Plan International and Brook worked together to produce learning briefs aimed at schools, healthcare providers and 'policymakers' highlighting best practices to tackle period poverty. Our research on period poverty has also been used by policymakers around the country to evidence the need for free period products in schools and public buildings.
What are some of the barriers to overcoming period poverty and how would you like to see governments and policymakers better address education on menstruation and support menstrual health?
In the UK, the government has introduced free period product schemes in schools, and an increasing number of local authorities are creating similar initiatives to make free period products accessible across public buildings. These initiatives are a key part of tackling period poverty, but our latest survey from May 2022 showed that many of the girls who are unable or struggling to afford period products still do not know where to go or who to ask to access support. To maximise the impact of these schemes, it is crucial for public authorities to make sure that girls know where to access support. Two years after it was first introduced, Plan International is calling on the UK Government to produce an evaluation of its scheme for schools, so that we can better assess how it is meeting girls' needs.
On top of the lack of access to facilities and period products, we know from our research that girls are often not receiving timely or accurate menstrual education.
In fact, our research in the UK revealed that 14% of girls aged 14-21 said they did not know what was happening when they started their period, and one in four did not know what to do when they started their period.
In many countries, girls do not receive any menstrual education, and when they do, it often focusses solely on the biological mechanism of periods but fails to meet their needs.
As part of our qualitative research into girls' experiences of menstruation in the UK, girls told us that they want 'real world' education on periods that goes beyond the biological: they want to know what a healthy period looks and feels like, what endometriosis is and what to look out for, and they want information about managing the symptoms associated with periods, such as cramps and headaches. Girls also start their period at different, and increasingly younger, ages, so it is also crucial that they are provided with menstrual education before they start their period.
It is vital that all children and young people receive comprehensive menstrual education to tackle the stigma and myths around menstruation.
Are there any other notable developments or current issues which you would like to highlight?
Whether it is a pandemic, floods, a typhoon, earthquake or drought, periods do not stop in an emergency. Supporting girls and young women in emergencies is vital, and in the toughest conditions, a few essential items can make a big difference. Plan International is one of the few aid agencies that considers the specific needs of adolescent girls in emergencies; a key part of the organisation's response to crises and disasters is the provision of dignity kits which include basic hygiene items and period products. These kits allow girls to manage their period safely and with dignity.
Emma Thompson O'Dowd
Health and Wellbeing Specialist
Plan International UK
https://plan-uk.org/blogs/our-menstrual-manifesto
https://www.facebook.com/PlanInternationalUK/
https://twitter.com/planuk
https://www.instagram.com/plan_uk/
https://www.youtube.com/user/planuk
This article is from issue 23 of Health Europa Quarterly. Click here to get your free subscription today.
Recommended Related Articles