Seamless scheduling, staffing, time reporting, communication, and task management all in one place. Sounds like a dream? Well, let us make it come true.
The healthcare sector as a whole is evolving. Technology has become an integral part of any setting, and the latest innovations are used to look after care home residents, patients, and their relatives.
However, this isn't always true when it comes to workforce management. Our market analysis shows that a vast number of organisations do not have adequate tools to organise their schedules, manage time and attendance, or payroll.
In a world still too often dominated by spreadsheets and whiteboards, Quinyx can be the helping hand you have been waiting for.
Find out how much you can save with our handy calculator tool.
What can Quinyx do for you?
Free up time
Quinyx helps hundreds of businesses worldwide save time and money with simple yet powerful tools built to streamline productivity and efficiency while empowering employees. From automated scheduling tools through to running payroll with a single click.
Increase productivity
With Quinyx, you can create optimal schedules with the help of advanced forecasting algorithms and rules, ensuring you always have the right person, with the right skills, at the right place, at the right time.
Save money
By creating smart schedules based on forecasted demand, you can fully control your labour costs while providing a better experience for your staff and your residents.
The Workforce Management Cycle
Quinyx functionalities
Schedule
Quickly create fair, reliable, and intelligent schedules optimised to match your business practices. Reduce risk and schedule from the big picture to individual employees. With smart scheduling, you will have happier employees and a happier business.
Time and attendance
Experience fully integrated time reporting and absence management, allowing you to plan better and enjoy a flawless payroll. Your employees can even punch in and out directly using their mobile phones.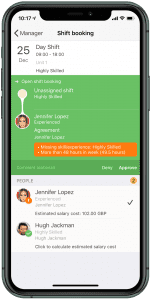 Engagement and communication
With a mix of full-time, part-time, and temporary staff, it is challenging to manage and engage your workforce efficiently. Quinyx offers industry-leading tools to help drive engagement among your employees, from real-time communications to company-wide surveys and recognition to create a happy workforce and a resilient organisation.
Insights
Quinyx makes it simpler to follow up on your organisations most important key performance indicators. This enables you to respond quickly to new trends and changes within your workforce. The Insights function allows you to build custom reports with graphs, tables, and other graphical components to present your data in the most intuitive way possible. Your reports can be shared globally or restricted to specific roles.
AI-powered demand forecasting
Use AI-powered demand forecasting to accurately and effectively forecast for different demand drivers like patient acuity levels or occupancy rates. With advanced forecasting in Quinyx, you can identify peak and dull periods on 15-minute, day, and week level forecasts with industry-leading accuracy. Balance your planned costs against results to create the most profitable resource plan.
Task
Easily plan recurring tasks for your whole organisation. Improve efficiency by creating workflows for your employees and enabling managers to track these to ensure important daily tasks are being completed.
Find out more: schedule a call with one of our experts.
Adding value with Quinyx
Investing in an AI-powered workforce management solution like Quinyx is about future-proofing your business and shouldn't be seen as an expense or a tick-box exercise.
Thanks to Quinyx's modular and flexible approach, you only pay for what you need and can enjoy the benefits of a tool suited to your requirements.
A modern healthcare scheduling software can help you deliver great service levels whilst also keeping control of costs, minimising risk, and operating safely. With Quinyx, you will also help your managers focus on delivering care rather than time-consuming admin tasks.
Click here to see Quinyx in action.
Don't just take our word for it. See what our clients and their employees think about us: Click here and here to see customer reviews.
About Quinyx
Quinyx is a cloud-based, mobile-first AI-powered workforce management software that rocket fuels the workforce in service industries to make people and businesses grow.
Quinyx was founded by CEO Erik Fjellborg when working at McDonald's. After seeing how difficult it was for managers to sort shifts manually, Erik created Quinyx, the market-leading workforce management software, which transformed and radically improved the industry. McDonald's loved Erik's solution and became Quinyx's first customer.
Today, Quinyx helps some of the world's biggest businesses save time and money, boost productivity and enjoy work. Quinyx has offices in the UK, Sweden, US, Finland, Germany, Norway, Denmark and the Netherlands. Its software has also been implemented globally, in markets such as China, Japan and Korea.
Clients include IC24, Vocare, Yarrow, Doktor.SE, Elysium Healthcare, Well Pharmacy, Boots, McDonald's, Burger King, Swarovski, IHG, Kal Tire, Virgin Atlantic, London City Airport, Benugo, and Odeon Cinemas Group.
Recommended Related Articles