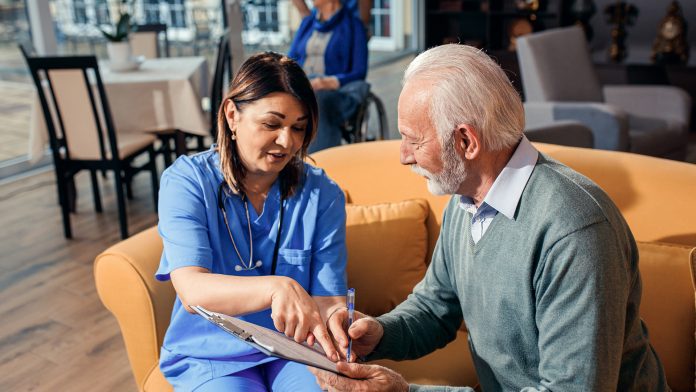 Quinyx examines healthcare staff retention in the UK, following the release of its global State of the Deskless Workforce study.
Healthcare staff are leaving the health service in record numbers. Data from the Nursing and Midwifery Council, for example, shows that more than 27,000 left the register last year – a 13% increase on the year before, and reversing the trend of fewer leavers in recent years. Factors such as low pay and long waiting lists, burnout, and PTSD due to COVID, have been cited as the main motivators driving healthcare professionals to walk.
In this special report, Toma Pagojute, chief HR officer at Quinyx UK, explores the findings of the workforce management provider's recent global study, The State of the Deskless Workforce.
Uncovering the unfiltered attitudes and experiences of frontline staff within the UK's health and social care sector, Toma gives her expert recommendations on what steps can, and should, be taken to nurture and retain employees who remain in post – before they too jump ship.
Tackle the issues head-on
While it may not be in a manager's power to increase wages, 71% of the workers we polled in our annual study said higher pay would make them more engaged in their current job. But what if there are no coffers in the pot and what can be done to keep healthcare staff onside?
44% would enjoy a less stressful work environment;
Two in five (40%) would like to be better recognised for their work;
34% want better communication between management and staff; and
More than a quarter (28%) want more flexibility.
Each of these statistics provides insight into how staff are feeling; most noticeably, they all show that communication and engagement could be improved.
My advice to managers is to take the time to engage with staff and ask them individually how each of these areas affects them. What would make work less stressful? How would they like to be recognised for their hard work? Where are the communications gaps between staff and management and how would they like to be communicated with? What does improved flexibility look like for them?
Getting answers to these questions and acting on them, as well as communicating the outcomes of these conversations, will highlight to your workforce that their thoughts and feelings are valued and being listened to.
Get a handle on understaffing
Understaffing is not only a huge headache for management in charge of scheduling staff but workers on the ground too. 72% of healthcare staff said they have noticed understaffing due to unpredictable demand, bad scheduling from management and colleague sickness. A staggering 90% of those said understaffing led to a more stressful work environment and 52% said it resulted in longer waiting times for patients. Bringing in new team members is not a quick fix when you consider the time (and expense) that goes into recruiting and training new people. The incredibly competitive landscape we are currently faced with makes it even more challenging.
Help is however available thanks to intuitive technology. Using a workforce planning tool, like Quinyx, that is powered by AI allows managers to quickly and efficiently schedule staff based on need and demand, all at the click of a button. While bringing more healthcare staff in might not be an option, redeploying them, adapting their hours and potentially splitting shifts, may just give frontline workers the support they need during those busier periods.
Checking in with healthcare staff must be a priority
Healthcare staff may be busy taking care of everyone around them, ensuring their patients and residents are the top priority, but who is looking out for them? Stress is a major motivator when it comes to leaving a role – 63% have considered quitting because of it.
It seems too that many workers in health and social care avoid speaking to their managers about difficult topics which could be affecting their stress levels.
More than half (56%) are not comfortable discussing stress caused by work that impacts their health;
61% do not feel able to speak to their boss about scheduling issues that are impacting their personal life;
Two-thirds feel uncomfortable asking to reduce their hours;
62% would not mention understaffing problems to their manager; and
54% would not tell their employer if they had an issue with a colleague.
With 59% of our respondents saying they have considered quitting the healthcare sector in the past 12 months, and 78% believing they have good transferable skills that will help them into a new role, managers need to prioritise the health and wellbeing of their team members.
We understand that time is at a premium, and it is all hands on deck, but staff engagement does not need to take a lot of time – and it could make the world of difference to team morale. Having open lines of communication, which allow all personality types to air their concerns and thoughts, is hugely important. This could involve introducing an open-door policy, placing an anonymous staff suggestions box in a shared common space, or releasing a regular wellbeing survey through a workforce management app. Most crucially, ensure that any feedback is listened to and addressed.
Is the balance right?
In comparison to other industry professionals we polled, healthcare workers came out top when asked whether they feel pride in what they do – 87% said they did, and rightly so! 66% also feel valued by their employer – up from 55% in 2021 but down from 72% at the height of the pandemic in 2020. The good news does not end there, with 43% of respondents saying they plan to stay in their current role for more than three years. That does not mean healthcare leaders should rest on their laurels though, as there are still several factors affecting workers' day-to-day happiness.
One third said that no work-life balance has led them to consider quitting, with 60% missing social events or holiday celebrations such as trips and time with family and friends, because of work;
57% said work has caused them to miss taking time out for themselves, such as mental health activities and physical exercise;
38% have not been able to attend major friend or family milestones, such as a funeral or wedding, because of their scheduled shift; and
Almost half (47%) tried to change a shift but still had to work because no one could cover it, and 35% felt pressured by co-workers into taking a shift they did not want.
These insights tell us that while many healthcare workers are rightly feeling respected and valued for the work they do, they are still being let down by a lack of flexibility. Scheduling apps that put the power in the staff's hands can go some way to address this area of contention. They allow workers to electronically swap shifts via the tap of a screen, meaning that any feelings of awkwardness or embarrassment around asking for a shift swap are removed. Currently, just 7% of healthcare employees say they can swap shifts this way – a surprisingly low number considering our rapidly-evolving digital landscape and compared to other sectors (27% usage in the shipping and distribution industries, for example).
Crucially, automated scheduling can also help to free up hours of resources each week, enabling line managers to focus on other priorities and, in turn, alleviate pressures across the team – for a happier workforce.
To find out more about Quinyx's technological solutions or to speak to one of the team, visit
www.quinyx.com
This article is from issue 22 of Health Europa Quarterly. Click here to get your free subscription today.
Contributor Details